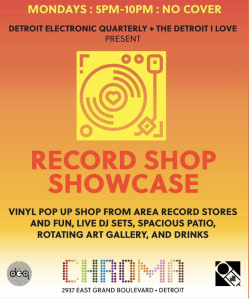 Record nerds! Weekly Monday Record Shop Showcase & pop up at beautiful new patio venue Chroma from 5-10pm!. Please stop by, check out the venue, have a cocktail or 2 Chroma 2937 E.Grand Blvd at beaubien. Afters at Slow Jams. Amazing Monday night!! (This will be a weekly btw).
________________________________________________________________________________________________
Monday, May 23: Event Guide Release/Record Fair @Chroma 4-11pm
Wednesday, May 25:DEQ 17_18 Print/Vinyl Rollout @Ima Corktown (Gold Cash Gold location) 7-11pm
Please come by!!
Exciting releases for 2022!
* DEQ 17_18 digital and print issues with 2 vinyl EPs
* Event Guide for Memorial Day Weekend 4X4 print/digital
:::
Artist features (* track on the LP and EP): DEQ 17
Jon Dixon, John Briggs*, Peter Croce*, Viands*,The Bassment, Grey Area(Southwest art gallery), Kaku (Usui) Sushi and Poke, Detroit Techno Militia (DTM), Two Rooms(Joel Peterson of Trinosophes & Sam Hooker of Peoples Records) Record Label Spotlight, Nandi*, A7MC*, Shawscape* and Movement 2019 photo recap from Amy Hubbarth.
Artist features (* track on the LP and EP): DEQ 18
Claude Young*, Techmarine Bottom Feeders*(Paris the Black Fu, Luxus Varta)*, DJ Moppy*, DJ Holographic*, Apollo Brown, Sundiata OM, Eddie Fowlkes*, Luke and Jeff Hess*, ADMN* and Infolines. 
DEQ and thedetroitilove.com Event Guide (for Movement)
digital and limited print
lists all Movement after parties, neighborhoods, places to shop, eat, drink
thedetroitilove.comis the host site for listings (they have great listings every day of the week)
DEQ's 6 years running Wednesday club night 2 DJs has a new home @ima in Midtown!
Come join us every Wednesday at Ima in Midtown from 7-11pm for delicious food, cocktails & tunes, For most current lineup go to www.facebook.com/detroiteq
(Sample flyer below)