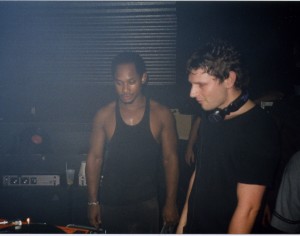 (pictured: Derrick May & Ralph Lawson at Back to Basics, Leeds, 1995)
:::
11 questions with Leeds UK's Ralph Lawson
by Vince Patricola
British DJ (based in Leeds UK), producer, tastemaker and curator Ralph Lawson has been a busy young man over the last 25 years. He's been touring the world, putting out records on his 2020 Vision label and a new label called Basic Vision. He's also curating (and has curated) influential nights (like Back to Basics) as well as a larger festival called Inner City Electronic, which is a one-day,  multi-venue electronic music festival in Leeds, UK, which features artists like Floating Points and Peggy Gou.
He's paying a visit to Detroit for the Movement Festival and to play a party at TV Lounge on Sunday, May 27 called OK Cool!
VP: Ralph!! We welcome you with open arms to Detroit! How and when did this connection with Detroit music begin for you?
Detroit music has been hugely influential for me over the years. I started travelling to a club called The Hacienda in Manchester in 1989 where I first heard Rhythim is Rhythim tracks like 'Nude Photo' and 'Beyond The Dance'. They just stopped me in my tracks, I couldn't comprehend who was making these sounds and how they were doing it. Then of course I found the author to be Derrick May. Of course 'Strings of Life' was huge at The Hacienda but it was the more stripped back early Detroit techno records that I really connected to personally.  I then went kinda backwards in time and found Juan Atkins and became obsessed with Cybotron – 'Clear', to the extent that the first ever event we started in Leeds was called 'Clear'.  Model 500 – 'Off to Battle' is possibly my favourite techno record of all time too.
VP: How much did (do) these artists influence your style of music  (that you play and produce)?
Well even if I lived for a thousand years I doubt very much I would come up with records like those, they are a part of history. It's almost as if the author is just the mediator of forces far beyond their control. Time, space, Transmat. Detroit was responsible for producing those records just as much as The Belleville Three. All that musical and social history from the city came together in a moment and they expressed it. I'm not surprised Derrick mostly turned to DJing rather than producing afterwards, you can't repeat moments in time and Derrick understood that from the start.
VP: Would you share with us a few of your favorite experiences with Detroit artists that you either played with or experienced in the club?
A close friend of mine moved to New York in 1992 and I started to visit him over there. He'd got into the house scene and started going to The Sound Factory every week, where he'd met Chez Damier from Prescription Underground, Detroit. They took me down to The Factory for the very first time and it was the next clubbing experience that just really  destroyed my mind. I think that club influenced my perception of house music perfection more than any other. I just really hit it off with Chez, it was weird as we are so different in almost every way but we just happened to click. When I got back to the UK I invited Chez & Ron Trent over for a small tour of underground clubs like the Sub Club in Glasgow and back to basics in Leeds and basically became their tour manager and opener. At the time we were just beginning 20/20 Vision from a remote farmhouse outside Leeds and had built a pretty cool analogue studio there. So they would both come over and jump in the studio. We produced records there under the name Chuggles for Prescription Underground. It was weird because there was so much snobbery at the time and people only bought records that were 'Made in Detroit' and all our records were doing really well on Prescription but in fact they were 'Made in Leeds', albeit with an artist from Detroit.
At the time I was also DJ and musical director at back to basics club and I started to invite more artists from Detroit over like Alton Miller and Stacey Pullen. We also got on great, I love those guys. It was a long trip for them over to the UK so I'd invite them to stay over and hang out at The Farmhouse after the show. They'd always want to get into the studio on there, inspired by a great gig, so we made some records together. I also invited Eddie Fowlkes to the club, who we signed to back to basics recordings for a couple of records and made a tour with him. He then connected me to Claude Young and Anthony 'Shake' Shakir, it just goes on and on…
VP: Do you have a top 5 (ish) list of tracks from Detroit or Detroit inspired artists?
Impossible, here's 10 and I'll send you another 30 offline 😉
Cybotron – Clear
Model 500 – Off to Battle
Rhythim is Rhythim – It Is What It Is
Galaxy II Galaxy – Hi Tech Jazz
R-Tyme – R-Theme
Elektroids – Elektroworld
The Martian – Stardancer
Carl Craig presents Paperclip People – The Climax
Moodymann – Tribute / Day We Lost The Soul
Chez Damier & Stacey Pullen – Forever Monna
VP: You've been a teacher to thousands through your music. How important do you feel teaching is to this next generation of electronic music lovers?
hahaha I'm not sure about that but it's something I am interested in developing. Teaching is important but what's more important is listening. If there is no interest in the subject then teaching is irrelevant. The main thing is that electronic music remains fresh and cutting edge and inspirational artists continue to emerge. Right now I am feeling super positive and there is a whole world of exciting music out there. Sometimes it's better just to let young producers enjoy their naive years where they tend to experiment and create their best music. I wouldn't want to influence them to sound retro. But I do feel I could give value and advice in surviving long term. There are two words in 'music business' and all to often we get into it because we love music, but the business side of the equation takes over.  The main thing is focus on the first word – music.
VP: Do you feel the numbers of people are growing?
Yes there are huge numbers of people into electronic music. It's a global phenomenon.
VP: On your back to basics rare classics Volume 4 you remixed a track from one of the founders of techno Eddie Fowlkes called "Where Will I Be?" What made you pick that particular track?
That track was originally released on back to basics recordings along with a second EP from Eddie called 'The Truth'. For the Back to Basics – Rare Classics album I went through all the old Digital Audio Tapes (DAT) I had locked up. I listened back to Eddie's EPs and found the tracks to be super relevant still. I also really liked the fact that it was a full song and DJs don't currently play many vocal records. I felt it was time to give them a classic vocal track again. Finally I noticed that the vinyl was now rare and highly sought after which was also a condition of inclusion.
VP: Are you more vinyl or digital when you play out?
I found the format wars to be one of the most tedious times in dance music. I honestly don't care how the DJ creates the sound, all that matters is that it sounds good out front. Personally I really enjoy the creativity, versatility and stability of digital for playing live but I also really feel good putting on a physical record. It's kinda like eating organic food or something like that. It's more expensive and a pain in the arse to find but gives you a nice warm feeling when you do it. So I play with both…
VP: Are you planning to play a more classic set when you play on Sunday or will it be a hybrid?
It definitely won't be a classics set. I mostly play new music, that's my buzz. I've always enjoyed finding new sounds and love listening to them on big systems for the first time. I do always like to throw in a handful of classic records but often they are edits or records that weren't overplayed so they still sound fresh. I think there are currently no boundaries, a good DJ can play across multiple styles from different eras.
VP: Are there artists you are looking forward to seeing at the Movement festival or afterparties you want to check out?
Unbelievably I've never been to Movement before so the whole thing is just very exciting for me. I'm going be at Hart Plaza both Saturday and Sunday and make sure to see as much as possible.
VP: Please tell us about your inner city electronic festival in Leeds, UK?
We're starting a new festival in Leeds the week after I get back from Detroit on June 2nd.  We're going to take over the city centre and put on events all day & night at 12 venues, all under the same pass. There will also be daytime talks, workshops and masterclasses. I do find the timing strange, especially after talking through my history of Detroit electronic music with DEQ. It's almost like this is where it all came from and now we're continuing the legacy in our own city. I plan on getting inspired myself !
There are some great artists coming for the first edition including live shows from Floating Points, Dopplereffekt, KiNK and Radioactive Man and DJ sets from Helena Hauff, Avalon Emerson, Peggy Gou, Objekt, Andrew Weatherall, Joy Orbison, Midland and many, many more.
VP: The Coney Island hot dog is a classic Detroit thing. Will you have one or not?
Really ??  I thought Coney Island was in New York ?  I just googled them and they look horrible, and you guys say English food is bad !  Can I pass please ?
Be sure to check out Ralph's great music label 2020 Vision and his new label called Basic Vision. Back To Basics fourth and final 12" vinyl EP in its Rare Classics series (with the Eddie Fowlkes remix) is now available in stores. The full series compiled into a 14-track album in stores as well. See you at TV Lounge Sunday!