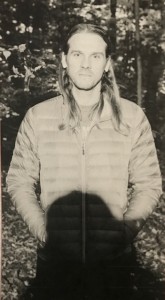 DEQ Magazine interview with Dave Graw written by Blair French 
There is truth in the saying "opposites attract" as in the case here of the multitalented artist Dave Graw.  He is well known in Detroit for his punk and metal music ties, writing lyrics and drumming in hard core bands like Bang Bang and Heads Will Roll in the past. Considering his background of rowdy shows and spilled PBR, you would think that making aggressive music would be his main mode of operation, but it's not the case here. Not only has Graw entered into the realm of electronic music, he's found a happy place in the ambient/new age realm. Who would have thought? The gear, pedals upon pedals and wires in his studio are everywhere like "Doc" Brown's lab in Back to the Future. Looking at it at first I thought some heavy, eardrum splitting shit was coming my way, but it was the exact opposite. It was intricately layered, blissful sound waves and love at first note. It is sound wave teleportation to the future, the past or wherever your mind leads you. There are solo projects under his name along with being half of the duo Arthur Colvin (with Scott Stimac.) On the side, Dave Graw works with video design and animation and is a major supporter of Detroit Football (soccer).
BF: Tells us about your introduction to music?
DG: It all started with playing percussion in a school program. I'm really thankful for it. Around the age of 14, I was playing punk and metal drums in bands. I loved the anger and the speed, (he smiled.)
BF: Can you describe the transition from playing in metal bands to being an ambient artist?
DG: Around 2007, I started recording with foot pedals and keyboards. During that time period my drum set became less of a drum set and more of a noise machine. I replaced my floor tom with dub effects, removed cymbals for a keyboard, subtracted rack toms for a trigger pad, and added loopers. So at the end, all that was left was a hi hat, bass, snare, and a bunch of electronics. By 2009, I just got rid of the drums. I gradually went into ambient because all the music I was making sounded like noise, which describes ambient for most people, but I can sit with the music and score my life.
BF: Do you label your sound ambient, drone, or new age?
DG: I think it can easily fall under ambient, in the idea that it's interesting and also ignorable. I believe that is Brian Eno's definition. I have been focused on music for meditation, which could fall under new age. I have also done what some might say call "dark drone."
BF: What are some of you musical influences?
DG: I think Brian Eno is most people's gateway drug. William Basinski, Philip Glass, and a lot of minimal piano works.
BF: How did you link up with your partner Scott Stimac?
DG: I reconnected with Scott in New York. We both came from the rock scene in Detroit and grew to have similar taste in music. When Scott eventually moved back to Michigan we began experimenting in my home studio.
BF: Are you the kind that can drive tired at night and listen to ambient like it's dance music?
DG: Absolutely…the surrounding becomes a movie.
BF: Are you comfortable performing live?
DG: Yes. One performance I recall was in a tent outside of Hello Records in Detroit. I was performing on the street corner and really enjoyed it. The cars driving by were acting as the ambient sound of the city. Strangers were walking up and by the end it was just a lot people sitting down and hanging out. There was something very relaxing about it.
BF: Do you handle live mistakes well?
DG: What's great about the (ambient) genre of music is that it's only a mistake if you let it be a mistake. Most times it's just the next thing happening. I have an old child's Yamaha that was circuit bent and sounds amazing, but very unpredictable. Every time I turn it on it's a little different than the last time and I have to adjust it.
BF: So you're almost forced to have natural mistakes?
DG: Yes. When working with multiple powered pedals and cables every once in a while something won't work. Over the years I built a safety net into my setup that helps prevent me from bombing. I also use headphones to test before the sound reaches the speakers.
BF: How do you balance music with daily life?
DG: My partner Scott and I try to practice at least once a week. If we miss two weeks in row, we both get grumpy. I found the balance by making it a part of my life. I need it. Trying to slow down or not play music isn't the answer for me. It's like meditation or breakfast. I can't skip it.
BF: Do you find yourself using other creative outlets in place of music?
DG: Well, I also do video work. The two can be integrated, but the two are exclusive for me.
BF:  Tell us about your label AnInterval Records.
DG: It started in 2015. We're on the 7th release (with a few more to end 2016). The music is free digitally (option to buy), but also pressed on cassette and cd. The goal is to of course reinvest and press vinyl in the near future.
BF: You chose an edit (part 1) of the song "The Potter Becomes His Pot" to be on the DEQ compilation. What made you pick it?
DG: This song was inspired from an educational book I read. It was about a Potter who became so good at his passion, that he could no longer tell the difference between the pot and himself.
It was a recording taken from a large zip file containing three hours of music. The remains of the file were delicately edited, mixed, and mastered to make the double album, Rivers Part 1 & Rivers Part 2. This is the follow up to my debut, "Don't Think About Departing."
BF: Favorite color combinations?
DG: To answer honestly, it changes. Right now, orange gradient to purple
BF: Favorites shapes
DG: Circle and Triangle combinations :::
:::
Want more? www.davegraw.com . Also, Check out this new vinyl compilation – Cultivation: First Edition!! Double LP gatefold with artwork and design by Dave himself!! 60 minutes of musical bliss which includes the following tracks: Arthur Colvin – Low Lands (Dave & Scott), Blair French – Trans Earth Injection, Mazri / Imzra – Mirror Pools, Windy & Carl – The ESP of Dandelion in Hues of Grasshopper!!! His track for DEQ is on the vinyl for issue 9! (Listen section on DEQ website to hear it!!)