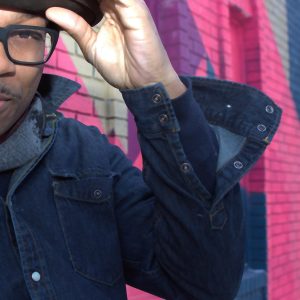 Written by LaVell Williams. Photo by Linda Kubit
DEQ Interview: Drake Phifer Written by LaVell Williams. Photo by Linda Kubit
Drake Phifer is the proprietor of the storied and successful production company Urban Organic.  We recently sat down over brunch at Brooklyn Local in Corktown for a conversation about his history, the story of Urban Organic and what's next for Detroit and beyond…   
LW: Let's start from the beginning, when did you start Urban Organic?
DP: November 2001, it was right after 9/11. It just happened to be by accident, I was planning prior to that event…but there was something about that particular year that made it a very special and significant time because no one wanted to travel and my event was met with resounding success. It was at the Johanson Charles Art Gallery, which is now Signal-Return in Eastern Market. I knew at that moment that I had something that people wanted and would enjoy. Since then I've had the pleasure of being able to be a producer for various shows and events from concerts to art gallery openings.
LW: Do you know the number of events that you've been involved with?
DP: I don't, but in the last fifteen years I bet it would be around 75 to 80 shows.
LW: That is impressive. Very few people can say that, and still mean that quality was produced.
DP: Thank you. It has been a labor of love, but as you know it's not always profitable. So you have to have something else that drives you. It has to be driven by passion.
LW: Being a lover of the music is important, not just looking at it as financial gain.
Looking at it from a production standpoint, how do you feel the sponsorship situation is now from when you began?
DP: I think initially when I began, sponsorship was relatively easy. I had Designer Shoe Warehouse, they would give me $1000.00 here or there. (Not much at all, but at that time the DSW association was important) I would also get small business sponsorships, lots of small businesses would help underwrite the cost of the events. That's still a good avenue. I think now there's a lot more capability. First of all the economy is better now than I have seen it in my lifetime.
I don't know if it's been this good, particularly in Detroit. The local economy is great, the national economy is great. So sponsorship is easier, and I know how to speak the language of sponsorship more. (When we talk about sponsorship now, we're talking about 'grown up' money.  When I started no one knew who many of these acts were. I think I have proven myself, and they have proven theirs.)
LW: Because there is a language.
DP: Yes there is a language, and I think that although I'm locally based, I have something that has national implications. It's a matter of activating that. It's something that right now I'm poised to do, but my emphasis and my home is in Detroit.
LW: Are you from Detroit originally?
DP: Yes.
LW: I know you lived in Atlanta, but how long were you there?
DP: Almost 10 years from 87 to 96. You know I always tell this story, that I used to go to this funk-jazz café started by a buddy of mine named Jason Oar. He was getting at it's peak 3000, 4000 people out to his events without ever announcing the talent (4 Times a year).
LW: (Laughing) That is unheard of in Detroit.
DP:  Unheard of, I couldn't duplicate it if I tried. I think it was just a different environment down there. The number of Black colleges (HBCUs), and the number of schools in general down there, just created a hungrier and more curious music audience. The closest I've seen to that is maybe Funk Night.
LW: What was your last show?
DP: My last produced show was Bilal at the N'Namdi Center for Contemporary Art. Excellent show, good turn out and two sets. For those who don't go to church, it was church. For those who do, they probably missed it because they were in church. I don't mean that he was preachy, but it was just a spiritually moving experience for everybody in attendance. I was then asked to promote three shows with artists that I had worked with before with the exception of one…Eric Roberson and Chrisette Michele, Leela James and Raheem Devaughn, and then Hiatus Kaiyote. I was asked to promote all three shows— but you can imagine how difficult that can be with all of them occurring the same night?
LW: Your history gives it weight.
DP: Yes, I'm happy for that. I'm happy about this interview because it's kind of a reset or a reintroduction. There's a younger audience out there, and they don't know about @Last or Family Funktion, they don't know about Urban Organic.
LW: They basically know about Funk Night and anything involving Paxahau. Not saying anything against those entities, but that's their point of reference.
DP: So I'm very happy about that, and I always have conversations with my friends about intellectual property and that we all have it. We all have a personal brand, also what I have recently realized is that I can't escape Urban Organic, it is who I am.
LW: You shouldn't, because no one here has managed to do what you've done, and no one is trying. And so another question would be, do you think the type of music you're bringing is important anymore because music has changed? Especially in relation to dance and neo soul. When it comes to soul, it got pushed to the side. For a lot of people it's passé or cheesy. What do you think about that?
DP: I never represented it as neo soul, although many of the artists I work with fall into that genre. I just looked at it as good music. I work with many different artists but my goal has always been to promote good timeless music. They want to call it neo soul, that's fine. I mean a lot of it is cheesy. There are a ton of artists that if they follow the genre, they're going to be cheesy anyway. I like to work with artists that transcend whatever genre they're supposed to be in, like the artist Charity that I worked with. I would tell her all the time not to put herself in that box.
LW: I feel like a lot of artists feel like they have to come down on one side or the other, because if they don't, people won't know where to put them. What we do as a people is try to find a box to put you in. So do you think that's a big part of it?
DP: Yes, I think it's a double edged sword. Unlike Hip Hop which seems to have exploded, the term neo soul seems like a curse.
LW; True, no one uses it right now. The respect is kind of lost for it. So do you think there's still enough of an audience to keep Urban Organic solid?
DP: I do, I think the audience is there but the artists have to be in alignment with those audiences. I have tapped into some of the younger artists, and their base is also some of the traditional Urban Organic followers. They are very motivated. They are loving some of these new artists like Collective Peace, Ideeyah, and Britney Stoney. You know I always say that I built Urban Organic so that it would appeal to someone whether they were 17 or 70.
LW: It's about being as diverse as you can be.
DP: And in addition to the live things, I'm into DJ culture too. DJing, in addition to listening to my parents music, WJZZ, Mojo, and Rosetta Hines, was probably the thing that opened my mind and allowed me to gravitate towards wanting to see people live. I could have easily taken the DJ route. I started DJing with Norm Talley back in 1984. Norm was my DJ mentor. When were kids, one of my best friends lived two doors down from Norm, and we would go over his house all the time. That's where I learned to DJ. Norm was the most precise blender (blending is what we called beat-matching then) that I knew. So now I'm embracing all these things. Moving forward I would (love the experience of traveling across world and playing music for folks. I think about Eric Roberson, who's oldest YouTube clip of him is in Detroit. When I booked him he was being booked in only two other cities, Washington D.C. where he went to college, and Atlanta. Now he's traveling the world. (I am no Eric Roberson, but I am just saying, I have seen it happen).
LW: So do you want to take Urban Organic on the road?
DP: Yes I've done it before and found that people are hungry. So many of these tertiary markets are alive and hungrier than a place like Detroit or Cleveland.
LW: I feel like we're a little jaded here, but there are a lot of things that just never make it here. Are there new people that you are excited about?
DP: I really like Hiatus Kaiyote, Jerrard Lawson, Moonchild, and Kyle Hall. I don't think Kyle is getting the local love he deserves. I've really been drawn to what's going on in the DJ world because these guys are impacting people all around the world, and they are a band of one. I've really been checking out Alton Miller, Reggie Dokes, Kai Alce and Delano Smith. These guys have been on the grind for years and now they're traveling regularly.
LW: Do you think that's in part because of the recent love that people are showing for Detroit?
DP: Yes.
LW: What's next for you?
DP: There are things I want to do in terms of merchandising and promoting the brand so that people really feel that it's something that they are invested in. I have put in a bid for the Knight Foundation grants and I've been approached by some different foundations to do some programming. My ideal goal is to do a micro festival in Lafayette Park or Chene Park to celebrate the 15 year anniversary or something like that.  
LW: I hope this all works out. You deserve it. On a total side note, what do you think about music coming out of the UK? That's where I seem to be finding most of the new things I like.
DP: You know about seven, eight years ago I brought Roy Ayers here, and after the show he came to me and said, "I felt like I was over in London." My wife and I went over to London about five years ago and we were able to catch him at the Jazz Café. It was interesting because I didn't feel like what we had done here (in Detroit) reflected what was going on in London because most of the people there were Caucasian. It was mostly Europeans there to see him. I feel like it was instructive to the American artist. You can't just cast your net over the United States and think that's going to do it. You have to cast it globally, wide and far.
LW: One thing I really want to ask is do you think that the music world is really paying attention to Detroit artists?
DP: Yes and no. You know, I had an interview with BLAC Magazine and writer Nadir Omowale. He asked what is the big difference between Detroit music now and Detroit music fifty years ago? I said fifty years ago it was more iconic, now it's elemental. Meaning, you know, minus Big Sean, Kem, Eminem and four or five majors. It's not like Atlanta, Houston,  Los Angeles or Chicago. There's not, like, people looking for this pipeline coming out of here. Maybe on the electronic side.
LW: I wonder how we make that happen again?
DP: I feel like there's an opportunity that's starting to gravitate towards people like me and people that we know. DIME is here. They're doing a great job, but they can't do it all, they're too small. I think the purpose of DIME is to awaken others to the fact that there is still talent here. We need to mine our talent. There's no shortage of talent.
LW: How important do you think music is to the future of Detroit.
DP: I think it is essential to the authentic telling of Detroit's story. You cannot talk about a resurgence of this city, a revitalization of this town without music being front and center. To me up to this point it has been a paltry effort to really make music the centerpiece of the discussion of the revitalization of Detroit. And so I think, but I knew, I understood why, it's like Detroit music, you're there. There's no doubt about that. We need to promote the food and culture here. We need this explosion of restaurants, art and social entrepreneurship. And it'll come back to music cause the music is intertwined in all of that. I think the focus is about to come back on Detroit music in a way it hasn't in the last five years.
DP: You know you asked about artists earlier and I wanted to mention some to be on the lookout for from Detroit. There's (Ideeyah), Collective Peace, Suai I think is about to make a huge comeback. Ren Cen Cool Beanz is the sleeper. He's a producer, performer and DJ. The guy is magnificent. I envision a city where the collective music community is in unison and is aware of who is coming through. I envision a city where we're excavating the music history that is all around us, and providing these really rich tours where Dilla grew up, or Aretha Franklin, Amp Fiddler or Anita Baker. We've got so much. You know you can go to Los Angeles and get a music tour easily. You can go to Atlanta and Nashville and get a music tour easily. You know we are just as much a part of the music ecosystem as any of those places are, and we need to start living like it. Living up to our role.
LW: That's the perfect way to end this. Thank you.
DP: Thank you man. I would love to interview you one day.