Follow DEQ May 20-27, 2019 for DEQ Release Parties and more!
:::
Monday, May 20: www.thedetroitilove.com and DEQ present: Late Night Crates & Event Guide Print (and digital) release party @Offworld Arcade, 8pm-12am, 139 Cadillac Square, Detroit:::
First place to get your free, 100 page guide with afterparty listings, DJ set from Brent Scudder of 313.FM, Pop Up record sales from veteran record diggers Bob Claus, Jay Spliff and St33lo Ryan Faulkner, tons of vintage arcade games, half of full pizza, limited edition t-shirts and cash bar available.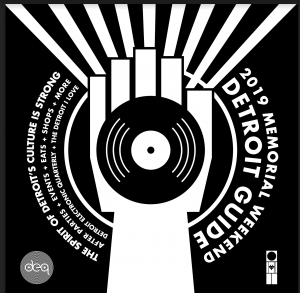 Weds May, 22: DEQ Magazine Print Roll Out Party @ Two James 2445 Michigan Ave. (Corktown), Detroit 7:30 pm -12 midnight:::
-First place to get DEQ issues 15&16 with 7 track LP (yellow vinyl available only at party), limited edition disco shirts, DJ sets from Vince Patricola & Todd Osborn. No cover.
-Magazine LP has tracks from: Boog Brown, Badriyyah Wazeerud-Din, Thelonius Bone, John Collins, Ian Fink, Derrick Thompson. Interviews also with Scott Zacharias, Osunlade, Richie Hawtin, Theresa Hill, Jacob Park, Anthony Shakir & Claude Young (Frictional Recordings), Nicole Campbell and DJ Minx.
:::
Thursday, May 23: Vibes and Visions (Rick Wilhite of 3Chairs, Beautiful Sunday) and DEQ Record Fair @Bert's Marketplace (Eastern Market) 1pm-7pm: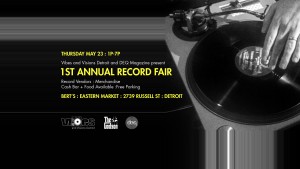 Friday, May 24: 4 LaVell @Whisky Parlor (above Grand Trunk Pub) 608 Woodward Avenue 9pm-2am: Get together to remember our inspiration and dear friend LaVell Williams: DJs Reggie "Hotmix Harrell", Mike Himes (Record Time), DJ 'munk, Carleton Gholz, Vince Patricola. Presented by Detroit Sound Conservancy and DEQ.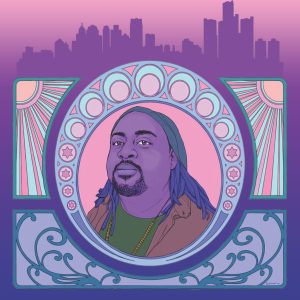 Sunday, May 25:
B-Side Brunch @ Union Street w/DJs Vince Patricola and guest Brian Gillespie: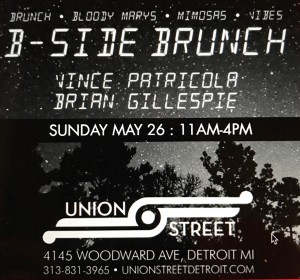 after 4pm…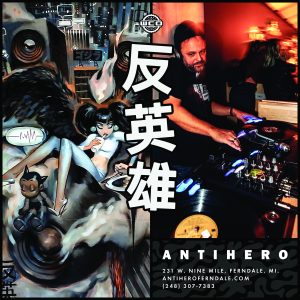 then…