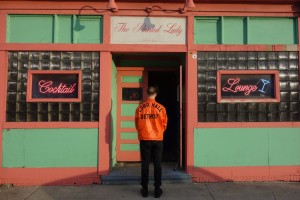 FIT Siegel article and photos by Walter Wasacz
FIT Siegel has had a busy 2017. Those who know him might say, well, that's not news: he's always on the go and has been for the past 10 years, probably longer. That's just who he is, a driven entrepreneur and an ambitious artist. To call his company and the seemingly tireless person behind it "FIT" is a genius move and, whether it was intentional or a product of hidden, subliminal forces, a perfect branding stroke.
Indeed, Aaron "FIT" Siegel has carefully crafted a multi-layered career in music: as founder and owner of a label and distribution company, and as a techno and house producer and DJ that now has him gigging around the world virtually non-stop.
Much of that early work came behind the scenes, making important contacts in Detroit (Mike Banks, Kenny Dixon Jr., Omar S) and overseas (Serge at Clone in Rotterdam; Dimitri Hegemann at Berlin's Tresor), quietly building a recognizable brand with street cred stretching from Hamtramck, Michigan to Launceston, Tasmania, where he performed this summer. He also did a house party ("for about 250 people," he says) in Buenos Aires and played on top of a mountain in Chile.
The schedule didn't let up this fall. Siegel had shows in Munich, Berlin, London, Nottingham, Oslo, Paris and Istanbul on his calendar.
Trying to hook up with him face to face was difficult (he also got married this summer), though we managed to meet for a photo session in early May near his home in Hamtramck, swapped questions and answers on email the next few months, then finished with a late-night interview with frozen grapefruit and vodka drinks when he came home from Australia in mid-August.
While we talked and drank on his porch he spotted a praying mantis, apparently hunting a spider on the brick and cement ledge in front of us. "That's a big bug," Siegel said of the insect, which took an aggressive stance in front of his phone when he tried to get some pictures. "Wow, so cool. I've never seen that before."
After the insect disappeared into the darkness it seemed the perfect time to start an interview.
WW: So, from the beginning, what got you into music?
FS: I always played instruments since I was really young. I played saxophone, piano, guitar and bass. I can keep a beat on drums. I played bass in a band when I was in my early teens.  When I was really little I had a tape recorder thing from radio shack with sound effects and microphone built in and I would experiment with that. I always listened to all types of music and worked at a record store in high school. The first time I started to DJ was when I was in college in Boston and had a freeform show in the middle of the night where I was able to play whatever I wanted.
WW: Fast forward to after college, back in Detroit in the early- to mid-2000s. What was going on for you then?
FS: When I came back to Detroit two years later I was struggling to find a decent job so I was doing a multitude of things – one was that I started a bike messenger company, another was working construction at a new club that was soon to open called Oslo. When Oslo opened (in April 2004), I worked in the bar and at the door, and later started to organize parties. Soon after I was doing parties at places like Detroit Contemporary and FI-Nite Gallery just for fun. I would DJ at the party as well. I would play first because I didn't want to pay anyone to do it. I was funding the parties with the money I made as a bike messenger, paying the artists. I booked a few tours to make it viable to fly them over here. I would design the flyer, hire the door guy, everything.
WW: Where did the idea to start your own company come from?
FS: As far as distribution goes – I wanted to stop bike messengering. I wanted a change. I saw a need for another company that could help with distribution of a lot of the independent labels that were popping up that I thought were making stuff that was interesting. I knew Mike Banks, and he had shared his experiences with me about the trials and tribulations of making records. Submerge was focusing on their house labels and the back catalogues of Transmat, KMS, and Metroplex, and Underground Resistance stuff.
But then there were all these other artists with labels around town: like Omar-S, Kenny Dixon Jr., Theo Parrish, you know, there's a million of them. I started contacting them, and other people found out. So that grew.
WW: How did your out-of-town U.S. and overseas connections develop?
FS: I had Serge from Clone Records play at one of my parties and he gave me some advice as well. His company Clone, became the first connect for European sales. If I had to go to Chicago or New York, I would bring a couple boxes of records over there and just go door to door, store to store, introduce myself, see if they wanted to buy records. I'd get their email and they'd become customers. I made the website. Places in the UK or Japan started hitting me up and then other stores. It was sort of a snowball effect with that.
WW: Where did you do your business? You've moved Fit Distribution around over the years.
FS: I first ran the company out of my loft in Eastern Market, then it was on Michigan Avenue across from the train station. Then I was in the basement of Peoples records on Woodward, then a spot on E. Grand Blvd in a building that was under construction but had some raw space. Then two different places in Hamtramck, and now we are back on E. Grand Blvd.
WW: And the label?
FS: In 2010, I started FIT Sound, which is something I needed to do because I wanted to have total creative control over the music and the artwork and the whole package. I tend to work closely with the artist on how the mix is going to sound, the edits, and art. I try not to change their shit, just give it a little direction.
WW: When did you start producing your own music?
FS: "Tonite" was my first record that came out in 2012 on Omar-S's label FXHE. I'd been making music for years before this, but this was the first to come out properly. Alex (Smith) helped me a lot on this one, helping me mix and engineer the sessions with L'Renee who sang on the track.
Like I said before I had loads of tracks but nothing like a finished product. I would always work a bit on this and that and never see anything through to the end. I would say that this experience gave me the confidence to take my own music more seriously and actually finish things. That was always the hardest thing for me, because you can always think it's going to be better but in the end there comes a time when you have to just stop. Otherwise you are just going to overthink and ruin the damn thing.
WW: And getting gigs and touring as a DJ?
FS: Traveling for gigs and stuff like that seemed like a natural progression. I had been traveling a bit here and there, but it definitely seems like there are more gigs after Carmine came out in 2015. I wouldn't say I 'blew up' because I still had a good 10-plus years before that spending time in studios, record stores and listening to other DJs and just observing before 'my' time came.
I'm also playing quite underground events. This year I played what was pretty much a house party with at least 250 people in Buenos Aires and the week before that I was playing on top of this mountain two hours outside of Santiago, Chile. I also played a great loft party in Philadelphia. Generally, the weirder places and situations are, the better. The more dark and dirty the better. I feel at home in a shitty basement.
WW: The year, 2017, is almost over. Any other highlights to speak of? What's next?
FS: "I did the Australia tour, also got to go to Tasmania this time, where I've never been to. I did some remixes on two UK labels: Mysticisms and Hotflush (Or:la's Farewell 24 EP). There are also some collaboration 12s in the works with a few friends of mine.
On the label side of things we put a 12 by a duo called the Golden Mean, which is a really deep one on a kind of Chris and Cosey vibe, and following that will be another 12 by A Drummer In Detroit (aka Andres' and DJ Dez). I also hope to release some more music from Stallone The Reducer on Est. 83 Records as well. Est. 83 is the label for the stranger stuff.
At this point we went inside the house, where Siegel put on some tunes he plans to release on Est. 83, including new Stallone The Reducer demos. STR is Sam Consiglio, an ex-Detroiter now living in New York who was a member of Tamion 12 Inch, a three-piece electro-punk band on the Ersatz Audio label in the early '00s.
FS: Weird, huh?
WW: The weirder the better, I say.
FS: Yeah, I say that too.