"At this point now it's become an institution," says resident Jeffrey Sfire. America's underground gay dance scene has been coming up in a big way over the last several years, and Macho City is an integral part of its success. Having celebrated its eighth anniversary featuring FIT Siegel, the recurring Detroit party has gone through a number of venue changes while meshing distinct tastes from some of the city's best modern selectors.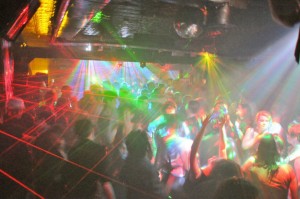 At the center of the party's history is Mike Trombley, who came up in the 90s at the Packard Plant and Zoot's, where he met long-time Macho City resident Scott Zacharias around 1995. "Everyone met there and started bands," Mike says of Zoot's. He particularly cites Carlos Souffront's Monday night, EXAT, as well as Adriel Thornton's Family parties as breeding grounds for many lifelong friendships.
After five years in Los Angeles, Mike moved back to Detroit in 2004 and started the Disco/Secret parties at the Detroit Eagle, which happened on Sunday afternoon with Scott and Mike Kerns as fellow residents. It brought three devoted DJs together during a period that many describe as a vacuum for good music in the Detroit gay underground. "If you were into the leather scene that meant going to the Eagle and having to hear total crap on a bad sound system," recalls Chuck Hampton, a frequent Macho City guest who is revered for his Gay Marvine disco edits. "In the 80s you had places like Menjo's and Backstreet that played Hi-NRG and top 40 remixes. Then there was Todd's, and the Nectarine Ballroom in Ann Arbor that played more alternative stuff." The early 90s was a high point for gay nightlife in Detroit, all thanks to Heaven. "Ken Collier was absolutely killer at that club," says Chuck. "You had house music in its proper element: a black gay after-hours club. Unfortunately it was closed down in the late 90s. The rave scene in the 90s was very gay-friendly, and that's where the good music was, but the city started taking a hard line on unlicensed venues."
Disco/Secret continued on until the Eagle closed in 2009. Meanwhile, Mike had moved to Philadelphia in 2005, where he and Ron Morelli – who was five years out from starting his career-defining record label L.I.E.S. – became fast friends. They started a party in Philly called Paradise, a tribute to the Paradise Garage, at "this amazing time capsule of a gay bar called Key West." Both Scott Zacharias and Jeffrey Sfire were invited to play. With an old rotary mixer, mirrored dancefloor, and a suspended DJ booth, it looked like it hadn't been updated since 1986. "I don't even think I played records that night," recalls Scott, "I think I just played with the lights!" The Thursday night event went strong for two years until the club closed in 2008.
It was at this time that Macho City came into fruition. "I'd gone to queer parties in LA that attracted a really diverse crowd," says Mike. "It was an option for that segment of the community that was tired of hearing Britney, Madonna, and Rihanna. I wanted to create that option in Philadelphia as well." The very first Macho City was in September 2008, which he also threw with Ron. "It just clicked," he says. " It was successful right off the bat, and it was good to see such a diverse crowd in terms of age, gender, sexuality. It was a total melting pot." The party happened once more in October before Mike prepared to move back to Detroit.
Taking three months to promote the first Macho City in Detroit, the event happened in March 2009 at the legendary R&R Saloon on Michigan Avenue. "I was hoping to transfer that momentum." With a stunning flyer from Philadelphia artist Jeffrey Bouchard, who continues to nail them all with little guidance, the first party featured Ron Morelli as its guest. It was packed. "To this day we have not had a bad turnout," says Mike. "The party is just the right mix, and all we have to do is keep it going," Scott commented. Jeffrey Sfire, who's been an official resident since November 2014, says the party has "such a rotating audience, but they all bring the same vibe." He adds, "It's a place where people can let go of life stress. Compared to a straight party, there isn't all that hetero energy. People feel comfortable to just relax a little and dance to good music, and I think that's a big thing. Imagine a straight girl going to a party and seeing 10 shirtless gay dudes dancing together and making out — you don't see that in Detroit ever. We're not San Francisco or New York. This is still the conservative midwest. To have a party like ours is still liberating and exciting for people."
Macho City has survived a number of venue closings over its eight-year run. After a storied collaboration with Pittsburgh's Honcho for Movement in 2014, the R&R briefly closed, reopened, and then officially shut its doors when Jeffrey was to play his inaugural set as a resident that same year. The party moved to Menjo's, and was later held at Grenadier Club a few times as well as an after-hours spot called Doug's Body Shop; a blind pig in a dangerous neighborhood named after a 90s gay bar in Ferndale. "The R&R set such a hard to reach bar for everything involved in our party," says Jeffrey. It's currently held at the new R&R – a side room at Menjo's, now the oldest operating gay bar in Detroit, which features the former managers of the original R&R. "The older gay bars in Detroit have attracted very specific crowds. None of the young queer kids would really go to these bars. Macho City is attracting a lot of the Menjo's crowd, and it's much gayer than it used to be. Lots of shirtless dudes and straight hipsters," Jeffrey continues. "The music is always fun, and there are all different kinds of people dancing together."
"Some of the greatest moments ever has been when Chuck has been playing," says Scott. "I've really seen the dancefloor levitate when he has been playing his own edits." Chuck [Gay Marvine] adds that Detroit was ready for a good gay party. "There were other nights happening here and there, but those were at straight bars and you could tell that some of the staff at those clubs weren't too comfortable with us queers." His sets are curated for this party with added effort. "I started doing edits specifically with Macho City in mind because the ages of the crowd varied so widely I knew I wanted to play tracks that would coax everyone onto the floor. If you can get people from different groups grooving on the dance floor, that's the glue that holds the night together. It makes a mixed crowd actually mix."
Jeffrey adds that their guests are often excited to play the gig, and that is a huge factor in their bookings. "It's about sound too. Are they fun? I wouldn't book someone that takes themselves too seriously." As a trio, the residents continue to keep the party going by staying true to its intentions. "It doesn't matter what you are: black, white, man, woman. We like to keep it foggy, dark, and loud," says Scott, "I see Macho City as a throwback, but also a celebration. We do play new records, but we like to keep this perspective where we can connect all of the dots at once." Mike adds, "Macho City has been fully embraced by Detroit's mainstream techno culture. I'm just so happy that everyone seems to enjoy the party and supports it. That's really what it's all about. It's not just about sexuality, it's about talent and music that's compatible with where we're coming from."
The residents have been busier than ever since the anniversary. Scott Zacharias was signed by a notable agency, and has been knocking out a long list of European tour dates with Ron Morelli. Jeffrey Sfire and Ian Clark (of Perspects and Le Car) teamed up to form Looky Looky – an italo-influenced project that was quickly signed by Dark Entries to release its debut EP. Mike Trombley is planning a Macho Edits label while manning his own record store, Stay Pressed, in Ferndale. And despite how much all three are in demand, Macho City is coming back strong in 2018 with some exciting lineup announcements.
(To view issue 12 pdfs and other issues… go to the Issues section of our website and just click on the one you want… support by buying the print issue in a good record store near you)