If you are looking to learn about the art of DJing and technology, you may want to check in with Spin Inc. and Loft Dj School (Chile) as they join forces to bring you the Detroit Electronic Music Conference Tuesday, May 24th through May 27th 2022. We caught up with community activist Ron Johnson (aka DJ Jungle 313) who is celebrating the 7th anniversary of his nonprofit organization Spin Inc. that teaches music production and DJing to youth in Detroit. He's here to give us some background and to tell us what's coming up for the big week!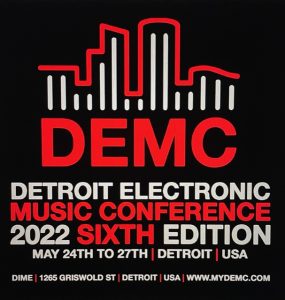 DEQ:Hi Ron! Thanks for taking a moment out to talk and congrats on the 7th year anniversary of Spin Inc! You were a DJ long before you had the idea to start this project. Would you tell us about your background as a DJ?
RJ:Peace DEQ, thank you for the interview. Around 1985 my parents bought me a pair of Technics belt-drive turntables and a Radio Shack mixer.  I also collected records like my parents. Even though my parents were not together, their love and appreciation for music was passed to me. I used to go to Simpson's Record shop (which was in my neighborhood at that time) to get records. I also went to Buy-Rite, Aspen Music, Detroit Audio (East and West ), Shantinique Music, Record Time and others. A lot of good music in the '70s, '80s and also from the '30s and '40s…that era was influenced by my grandmother.
DEQ: Who were some of your influences as a DJ?
RJ:At that time DJs were great influencers to the youth…like The Wizard, Electrifying Mojo and hearing Jam Master Jay, Grand Master D and DJ CashMoney.  I wanted to have the ability to control a record the way they did.  I wanted to learn but I felt like Biz Markie in the "Vapors" where he wanted to join some local DJ crews. Either they didn't take you seriously or it was cliquish to a certain degree.  Or you didn't have the money to buy the right equipment.  What I had was within reach of my budget at that time. With belt driven turntables without pitch control was difficult for me to mix.
DEQ:How did your background as a DJ make you want to start Spin Inc?
RJ:Well, I took a hiatus from DJing for some years and I came back around 2010. I started to take tutorials online to learn the fundamentals and have the principles explained in a way for me to understand.  So one day, I had mentioned that I really wanted to get back into the art and I was blessed with two turntables and an amp. I went and picked up a mixer and Traktor Vinyl by Native Instruments and I began to practice. So as I began to take more tutorials, I saw that they had brick and mortar schools in New York and Chicago (Scratch Academy and Dubspot.) I went to these cities to visit them first hand and the experience was incredible.
But what struck me was a commercial for one of the schools and the young student mentioned that this program saved his life. A lightbulb went off in my head. Start one in Detroit and use this to help save our children. Spin Inc. was born.
DEQ:You got some great sponsors like Mixcloud, Reloop, Serato to name a few this year! Incredible! Did you have sponsors right from the start? Did you have to put a lot of your own equity? How have the sponsors been helping in Spin Inc.'s development?
RJ: We were fortunate to have an incredible host of sponsors that helped us over the years such as Pioneer, Native Instruments, Serato, Ableton and Splice. We developed relationships with them from the start, some came later after we became more visible and started programs around the city. They helped with equipment, software and funds (Splice) from downloads of the Splice Movement Sound Pack. It enabled us to purchase new Reloop products and attend the NAMM conference 2018-2019. I personally cut grass and shovel snow to help keep the program afloat. Nonprofits are fueled by the passion of the Board and the Director that has vision, but it takes funding to keep it going and access to constantly changing products in the industry to stay relevant.
DEQ:It's going to be different since COVID 19. What is programming going to be like? Where do people go for information or to donate?
RJ:We are going to venture into the virtual classroom space as a result of the COVID 19 situation. It is a new space for us but we have had success with it earlier in the year with the DIME at DSA project, which we have provided the Music Technology program since 2017.  We have been fortunate to work with Ableton and Melodics which have been used in our program to teach music production using Digital Audio Workstations (DAW) online with free software from Ableton and promo software from Melodics which is a software that teaches finger drumming.  If someone would like to donate you can go to spinincdetroit.com or DEMC on Facebook https://spinincdetroit.com/
DEQ:So not only are you doing good works with Spin Inc., you are also building gyms for youth in their backyards? That's so incredible. How did that idea come about?
RJ:I am prior military and have been in martial arts most of my life.  Exercise is your pathway to good health mentally, spiritually and physically. My grandfather also taught me how to build things growing up and, as a matter of fact, he built our front porch and picnic table without a blueprint. I learned a lot from him even with a 3rd grade education. Brilliant man. Interview: https://www.clickondetroit.com/video/live-in-the-d/2020/06/16/uniquely-detroit-backyard-gyms-on-live-in-the-d/?fbclid=IwAR0aS7_Yl_gcykemwsayEt60O3Qq_TKJs2EWtt_OZMrT-zzmpwZioIFAEzg
DEQ:What advice do you have for people looking to get involved in their community or start something?
RJ:Just do it. I started as a community activist when I left the military to help my community rebuild after the crack epidemic of the '80s. We are still feeling the effects today.