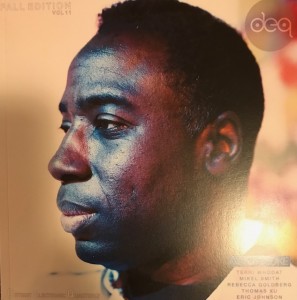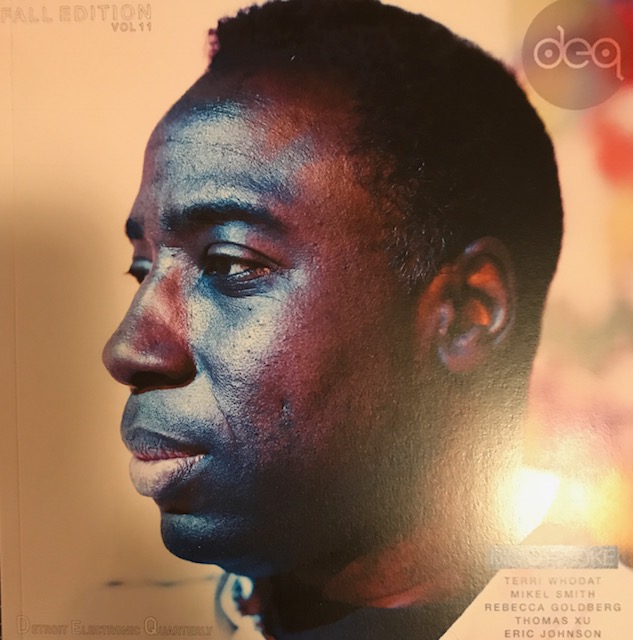 REBECCA GOLDBERG article for DEQ 11 May 2017 by Catherine Diggs. Photos by Zlatan Sadikovic.
"I would always burn CDs for my friends or be the person who would do the music in the car. I guess that counts for something", she said laughing, "Or finding these obscure things. It wasn't like I was telling myself I was gonna be a DJ. People make it such a bigger deal than it is. But at the same time, to me it's a big deal. It's everything to me. But not in the way I think people perceive DJing; it's completely natural. Not difficult. Not serious. The way people want to have superstar DJs, the way they treat them, it's super strange. I'm not undermining it or anything. I just don't really get it. I'm not a doctor. This is what I do."
It was a rainy and cold Friday afternoon when Rebecca Goldberg knocked on the door of my apartment in Midtown. After our greeting, she confessed to me frankly that she was not the hugest fan of interviews. Still, she sat there shyly and gracefully but also unapologetically, with her long black hair, feline green eyes, and subtle ways, which gave her an unassuming aura of mystery. Despite her hesitation, it did not take either of us long before being immersed into an engaging and mutual conversation about her love of music, her experiences, her influences. She struck me as a very intuitive, unconventional, and sensitive woman and artist, who has worked hard to be where she is at today and her thoughts about the life of a working artist are well worth sharing with the community.
Over the years, Rebecca, whose former artist name was CASH4GOLD, has come to be a seasoned DJ. She has performed at MOVEMENT, Charivari Detroit, as well as numerous venues locally, nationally, but also abroad in France and in Greece. She has also made a name for herself as a radio DJ by having mixed on Detroit public radio station WDET 101.9's Sunday Sessions show, 89.3 WHFR out of Dearborn, as well as a wide range of internet radio stations hosted in Detroit and worldwide, notably, Report2Dancefloor, out of Thessaloniki, Greece.
And in well under two years, she has managed to release four projects- "A Trip to the Moon" (January 2016), "313 Acid Queen" (May 2016 for the digital and March 2017 for the vinyl), "Activity of Sound I" (August 2016), and "II" (January 2017) – while relentlessly juggling between jobs as a freelance graphic designer and an employee at Detroit Threads record store amongst other things. This portrait piece will give us an opportunity to dive a bit deeper into her thoughts about who she is as a person and artist, but also about her work as a producer. One of her tracks (collaboration with her friend Ryan McCray) will be featured on this DEQ record release.
Rebecca was born and raised in a suburb of Detroit. Her mother was a pianist, a singer, and also played the accordion, while her father was more focused on the technological aspects of music. "My parents loved everything from jazz, to disco, to rock. I was a kid in the 90s, so I had Madonna big time in my life. I had access to a vast range of music . . . I also think my parents were raising me to be a performer. I took dance and piano lessons from the age of five. They wanted me to have that discipline, that knowledge and the values. I appreciate it. It's everything".
But beyond her upbringing, she had always been a natural music digger. "I always wanted to explore more and dig deeper. I always read the liner notes in the CD cases to discover new things that way. And it never stopped. Some people are car fanatics. For me it's music, the whole package of music". To feed her passion for knowledge, she would often go to her friend's place to read Spin Magazine and go to bookstores to read Rolling Stone and international magazines with music reviews in them. And because she had started working at the early age of 14, she was able to go to Harmony House, a music store near her parents' place, to start collecting CD singles of artists she loved, especially electronic artists like Massive Attack, Prodigy, Tricky, and Meat Beat Manifesto.
Hand in hand with her digging, was the radio, which aside from MTV, the ethernet and file sharing, was one of the main mediums that played a significant role in her life as a music head. "Radio was like a teacher to me. When I was younger it seemed like radio was less controlled. Today FM radio is very corporate owned and planned and timed . . . I didn't know or maybe it really was this way, but when I was a kid I feel like that's where they would break the newest music. You could hear local bands on the radio. Or bands from other countries. Disc jockeys would play it. That's why Stacey (Hale) was important to me. She was a disc jockey at the time. She got to play whatever and I got to hear all this stuff I would probably not have been able to hear otherwise."
It was in 1998, when Rebecca was a young teenager that she discovered Stacey "Hotwaxx" Hale, also known as the "Godmother of House", for the first time on WDRQ. It was around this time too, that Detroit clubs like the infamous Club X would broadcast live on air. That was the moment she realized that not only was there such a thing as a DJ, but that there were also places where DJs could perform. Thus, through her more private experience of Detroit dance music, she started building a visual landscape of what the "scene" was like in Detroit, a scene she would only really start engaging with much later in her life.
"I was never like 'I'm going to be a DJ'", Rebecca explained firmly. "I did so much other stuff. I didn't start DJing until I was in my mid twenties. It didn't fall into my lap. It is not the result of something I had been pursuing my whole life. It just started making sense."
2009-2010 represented the pivotal years for Rebecca's early career as a DJ because her friend Amy, also a DJ, introduced her to her soon-to-be mentor Alexi, a mysterious multi-facetted character, who crossed dressed during his DJ performances at fetish parties. "Alexi was a great first mentor", Rebecca said, "because at my first ever DJ gig in Southfield, Michigan, he was like 'You are gonna come here and set up all this shit with me before you are even allowed to play'. I had to carry everything in my heels and set it up. It was super heavy. But I love setting stuff up. I don't love carrying it anymore. But I love to know that I know what I'm doing. He also told me, 'You can't bring a computer. You gotta start buying records.' These were all valuable lessons to me as an aspiring DJ.'" It was therefore through sheer hard work and practice that Rebecca was able to acquire solid beat matching skills, but also programming/music curation ones too, which she regards as equally important.
"I talk about this very openly because I don't like people cutting corners in any aspect of their life", she said sternly. "When DJs show up and say 'I won't play unless there is this, this, and this.' I don't know it's their prerogative if they want to learn or not. But I can roll up to pretty much any situation (turntables, CDJs, USB, computer) and I can adapt. Shit's hit the fan enough times that I've had to. Again the whole idea of the superstar DJ. I think you are a superstar if everything is messed up and you can still make something sweet happen."
It is this incredible work ethic and audacity of hers accompanied by an inspiring Nina Kraviz performance at DEMF in 2013, the gift of an Akai MPC by Stacey Hale, and the purchase of a TB3 (Roland's digital version of a 303), that finally led her to truly tumble into the rabbit whole of music production.
The idea behind her first EP release "Trip to the Moon" (2016) was to write the score to "Le Voyage Dans La Lune" (1902), one of the original works of silent cinema by French filmmaker Georges Méliès. In response to my question, "How would you describe the relationship between cinema and Techno?" Rebecca explained what followed: "The relationship is not a natural one. I am the connector between the two in my world. I mean, it's a silent film. Techno as we know it wasn't even in existence at that time. To me, it was just about using the sounds I was interested in as sound design. Plus, I am really into science fiction and silent films. I know about Techno. I have these electronic instruments. So I am going to use them to design sound for this visual that doesn't have any." This project, which she released in January of 2016 in USB format, won her an opportunity to perform it in Paris at the Moulin Rouge Theatre live to a projection of Méliès' work.
It was around this time too, that she was invited to see the screening of the documentary "Music on the Road" (2016), in which she features as the "face of Detroit Techno". The two French filmmakers (Yoann Le Gruiec & Benoit Pergent), who led the project, had set out to profile different unknown and/or emerging musicians in ten American cities in historical music genres and Rebecca stood out to them as they were doing their online research on Detroit Techno.
Along with her rising success throughout that year and an offer to perform at Movement in 2016, Rebecca had been preparing for her second EP project called "313 Acid Queen", which she released digitally in May of 2016 for the festival and then on vinyl in January of 2017 under Kero's record label, Detroit Underground. She conceived the artwork, which was inspired by playing card designs and which literalizes the title of the EP. "I never did acid", she confessed with a smile, "but I'm sure that's what it would look like." 500 copies were pressed and as she explained proudly, "I got my way on the whole thing and it totally worked out in my favor. So many people have picked up the record just because of the artwork. I think that really increases the value."
The EP, as she describes it, is a modern take on the classic genre of Detroit Acid Techno, as explored by Richie Hawtin in his Plastikman productions, and is inspired by Nina Kraviz' curation of Acid Techno. It poses the question, in Rebecca's words, of "How are we going to keep Detroit Acid Techno going? It's not something I can do by myself," she confessed plainly. "What will represent my history? Everything I've listened to. From radio, to gigs, or whatever. It's been Detroit. Detroit festivals. Detroit landmarks. So how am I going to represent that in my work?" Rebecca does not however, want to be bound to genre. "I do not want to be referred to as the 'Acid Queen' because I'm not trying to do only that style. '313 Acid Queen' is more like a project name."
It was from this record nonetheless, that emerged the track that will be featured on the DEQ record release. It consists of an edit of Ryan McCray's remix of her track "Aquarium". McCray is a Detroit-based electronic music DJ, producer and multi-instrumentalist, who is at the root of many collaborations such as BlackBass with Bale Defoe and of notable EP releases like "Which Way to The 313", "The Yellow EP", and "The Culture". In Rebecca's words, "Ryan produces a very soulful Detroit sound. The original track is really unique sounding. The sounds are very organic but it's still rigid enough to be Techno. You can hear why it's called 'Aquarium'. Some of the sounds are really fluid. Others aren't as much so it puts the two together . . . Ryan's remix is a very different perspective on the track. It is very playable. His sound is very apparent in it". In other words, the idea behind her choice was to promote his work vicariously through her track. Plus, this remix only appears on the record, which helps her promote the vinyl release of her EP.
Finally, Rebecca describes her third and most recent two-part project- e.g. Activity of Sound I and II- as her favorite project so far. "I started the project in Greece at my friend K.atou's house," she explained. "I didn't know it was going to be a thing, like most of the other stuff. I was inspired by my Greek friends, who ran experimental record labels and who organized 'happenings' (events and experimental music studio recordings). I started by recording the sounds of the metro on my phone. The project is a mixture of field recordings, of a guitar I plugged into a mixer, and of other electronic instruments". Both CD-format releases were the result of recorded live performances in the ambient room of former Grenadier Club in Detroit at the BAK-DOR party series. "Activity of Sound I" was performed live and recorded on July 2016, and "Part II", on January 2017, after a direct invitation from the ambient room resident DJ RJ Stefanski.
"In this project," she explained, "I attempt to blur the lines between samples and original recordings. I explore sounds, and rhythms, and patterns. Natural, ambient, mineral." The concept behind "Activity of Sound" is directly inspired by John Cage (1912-1992), considered to be one of the most influential composers of the 20th century and leader of the post-war avant-garde with works like 4'33", where a person sits in front of a piano for 4 minutes and 33 seconds and does nothing. The music in this context, are all the ambient sounds being emitted during these 4 minutes and 33 seconds of not playing the piano (breathing, fidgeting, coughing, etc.). The possibilities are endless. In Rebecca's words, "'Activity of Sound' refers to John Cage's ethos about letting sounds, which are indeterminate, just be and their activity or presence be as they are."
In that sense, both Rebecca's works are truly self-referential, in that their 'story line' and/or concept correspond to an exploration of sound itself. "I remember a conversation I had with my friend Zac once," she said, "where we talked about the difference between sound and music and I realized that to me, there wasn't a difference. That there did not need to be a difference . . . Everything is music to me. I love sounds. All of them".
In this context, it is crucial to mention the John Cage tribute performance she and her friend Zac Brunell from the Detroit Bureau of Sound recently put together at the Red Bull House of the Art in June of 2017. Zac is a musician, whom in Rebecca's words, "is instrumental in the contemporary music world and the classical one too. He does a lot of work with the DSO . . . It took a year from the moment Zac and I met and came up with the concept to the actual production of the event. It was Zac, myself, and three percussionists from the Detroit Symphony Orchestra (Andres, Mike, and Joe). Hundreds of people showed up, including Juan Atkins . . . The idea behind this performance was to fulfill Cage's prophecy that one day musicians would use electronic instruments to make music. We played some of his works by incorporating Techno/electronic instruments into them. Zac was the bridge between me, the DJ, and the classical percussionists. I believe this was the first time this had ever happened on stage, ever."  
Needless to omit that since 2014, amidst all this flourishing creativity, Rebecca has not failed to expand her artistic horizons beyond the boundaries of Metro Detroit from Greece to France and back. "My European friends appreciate my music. They know about Detroit and understand its relevance. Culture is part of their culture. I am something foreign, and new, and contemporary, and nice. We just exchange on that. And I learn from them too."
On that note, I thought I would leave you with some of Rebecca's insights on being a woman in Techno and on her role as an artist in society: "I've only ever experienced anything as a woman. I don't have anything to compare to. I know women that are great. And I know women that suck. I know men that are great and I know men that suck. Just don't suck! I don't care what you are. I know a lot of people don't feel that way because of sexism. But if you don't suck, you have a much easier time. . . I explain this to friends sometimes: the way I am a feminist is because I live it. . . I just want to keep doing what I'm doing. I have the ability to practice what I want, so I do. If that inspires someone else into doing it, then sweet. But other than that, I don't think I'm doing it on purpose. This is just what I do. All I've got is my work ethic. That's where the quality comes from".
Her answer relates quite directly to her view about an artist's role in society, especially one that is riddled with inequality and injustice: "I was never political. Was never one of my motives. But I think art is important. Its mediums, exchange modes and formats are ever-changing. I've always been creative and have always wanted to put things out and share. I think that's part of the cultural experience. . . Artists are there to reflect their cultural experience. I can only use sounds that are around me or at my finger tips or the technology available to me. Maybe one day looking back, it will be impactful. You never realize the impact until later. . . I just want to put things out there. They will outlast me and they will be contributing to culture. I know I've always wanted to be a part of 'this' and I'm not even sure what 'this' is half the time.  Art for art's sake."
Keep an eye out for Rebecca's upcoming gigs on her Facebook page – Rebecca Goldberg. Her future as an artist is doubtless filled with promise and it will be exciting to keep following her journey!
www.detroiteq.com/issues for more DEQ online (this one is issue 11). Check your fave record shop for a limited print copy with LP!!
Thanks for paying attention.