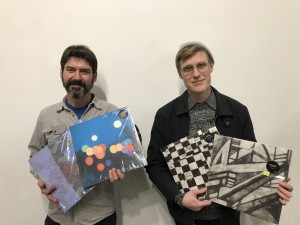 Two Rooms record label spotlight for DEQ by Vince Patricola  updated April,2022
There are crucial things brewing at 1464 Gratiot and it's not just the locally roasted coffee. Trinosophes is no ordinary cookie-cutter cafe. The industrial feel of the large, open space, the energy of people in it's Farmer's Market location, the carefully thought out minimalistic furniture and art selections, the music played (ranging from archaic to experimental), and the addition of award winning Warda Patisserie (Chef of the Year, Detroit Free Press) make it a prime location for creative people to congregate.  In addition, there's a partial wall that is a gateway to the art gallery and event space complete with a sizable stage and sound system. Trinosophes is the brainchild of musician, event organizer Joel Patterson (Bohemian National Home) and his partner Rebecca Mazzei who own the whole operation and carefully book the diverse shows there.)
Sharing the same address is the legendary Peoples record store. Brad Hales (owner, musician, historian, rare record collector, DJ, producer) put together one of Detroit's finest record stores that doubles as a Detroit music museum. Old posters, photos, extremely rare records, paintings, artifacts adorn the walls and records are organized in bins everywhere. Sam Hooker (Michigan Underground Group or M.U.G., Peoples Records) is one of the key clerks at the shop. He is an extremely humble, eclectic and knowledgeable composer, collector, event organizer, promoter and DJ. To work there an appreciation for the arts is essential.
The synergy between the event space/café/ Trinosophes and the neighboring legendary Peoples Records are truly inspiring as both spaces share a love for all music, but a genuine passion for boundary pushing and rare sounds especially if it is Detroit rooted.  It's like going to music church.
The address, 1464 Gratiot, is also the headquarters of Peterson and Hooker's record label, Two Rooms.  Even though they work under the same roof, they have a shared, forward thinking, risk without reward vision for their music label.
In 2018 they decided to make a go of it, putting out their three releases at once in the middle of the summer. This included the eponymous Quartet Now! (TR-001) a group that was put together by veteran co-leaders Alex Harding- baritone saxophonist with Sun Ra, Roy Hargrove, Aretha Franklin, Ethnic Heritage Ensemble etc.- and legendary drummer Leonard King, of the Lyman Woodard Organization, who performed on the Detroit cult-classic,Saturday Night Special.With the additions of bassist Rocco Popielarski (Bettye LaVette, John Doulas Quartet) and heavyweight trombonist Vincent Chandler (an alumni of Herbie Hancock, Wynton Marsalis, Regina Carter) the group went into the studio to make their debut release. Upon hearing the five-track recording, Peterson and Hooker knew that it should be included in the first batch of LPs, to help layout one aspect of what Two Rooms would be doing.
"The record culture in Detroit has always been curious. Even if you look at people sampling records or people playing out, it's kind of weird and eclectic," Hooker said. "That's always been true in my lifetime," Peterson added. "As evidence from all these releases from back in the day (big band, Motown, funk, electronic, rock) Detroit always touches all the extremes of what was/is happening in music."
Also in that initial batch of releases is the second LP by Viands, entitled Seven Thousand Year Plan. It features Detroit's David Shettler (DJ, drummer, keyboards) on Roland Piano and Moog while Peterson played on a Rhodes, Arturia Minibrite and a Wurlitzer. They were getting ready for an abstract performance and captured the practice set with a hand held recorder for the record. It's a wild mix of robotic sounds, people communicating though machines, melodies, ambient styles, layered echoes and effects. It definitely challenges the way you may perceive music and all rules are skillfully broken.
When I asked about the size of the experimental scene in Detroit, Peterson said that although there are ebbs and flows, in his estimation the audience usually stays about the same size. "The motivation for us (as a label) is to get this stuff (music) out there so it exists and there's documentation and artifacts of creative musicians working globally with an emphasis on Detroit and it's cultural history. It's always been important but under documented so anything we can do to expand the awareness of what's happening now and (shed some light on) people not getting their due we will do." This mission of the label in documenting this period is more important than massive record sales.
The third LP of this initial batch was initially commissioned by Trinosophes as an investigation into microtonal piano music by collaborators Thollem McDonas (Debussy Project, Tsigoti, Estamos Ensemble) and Clem Fortuna (World 48, Xenharmonic Gamelan.) This multi-year project has resulted in numerous performances and recordings, the first of which is the Two Room release, Your Letter Must have Followed Me All Over The World. An otherworldly atmosphere pervades these tracks, where each piece is performed in it's own tuning system and unique harmonic system. It is undoubtedly one of the most unusual piano records of recent years.
In 2019, Two Rooms released a five track LP from the Ryan Jewell Quintet called Vibration!It features John Philip Allen (double bass), Alex Burgoyne (saxophone), Abhilasha Jayanthi (electric and nylon string guitar, kashaka, mixing bowl), Ryan Jewell (drums, percussion Mellotron, vibrating monitors) and Caleb Miller (piano, electric piano, synth, pvc pipe, prepared piano, clarinet and vocals.)  It's a very wide open, live jazz suite that ranges from congenial to radical selections in a beautiful, thoughtful way.
Scalewas released in 2020. It is an exciting collaboration with high profile harpist and electro acoustic-music pioneer Zeena Parkins and modular synth-player and electronic composer Jeff Kolar. Both were commissioned to do the music for a dance production in New York City and the music on this record comes from the score for that piece. Parkins, a Detroiter who went to Cass Tech and moved to New York City in the '70s, played with many different people from John Zorn and Fred Frith from the early New York scene to Bjork and Courtney Love's band Hole.
In 2021, Two Rooms released Sclupperbepby Detroit saxophonist Skeeter Shelton and percussionist Hamid Drake. Recorded in the winter of 2019, they rip through several of Skeeter's tunes and longer improvisations.
Two Rooms has three projects coming in the first half of 2022, the first being an LP by Destroy All Monsters guitarist Ben Miller collecting experimental guitar work over the past 30 years. Our first archival release, a re-issue of Fred E. Scott's cosmic synth and percussion 45 "Journey Within," will come out later in the spring, followed by "Conjure" the first vinyl appearance of Marcus Elliot and Michael Malis' duo Balance.
With the Two Rooms label, Peterson and Hooker have done masterful job of not only documenting and preserving some of Detroit's experimental music history, they are expanding it by adding live shows at Trinosophes to augment the studio recordings, which gives them a wider net to pull from Detroit's rich scene. "Records, CDs, and even digital releases are keys to unlock a larger world," Hooker said.  "If you follow up with the people on these records and look deeper, you start to get a picture of what's happening around them, building these connections. Back forty years to like the Lyman Woodard Organization (Dr. Professor Leonard King) to now."
We are fortunate to have a culturally cognizant record label like Two Rooms here in Detroit. Seeing and hearing these thoughtful collaborations thrill at every turn will never get old.
Follow Two Rooms: https://tworoomsrecords.comand https://tworoomsrecords.bandcamp.com