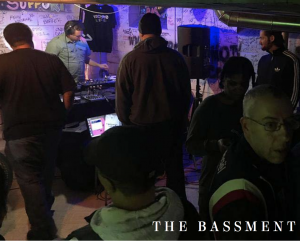 The Bassment: Interview with Mollison Folson, by Vince Patricola updated April,2022
The Bassment, by Vince Patricola
Somewhere on Russell Street stands, what I call, the little house that could. With a vision to expand the knowledge of electronic music artists, a lot of elbow grease and the flip of the first letter e to an s, the basement of the house becomes the BASSMENT: a thumping live stream platform for DJs to bang sets on Sunday nights from 7-9pm EST to the world (underground313.com.)
***
Steps beneath a home's surface, for many of us in all parts of the world, bring back memories of everything from learning how to play records and music lessons, to crazy, dark basement parties, to the dream drowning devastation of floods. It's also a very personal experience meeting someone's family members and pets or going through a sidebar of personal mementos before getting down to music business.
The night I played the Bassment in 2016, it was a straight up blizzard. I almost slid into two snow banks on unplowed streets trying to find the house. Once I got there I was greeted by friendly faces that said, "you made it!" I said, "of course I made it. I'm from Buffalo, the land of ice and snow." Sean Tate aka the Butcher and Derrielle aka The Cafeteria Lady were there and made the experience so pleasant and personal.
Guests who play get a true taste of Detroit life, from a real music household, a family, in a DJ's own home. It's a taste of what makes our music family such a special one that is recognized not only for its talent, but personalities as well.
"People want what we have," said DJ, producer, host Mollison Folson, one of the Bassment co-founders. People see we have a show that is an unfiltered, live Detroit experience that reaches people all over the world. I mean every country. But the funny thing is this. It's crazy now that we've had to stay home for pandemic reasons. It seems every DJ has copied the blueprint of how to stream just like the Bassment.
The Bassment Detroit, which is now eight years strong, evolved out of something
called Detroit Promo TV, which Folson produced with Derrielle for two seasons [26
Episodes]. It was a self-funded, thirty-minute show that aired on Channel 20
(Sunday mornings at 3:30am.) It was a less DJ, more artist and local business
centered program at that point. "The idea was to cut it on after you came home from
the club, but it didn't really catch on. It was hard to get sponsors that at that late/early time slot."
After the show's closure, Detroit Promo TV is still running strong, not only promoting the Bassment Detroit, but they also ran a local music video show on Comcast TV68 Saturdays at 3pm EST (pre-pandemic.)
"It (The Bassment Show) wasn't planned," Folson added after discussing the ending of the TV show. "We just did it and it just grew to get where it's at. So, with that plan in mind, there was no plan in actuality… Once you open a new gate, you gotta keep running. You never know what connection you are going to make."
The passion behind the group is encouraging. "See, there's more to this (Detroit techno/electronic music) game. The main way to reach people is through radio and television. That's when they accept it. Everyone wants to keep techno underground. Cool but no. There's more to techno than music and the five people that get talked about constantly. Techno, early in the game, did their best to keep people out…it needs to be bigger than it is…so, you either stand by and watch it or you stand up and do things that are not done. You stand up and say something about it and other people might do something that they should have done."
After finding its' footing for a year, the blast off moment came when global sensation, Underground Resistance star producer, Suburban Knight (aka James Pennington) came on the program. "It put us on the map," Folson said. The show is steadily growing. One of the highlights of the year is the annual Bassment Backyard BBQ held on the Sunday of the Movement Festival and is a must pilgrimage for techno fanatics. They even did a broadcast version from MOCAD for Goethe Chicago/Germany and Detroit/Berlin Connection in 2019.
When asked about the future goals for the Bassment, he smiled and said that the
plan is to become a non-profit. "The whole house is going to be the non-
profit with the Bassment show downstairs and teaching people how to DJ and
broadcast shows upstairs. We want this house to be a normal part of Detroit, known
as a place that gives something to the community. If you come to Detroit, you'll want
come to the Bassment. It's kind of like Submerge a techno mecca kind of place." Folson said.
He also acknowledged that 8 Mile is so well known that it's cool to be a part of something that stands for good. I spoke of the Motown studio house. I asked Folson If he
was the Berry Gordy of 8 Mile and the preposterousness of it made us explode with
laughter.