DJ Holographic article by Steven Reaume photos by Robert Guzman
Out of Detroit's culturally rich soil grows a sound that redefines dance floors, creates new genres and inspires generations of new artists. The bell curve of creativity from our city, when it peaks, defines a sound that reverberates around the world.
There is a new breed of performers that have been emerging over the last several years that have refocused electronic music and Ariel Corley aka DJ Holographic is at the forefront. Incorporating the soulful roots of years past with modern electronic beats, Holographic presents a melodic wonderland of sound that massages your soul and creates a musical space of love and rhythm.
"The universe connects us to threads of creativity" she said. "If we grab onto them they will answer our creative questions and guide us."
Ariel has gathered up every thread, weaving them into an impressive career bringing love and happiness to dance floors around the world.
Her childhood summers were spent at her Grandmother's house in Detroit. Music was always playing, especially Motown. She and her cousins spent countless hours learning The Temptations choreography.
Prince was too rock-n-roll for her Grandmother's generation, but her cousins introduced her to the sounds of the purple one and to this day his production style influences her.
As they got older they would share new records that they discovered, often obscure. Ariel was diving into Korean r&b, J Dilla, and Boys Noize and her cousins brought the sounds of Latin rock into the mix. They also continued to dance, with Grandma teaching her and her cousins how to team up and dance together.
She recalled frequent trips to the roller rink with her friends on Sundays to skate while Grant Jackson DJed. He accepted requests "anything Prince he would be like 'I'm here.' anything else he'd be like 'maybe'." This early introduction to the importance of sharing music has followed Ariel to this day. She has a deep understanding of the importance of community in the music scene.
Just after her high school graduation, Ariel's best friend Aaron took her and her friends to Movement in 2008. After three days at the festival, Ariel told herself "I want to do this thing they are doing up there. I want to make people feel how the [DJs] made me feel…loving each other and having a good time. I want to express myself in that way."
As she started going to Grant Jackson's dubstep parties, a fondness for drum & bass and jungle formed. This was the point where she began growing stronger roots and discovering her place in the fabric of nightlife culture.
The experiences began to sink in and out of the blue Ariel's first boyfriend out of high school, Joey, took her to a friend's house where there were turntables and a mixer. She was left in the room for a bit and she began working the equipment. She already knew about DJing in passing, but hadn't yet had the chance to match beats, melodies and get her feet wet.
In moving to Ann Arbor, Michigan, she felt it would not only be an opportunity to become an artist in a city that had the label Ghostly International and the Necto Nightclub, but it would also be a great place to study graphic design.
It did not take long to get her foot in the door as she worked coat check nights at Necto Nightclub.It gave her a unique opportunity to listen to DJs (such as DJ Harvey, Jace, and DVJ Mark Gordon Johnson) and study how they mixed and connected with the people attending.
Over time she began to understand the control a DJ had over the crowd…knowing when to do the drops, building crowds to a frenzy, pulling back, allowing people to go to the bar for a drink, then drawing them back to the dance floor. She realized that good DJs could "control the rhythm of the room."
Christine Kitora (booking agent at Necto) was also a big influence on where Ariel focused her career. Christine had a clear vision of where the electronic music scene was going and the ability to curate lineups that would connect generations. Ariel discovered other influential female DJs such as Black Madonna as a result of their relationship.
Soon Ariel worked her way up to promoting events at Necto where she bought her own turntables, mixer, and an S4 controller. She became friends with Blair Emerson and he started to teach her how to DJ properly. One time while they were practicing, Blair noticed that Ariel's new/used turntables looked familiar. He lifted up the platter and there was his mark. (DJs would often scratch a mark under the platter so that they could prove they were theirs.) Her turntables were originally his! This connection was a turning point and the beginning of a lifelong friendship.
Ariel began promoting for and throwing parties with many of the friends that she met working at Necto. They were diverse, multi-genre events that incorporated everything from drum & bass, disco, and house to '90s and '80s music. This time was also the dawn of Facebook and event promotions were entering a new age. She learned the tools to connect to people and the power of design and branding. She began defining what story she wanted her brand to convey: learning how to musically fulfill the desires of the club audience and the power of dance floor relationships.
Ariel moved to Detroit as an adult and started throwing events there with a promoter that she did events with in Ann Arbor.They worked with a dubstep promoter group called D-Ranged. They teamed up to add more house music to the mix at these events. They bought a sound system and started to present their own parties at Tangent Gallery.Thatsound system is still in use there till this day. Ariel wanted to create a space for her tribe to come and play music. She wanted to give her friends a platform.
I met Ariel when she was throwing a weekly party at Drive Table Tennis Club in downtown Detroit called Joyride. She had fulfilled her desire to give her friends the opportunity to have a place to play out. In time, she invited my future husband Tyler to play. The foundation of our friendship and my appreciation for Ariel's talent are positive forces in my lifethat built up over those many weeks at Drive.
That moment when an artist finds their groove is something very few of us have the opportunity to experience first hand. I knew that Holographic was crossing over to a new level when she was the main resident for a month at our weekly after-hours party BAK DØR. We branded the month BAK DØR 54, dedicating the sound and decor to the iconic Studio 54 in New York. Holographic brought a deep disco sound that was unique yet familiar, packing the dance floor with ecstatic fans deep into the morning hours week after week. It would also be the year that Ariel would play at Movement Festival for the first time.
In 2018 my good friend Marke Bieshke and I arranged for Ariel to play her first gig outside of Michigan at San Francisco's oldest gay bar The Stud. Since then she has expanded to clubs and festivals all over the world including Buttons at ://about blankin Berlin, Elsewhere in New York, and Off Sonar in Barcelona. She has connected with promoters that share the same value system as her, with communities that she is a member of like the queer community and the African American community, and they keep bringing her back. She has also spent a lot of time over the past year in her studio at Submerge producing tracks of her own. She is looking forward to sharing her interpretation of what her crowds over the years have shown her.
For new DJs, Ariel's advice is to "out do you," she said. "The only person you should be competing with is yourself. Other artists are friends, mentors, and sources of inspiration. If you know who you are you will never second guess yourself while you are performing. Be confident in what defines you, your shadows and light. If you are a nerd, be a nerd…if you are a dick then be a dick. You are the shaman up there…you control these people's emotions. The audience can see right through you. Respect that. Be professional and focus on your job. Have fun but don't get too lost in the partying."
I have been blessed to have a front-row seat watching DJ Holographic's career take off. She has been relentless in her quest to deliver her irrepressible sound and electric energy to the world and it shows.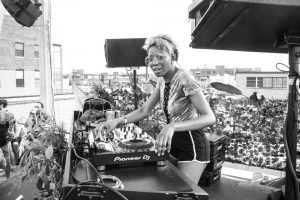 For more DEQ articles go to www.detroiteq.com. Scroll the feed for more articles and complete PDS  files are in the menu under ISSUES!! Thank you for paying attention!!