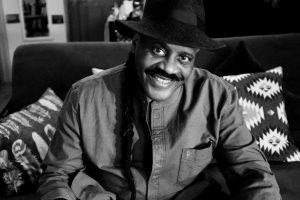 By Catherine Diggs
Sundiata O.M. The Life Story of an Unsung Detroit Legend  Percussionist, Cultural leader, Community builder 
(updated 5/18/22)
"I'm from Detroit. I'm from the bowels of the vortex. You can put the skyline of Detroit and put it in two blocks of New York City. You can put the skyline of Detroit and put it in half a block of Chicago. These places have population. These places have location. Detroit might not have all those things, but one thing it indubitably has, is energy."
Sundiata and I met back in 2016 at the Detroit Electronic Music Festival, right as I moved to Detroit from my hometown of Montreal. He has been a dear friend of mine ever since. He is a powerful and unwavering community builder for artists and musicians in Detroit and beyond.He is a well of knowledge when it comes to Black American cultural and musical history at large. In his words, "If you don't know where you came from, it is difficult to know where you are going."
In his decades-long career, Sundiata has tapped into pretty much every aspect of the performing arts: percussion in all its forms, vocals, acting, dance, composing and producing music, choreography, stage directing, light and sound design, event curation, record label ownership, artist management, photography, and videography. All the while being a family man, a husband (Fausta Britton), and a father to nine beautiful children: Latonya, Naeemah, Nickie, Sulaman, Dorian, Rashid, Lon, Malik, and Hassan, who tragically passed in 2012. May he Rest in Paradise.
Sundiata's life story offers an enlightening lens into Detroit's dense music and theatre history since the 60s and its impact on the rest of the world. He has been directly involved in the making of major musical movements such as, classical, jazz, African, Latin, r&b, rock, funk, pop, hip hop, house, and Detroit Techno. He has paved the way for other artists to thrive for generations to come. And yet, one cannot easily look up his impactful life story online or read a book, let alone, an article about it. This magazine feature serves as a first step to remedying this situation. But before diving into his story, here are some of the projects that Sundiata is currently working on:
The reality TV show, "The Show Goes On", produced by Rashid Mausi about the ins and outs of show business, in which Sundiata stars as one of the main characters. It can be viewed on https://thearetha.com/theshowgoeson/
An Instructional book: "Add Water and Stir: How to Produce a Concert of 5000 Seats or Less." It should be getting published soon.
The Beneficiaries' (Jeff Mills, Eddie Fowlkes, and Jessica Care Moore) album, "The Crystal City is Alive" released in 2020, features Sundiata's percussion performance is highlighted on track #2: "People."
His band, Kingdom, featuring Lanar "Kern" Brantley on the bass (worked with Beyonce, Lady Gaga, J.J. Linn), Rainman Gaston on the drums (performs with singer Charlie Wilson), Derrick Benford on the keys (brother to Vassal Benford, Music Mogul), Sundiata O.M. on percussions, and L'Renee on vocals. The band produces international music with a groove.
A completed remix of "Prosperity" by his son Malik Mausi, whom he also collaborates with on their record label Mavaka Music.
Upcoming remixes of Kingdom's track "Prosperity" by Alton Miller, Stacey Hotwaxx Hale, and Glenn Underground.
Link to "Prosperity": https://www.youtube.com/watch?v=zTXcTzict5k.The inspiration for "Prosperity" stems from a London-based band, called Dego & Kaidi, which produces, in the band's words, "Black Music." Kingdom strives to create the Detroit version of Black Music through "Prosperity."
Collaborations on upcoming track releases with Delano Smith and Ron Trent.
It is needless to say that the past couple of years have been quite an adventure. From the COVID-19 global pandemic, to nationwide protests waged against injustice, to numerous natural disasters and manifestations of the mounting climate crisis, to a major presidential election, the struggle to protect basic human rights worldwide is an ongoing one. As a COVID-19 survivor, Sundiata has pursued his relentless journey as a cultural leader and artist. He has continued to spread Love and Hope to the people of the world.
"Facts are facts. The truth is the truth. And in the past two years, we have been experiencing a real war between Truth and Falsehood. Between Justice and Injustice. But for me, I see it as a blessing to be in this point in history to witness all the changes taking place in the universe."
Let us now go back in time to get a better picture of how influential Sundiata's artistic work has been and of how he has gotten to this present creative point.
Sundiata Oba Mausi was born in Detroit, Michigan and has lived on and off in the city his whole life. He has nine siblings (four brothers and five sisters). He comes from an educated and artistically accomplished Black family. His mother, a native Detroiter, was a classically trained keyboardist, who played with world-renowned jazz artists Tommy Flanagan and Berry Harris. Sundiata's father was an electrical contractor and the second Black man in the entire state of Michigan to acquire the title. He moved to Detroit from Arkansas at the age of 14 as part of the Great Migration.
Sundiata was exposed early on to the world of the performing arts, as a member the "Mausi Acting Company", his family's self-titled theatre company, which was so successful, that PBS flew out of Boston to do a feature on them. Archival materials of the company's work can be found at the Detroit Public Library in the Hackley Collection.
Moreover, as explained by Sundiata, "Everyone was musically inclined in my family. Every single one of us played an instrument. My mother had a goal: 'Learn an instrument and get a degree'. She knew that music was the key to a broader understanding of life." Sundiata's first instrument was the trumpet. Through playing it, he began his training in musical theory. During that same time, he was also part of Mumford high school's r&b band, Bobby Franklin's Insanity. He was the first person to play bongos on stage in a Detroit high school. In short, he was raised and trained by patron of the arts, a Black family that, in his words "has made a major contribution to the artistic development of Detroit."
However, at age 14, now in the mid-60s, Sundiata left home, due to some disagreements with his mother. "Back then, you could be 14 and walk the streets of Detroit," he said, "I found work where I could, but my path was music." While working day jobs as a newfound father, and while running two after-hour joints to get by, Sundiata continued pursing his passion for the drums. After losing a close friend to police violence, he decided to get himself through high school by pulling 17-hour days of studying and working nights.
"I don't remember where, I saw an orange and red Conga. I don't remember how, but it became my instrument of choice," he recalled, "The Conga drum is native to Cuba and I personally discovered the Conga when it was being popularized by Motown groups and national groups in the 60s. They added the Conga because it had that beat." In that vain, Sundiata further built his experience as a hand drummer by performing at famous local clubs like Club Mozambique, Baker's Keyboard Lounge, and Henry's Cocktail Lounge with world-class acts like Donny Hathaway, John Blair, as well as, Sequence and Finesse, and The O' Jays. "I ended up playing with the bands that needed a percussionist," Sundiata explained, "Detroit was live back then. There were so many places to play. To go and be seen. There was a music renaissance happening in the city."
In the midst of his accruing experience as a drummer and due to his strong reputation in the musical community, he was invited to record with the prestigious Choker Campbell Orchestra. Choker Campbell was an American saxophonist and bandleader who was hired to be Motown Records' Musical Director. "They had me in the booth to record a song. The song started playing and it scared the sh*t out of me," Sundiata remembered with a smile, "I started to play erratically. Choker came in the booth and told me, 'Look, Sundi. Just play the pocket and you'll be fine.' I am a spiritual person, you know. I would open myself to the spirits of the ancestors and they would manifest in my drumming."
Simultaneously, Sundiata became part of the renowned Clifford Fears Dance Theatre as a percussionist. Clifford was Katherine Dunham's dance partner. He travelled the world with her company for many years, before starting his own company in Sweden. Katherine Dunham was a dancer, choreographer,author, educator, anthropologist, and social activist, who had one of the most successful dance careers in African American and European theatre in the twentieth century. As further explained by Sundiata, legendary musician Dizzie Gillespie was the first to bring a noted Conga player, Chano Pozo, from Cuba to the US. Both Dunham and Gillespie played major roles in introducing the instrument to the U.S. and to popular culture.
Sundiata will never forget his time doing rehearsals with Clifford in a space provided by Berry "Pops" Gordy Sr. (Berry Gordy's father), across the street from Motown Records on "the Boulevard." It was being run by Motown's house choreographer, Charles "Choller" Atkins for acts like Smokey Robinson and The Miracles, The Temptations, The Four Tops, The Contours, and The Supremes, to rehearse their routines. Pops Gordy invited Clifford to move back to Detroit from Stockholm where he was running his dance theatre, so that Detroit could be blessed with the presence of his world-class creative initiative.
An even more major turning point in Sundiata's emerging career as a percussionist, were his interactions with Eddie "Bongo" Brown (legendary percussionist and member of the Motown Funk Brothers.) Sundiata never fails to vividly describe a revelatory conversation he had with Mr. Brown, whom he describes as his "Main Teacher": "It was snowing outside. I was walking down the street with my red Conga, wearing some overalls and gym shoes with no soles. I saw Eddie and stopped to ask him for advice on how to take my drumming one step further. I will never forget what he told me. 'Play with records, Sundiata. Play with records. Play with records, Sundiata. Play with records'." This piece of advice would alter his approach to percussion forever. "I was one of the first percussionists ever to perform live with DJs in the 70s," Sundiata continued, "It was part of my natural evolution as a drummer and it helped me understand the science of DJing. I was able to bridge the synthetics of the records with the live performance of the drums and to take this connection to the dance floor." Sundiata therefore believes in simplicity over being center stage as a percussionist. "It's not about playing over a track. It's not about solos. It's about playing on beat. It's about being in sync with the track." In Sundiata's words, it boils down to the following: "The DJ is the conductor of the orchestra and the percussionists must follow the conductor's cues closely in order to be in harmony with the other musicians".
In the backdrop of Sundiata's personal life as an artist, was a deeply impactful socio-historic period of time, which affected he and everyone around him. Sundiata was at the heart of the Detroit riots, which broke out in 1967. "On our way home from a party, my friends and I witnessed the riots pop off on the corner of Clairmount and 12thstreet that early morning of July 23rd1967," he explained, "That was a wild and dangerous four days. A lot of people were injured and killed. And I will always remember an elderly White woman standing by the Catholic Seminary on the corner of Linwood Street and Chicago Boulevard, yelling 'You're desecrating Christ.' in response to my friends and I painting a statue of Jesus dark BROWN! The riots constituted an emotional aneurism of people fed up with the oppression," Sundiata concluded.
Shortly thereafter, Sundiata became one of the first Black Panthers in Detroit. In 1968, he and five others drove to Ann Arbor in his car. They had a meeting with Kathleen Cleaver, David Hillard, The Minister of Defense of the Black Panther Party, and a few other Panthers from California. They were made Panthers that very same day. Sundiata has always been a very politicized artist. He has always used his art as a vehicle to mobilize people and to share wisdom with them. To him, Art and Society are two parts of one whole. They simply cannot be separated.
Sundiata's already experienced-filled life underwent a new shift in 1970. "I was rehearsing with Clifford when my brother, who was a principle dancer for the dance theatre, suggested we audition forHair. There were so many fine women. That's why I went." Hair was a cutting edge equity musical written by Gerome Ragni and James Rado. It premiered Off-Broadway in 1967. It was a product of the hippie counterculture and the sexual revolution of the late 1960s. It became a cultural landmark for the anti-Vietnam War peace movement. "I was wearing a cape, a bandana, a black beret, with a bunch of buttons all over my outfit," Sundiata remembered, "The writers of Hairasked me, 'Why don't you audition? You look the part.' I said, 'I'll audition if you feed everyone in here. And they did!'" Sundiata got a part in the musical that same day.
It was during this his time performing in Hairthat Sundiata met Meat Loaf, renowned American singer, songwriter, producer, movie star, who was also hired to perform in this touring rendition of the musical. They remained dear friends across the decades, so much that Meat Loaf texted Sundiata at 9:00 p.m. just hours before passing away on January 20, 2022. He will be sorely missed. May he Rock in Heaven.
After coming back to Detroit from the road in 1971, Sundiata pursued his travels first to Chicago – where he performed with Frank Zappa at the "Playboy Club," then to L.A, and finally to NYC, before returning to Detroit in 1976, where he continued to build his profile as an artistic leader and innovator. In 1977, he performed percussions live with DJ John Berry, a Boston House and Disco DJ, who was known for performing with four turntables. This initial partnership with Berry, which was one of a kind at that time, was at the source of a long series of musical collaborations with world-class DJs and music producers, such as Derrick May, Juan Atkins, Eddie Fowlkes, Kevin Saunderson, Jeff Mills, Mike Banks, Alton Miller, Delano Smith, Norm Talley, Mike Clark "Agent X", Chez Damier, Ron Trent, etc.
Parallel to that, Sundiata was the creator of Sundiata O.M.'s Drum Squad, an all-female hand drumming and percussionist group in Detroit. "This was revolutionary because there were no female drum groups in Detroit at the time," Sundiata explained. "We would do shows, collaborate with DJs and bands, and perform a cappella. We even performed at some of Emily Gail's "Fun Runs" in Downtown Detroit back in the late 70s. We really played all over the place."
Around the same time, Sundiata joined hands with Kim Weston (renowned Motown recording artist) in 1977 to conceive the "Festival of the Performing Arts", which featured hundreds of artists such as, James Carter (saxophonist), The Boone Brothers (r&b vocalists), Kern Brantley (world-renowned bassist), Valdez Brantley (keyboardist and musical director), The John Brothers (r&b singers and sons of Little Willie John), Tracey McGee and the Jitterbugs ("Pioneers of the Jit"), and Lisa McCall (Choreographer for Aretha Franklin.) As one of the leaders of this summer youth program for many years, Sundiata wore many hats, most notably that of musical and artistic director. "The festival played a major part in the creative development of many young Detroit artists", he explained, "It provided them with key opportunities to perform live and to perfect their craft."
September 7th1980 marked yet another turning point in Sundiata's career. As part of the musical group Nebulae, composed of Kern Brantley, Vassal Benford and himself, they signed a record deal with Don Davis, owner of United Sounds Recording Studio. Nebulae, a cutting-edge pop jazz band, was a Detroit favorite at the time and performed in many clubs throughout the city. It unfortunately had to disband soon after the deal was signed. In Sundiata's words, "Despite this disappointment, the experience planted the seeds in me of wanting something different."
That is why he came up with the idea of creating O M Studios out of his basement in 1981. It provided a space for local artists to record their music. He signed 65 acts over the years, such as, Queendom, Dance Class, and Q and Q. "Some of these artists went on to do great things," Sundiata explained. A few years later, in the mid 80s, he and Dave "Hump the Grinder" Humphreys cofounded Hair Wars, an African American hair design show that gathers world-class hair entertainers to showcase their wild creations.
Following that train of thought, let us not forget to mention Sundiata's direct involvement with techno and hip hop cultures, which were beginning to flourish in Detroit as of the early 80s. "I've been blessed with beautiful children, but for the purpose of this article, I wish to speak of my oldest son Hassan Malik Mausi, born in the 70s and raised for the first part of his life in Brooklyn, NYC. He made me aware of the artists involved in techno/house and hip hop in Detroit. Hassan was one of the most beautiful souls on the Earth. He was an incredibly gifted dancer, artist, and music producer, with a keen eye for fashion." Tragically, Hassan fell victim to gun violence and passed away on February 15, 2012, having already left behind a major legacy for the Detroit community and beyond.
Hassan was lead dancer and choreographer for Inner City, first house group to make the genre accessible to the mainstream. "Through Hassan, I became tight with Kevin, Derrick, Stacey (Pullen), and Juan. I met Fowlkes later down the line. They were friends to my son and Earth Children to me. I was like everybody's Dad." Sundiata even toured the U.S. with Inner City, alongside his son and local dance legend, Kafani "Theo" Ibrahim Cesse.
Moreover, as did his father in the world of percussion and the performing arts, Hassan made a huge contribution to hip hop in Detroit. Inspired by New York's legendary Soul Kitchen, he, Maurice Malone, and Jerome Mongo co-developed the idea of the Rhythm Kitchen, an epicenter for the rap music club scene of the early 90s in Detroit. It had a major influence on Maurice Malone's creation of the Hip Hop Shop on Seven Mile, where such acts as Eminem, Slum Village, Proof, D-12 were battling and performing. Sundiata never fails to remind the people around him of the importance of his son's legacy and work, so as to make sure that no one forgets and so his history lives on.
Sundiata's deep bond with his son and by extension his network of trend-setting friends, segues us into Sundiata's life as a performing artist in the electronic dance world. In 1993, he moved to Atlanta and began performing shows with Little John Roberts's band, The Chronicle, one of the city's leading funk jazz bands, for five years. In 1994, through his friendship with Kai Alcé, Sundiata got together with Ron Trent and Chez Damier to cut tracks on their up and coming Chicago-based House record label Prescription Records. Between 1995 and 2006 and throughout the release of their tracks – "Come Together" (1994), "Make It Happen Make It Right" (1996), "Paradise" (2000)- Sundiata toured the US, Europe, and Japan to promote them.  Additionally, in May of 2000, Sundiata and Umar Bin Hassan from the Original Last Poets, were invited by Derrick May to close the very first Detroit Electronic Music Festival. It is estimated that one million people came to the festival that weekend. The following year, his musical group, OM Experience, an eleven-piece house music band formed in the 90s, performed at DEMF for the first time.
One cannot however, overlook the fact that all throughout his career as a performing artist, Sundiata was also extremely active as a production arts specialist. He had acquired his foundational experience from his background in theatre. He did everything from sound engineering, back line, lighting, set design, stage management, production coordination, and stage construction. He did production work on tour for artists and legends, such as Gladys Knight, Barry White, The Isley Brothers, Kool & the Gang, Morris Day and the Times, The Pointer Sisters, The Gap Band, Isaac Hayes, and many more. Not to mention, he was production stage manager for Aaliyah until she fell victim to a tragic plane accident in 2001. "I maintained a high standard for 'Roadies of Color'," Sundiata concluded on that topic, "And I worked with the best." Beyond touring nationally and internationally for years, Sundiata also worked as Production Coordinator locally at the Aretha Franklin Amphitheatre (formerly known as Chene Park) for the past 18 years, doing production for almost 90% of the shows that played the venue.
"At the end of the day, my life is all based on drumming and my love of music," he said assertively. "Remember, you are talking to a person who just loved to play. I was everywhere doing all kinds of stuff." Sundiata never stuck to one thing. He has always been in search of new knowledge and skills, especially in the realm of hand drumming, which allowed him the opportunity to play with major musical acts such as, The Floaters, Parliament Funkadelic, The Dramatics, The Supremes, Roy Ayers, Keith Washington, Wendy Molton, and Aretha Franklin. He also trail-blazed and paved the way for hand drummers to receive more recognition as career musicians. For instance, he was the first percussionist ever to be paid by major Detroit universities, such as Wayne State University and Merry Grove College, for his drum accompaniments.
"I see myself in the present," Sundiata stated, "I cherish those who have helped me get to this point." His selfless approach to making music, as well as his deep desire to create opportunities for other artists to succeed, serve to explain why his career has not really been foregrounded in the historical canon of the city. In his words, "Hand drummers were a different kind of group. Many great composers and arrangers have no idea how to orchestrate percussion. During slavery, slave owners knew drums were a mode of communication for the enslaved. If you played the drums, you would be killed. . . Bill Summers, world-renowned percussionist from Detroit, who has worked with legendary acts like Herbie Hancock and the Head Hunters, as well as Quincy Jones, is a great friend of mine. We have a saying together, "Hand drummers are the Ni**as of the music world. Last ones hired. First ones fired, and always misunderstood. But let's not forget," he continued, "that the hand drum is the first instrument after the voice. The drum itself evolved from Africa to the Caribbean and the Western hemisphere. There has been a new sound and I have been part of the evolution of that sound. We hand drummers baptized it 'The Detroit Rhythm' or the 'Drumba.' It makes people pop. It makes people wanna dance."
Needless is it to say that a short article such as a this one can only really glaze the surface of Sundiata's life story and influence on Detroit's global cultural canon. The work must be continued. "Detroit is a place of hard hustles," he explained, "just like the factories and the living conditions. You have to go hard in order to achieve anything in life here. If you can survive in Detroit, you can survive anywhere in the world . . . Detroit is on the cutting edge of creativity due to its position on the planet (that is, its geographical latitude and longitude). It is an important portal for human spirituality and human relations. Its influence as an artistic and cultural center is known by people all over the world."
Stay tuned for the release of Sundiata's upcoming projects on his Facebook page (Sundiata O M Mausi) and YouTube channel (Sundiata O M).
Kingdom's "Prosperity" is available on all major music outlets: YouTube, iTunes, Tidal, Amazon Music, Spotify. https://www.youtube.com/watch?v=zTXcTzict5k.
Here is a brief list of links that you can refer to, should you want to further explore some of Sundiata's past projects, performances, and collaborations:
*Various music genres and artistic collaborations that feature Sundiata on percussion:
*Prescription Records track releases where Sundiata performs vocals and percussion:
* Look up Sundiata O M Experience on YouTube to view live performances from O M Experience at Detroit Electronic Music Festival and at other major events from the early 2000s onwards.
*Subscribe here to watch "The Show Goes On" (2019-Ongoing):
https://thearetha.com/theshowgoeson/