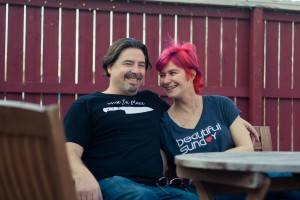 Lafleur : Article & photos by Pontchartrain
Lafleur, the driving force behind what has become one of Detroit's most influential soulful underground venues, Motor City Wine, sits down to discuss three essentials of humanity- wine, music, and parties.
For the past 25 years, David Armin-Parcells, aka Lafleur, has been a resident of Detroit and a part of the city's underground music community. For nearly a decade his wine shop and venue has been providing musical showcases as diverse, offbeat, and artistically interesting as the hand-picked libations they sell. I sat down with David in his Corktown neighborhood venue to talk about how he got here, what he sees as his place in a thriving music and restaurant scene, and his vision for the future of his venue, label, the city and musical career.
P: So… music and wine. That's a combo that's been pretty good for the past couple millennia. Was it always your idea to combine those two things?
L: No, originally MCW was just going to be a retail shop. And that's sort of how we opened. We actually had a band on opening night. The vibe was great and people came in asking "hey when's the band coming back?" So it just made sense to start doing that regularly and selling out of a bar too.
P: You still have bands. Mostly jazz. But what about dance music and DJs? How'd that come about?
L: Well I originally had my 'Hot Pot' residency with Todd Weston so we just decided to move that over to MCW from Pulse, which is now totally gone. From there it just grew. The demand was there for us. Over time that's sort of how we transformed into what we are now.
P: How long has the wine shop been open for?
L: Coming up on nine years. Our first location was at Woodward and Congress right downtown above Grand Trunk Pub. But then they announced the light rail project. The city said that was going to be an estimated 3-year project. So with very little parking anyway, we started looking around for something a little bigger with parking, with a patio, and here we are now.
P: Downtown is really popping off right now though. Are you glad you made the move?
L: Oh yeah. It's the best thing we ever did. Downtown never progressed the way that we thought it was going to. It got filled up with people that weren't really our style. And people seem to really like it here now. It was the right move.
P: So let's talk about how you got here. You're originally from Canada, right?
L: I'm from Montreal, but grew up mostly in Toronto.
P: So what actually brought you to Detroit?
L: Well actually I was just passing through in 1993. Back in Canada we had a rave scene but it was a bit of a circus rather than an actual party. So some friends of mine brought me to a rave here in Detroit that year, and I was just blown away. It was just a dark loft with a strobe in a corner and kick ass music.
P: So Detroit's 90s underground scene pulled you in?
L: Yeah it did. I didn't even know that type of music existed before I came here, really.
P: And how long after all this did you move here?
L: That year. Actually after those parties. It's not the main reason, but one big reason I decided to stay. I also met my wife Melissa here around that time. We've been together since 1994 and married since 1999.
P: Did you explore music while living in Canada much?
L: Both my parents were classically trained musicians, so I grew up with music everywhere. They played trumpet and violin and my stepdad had an interesting record collection. Some Zappa, Funkadelic, and  classic late 60s and 70s jams. I really enjoyed listening to those and it definitely got me into more and more interesting music.
P: Since you've been living here though, you've taken that even further.
L: Yeah shortly after I moved here, I saw people making electronic music and thought "well I could do that." I immediately recalled that my uncle actually had an 808, a 303 and a couple of Sequential Circuits keyboards in his garage just sitting around. He bought them to actually accompany cello playing. He bought them exactly what Roland originally intended them for and he didn't like them. Somehow I remembered that, so I called him up to ask if I can borrow those permanently. He said yeah.
P: Do you still have them?
L: Well I sold the 808, but I have the 303 and the others and that's exactly what I used to make music in the 90s. I had some DATs, and originally I recorded to VCR. The sound quality on those was actually great since the tape is so huge.
P: So wait you just have a bunch of music on DATs and VHS tapes around that you've never pulled the audio off of?
L: Yeah actually!
P: We should get that.
L: Maybe…
P: So after establishing your new home here in Detroit's Corktown neighborhood, it's safe to say that you've made some waves with bookings in the last year or two. You booked some artists that most promoters would never try in a space that fits a couple hundred people. Names like John Morales, Nicky Siano… Louie Vega on a Wednesday.  What's pushing you to book these artists that many people in the city normally do not?
L: You know that's my own personal thing. It's not really for the business. We don't really make more money when we do shows like that. Sometimes we just lose money. Sometimes they go well.
P: So you just do it because you love it.
L: Yeah I believe in presenting good music. It's a major part of what we do now and I want what we do to be quality always. We have a reputation for quality music now.
P:Another thing the venue is being known for is the vibe. Personally speaking, it's one of the best in the city.  What makes this place so damn special?
L: There's no metric to measure that, but Melissa and I realized that it comes from us. It has a lot to do with what we curate here. We have a lot of offbeat, funky, organic things in the shop. No grocery store wine. And musically it's offbeat and different than most clubs too. We just aren't a club. We're a chill wine bar but we want 100 people really dancing on Saturday night.
P: That's led to a really diverse crowd too.
L: Yeah I don't know how that happened. Nobody would expect a wine bar to be the most diverse bar in town. But again I think it's the way we curate things and most importantly the way we treat people. And because everyone drinks wine. Everyone is getting the same buzz off the same stuff and wine is a happy buzz.
P: And you just started a new label this past year, right? What made you decide to do that?
L: Well I'd had my own label, Hot Pot Records, for a few years. Just two releases. It was an outlet for my own edits. But we realized with all the talent that we had just booked on the regular here, we could easily make a label and make it our vibe. So we have things on the label that are jazzy, maybe downtempo, maybe peak time house stuff. A natural progression of what we do musically at the venue.
P: The last release was really great. So eclectic. You had Andy Compton's vocal house track, Alton Miller, an edit of…
L: of Jean Luc Ponty. It was Peter Croce's edit. He really didn't have an outlet for that either and it felt right on the record. We got Ponty's permission and went for it.
P: And the last track was yours on that one right?
L: Yeah it's a project that I did… wow, about 15 years ago with a live band in Toronto. I only did it with a little bit of programming added to it, but essentially it's the original recording. At the time I was really influenced by The Philadelphia Experiment Project by King Britt, as well as Carl Craig's Detroit Experiment.
P: So what's coming up for the label?
L: We're just wrapping up the second release. We have Aroop Roy. We have Hughes & Smith Quintet, which is a local jazz quintet we have play here. It's kind of a straight ahead, uptempo funk track. And we also have Haz Mat.
P: I heard he's got something special…
L: Yeah it's gonna take the world by storm. There's also a 4th track but i'm not announcing that yet.
P: Any of your own music?
L: Not at the moment. I'm thinking about actually doing Hot Pot! #3 this year. but I'm really focusing on tapping artists for the MCW label. I'm fully immersed in the business, but I still DJ as much as I can.
P: So through this combined effort of the venue, the label, and your own musical work, I think it's safe to say you're an influencing player in the Detroit underground scene. Is that a motive behind all this work? Are you trying to build something in particular with a vision, or are you simply doing what you love? Maybe both?
L: I really just forge ahead with my own path. I do what I like, and it seems to have been working great so far. Obviously being in Detroit I know a lot of entrepreneurs. I think maybe just that general entrepreneurial spirit carries me through whatever I'm doing. And that's staying true to it and not trying too much.
For more info on David & Melissa's venue, upcoming shows, and more, visit motorcitywine.com
DEQ issue 14:
www.detroiteq.com (issues icon for all pdfs)