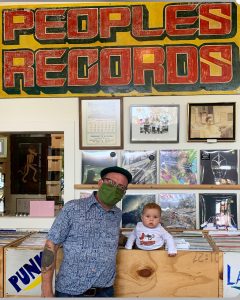 Brad Hales, is so much more than the owner of Peoples Records (1464 Gratiot Ave in Eastern Market)… he is a musician, DJ, historian, educator, husband & recently a father! Peoples is such an important cultural staple and is a must visit and shop for music collectors. We are so pleased to have him as our guest DJ this Wednesday at Ima (Corktown) as a continuation of our two DJs series.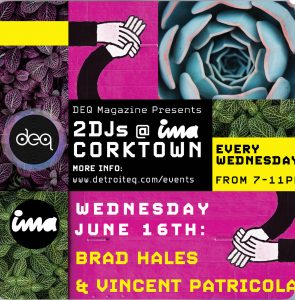 DEQ: Thanks so much for taking the time to answer some questions for us.  Since you set up shop in 2003, is your current location on Gratiot your favorite?
——–Hi Vince!   Thank you for the kind words and the support.    I have liked different things about all five of the places we've been since we opened, however I really prefer being inside Trinosophes.   Having friends who are family with a common somewhat anti-commercial vision as your landlord beats any other scenario we've encountered.   It feels slightly less cramped than some of our previous digs.
DEQ: Would you tell us more about the Michigan Audio Heritage Society (MAHS) Museum inside the store?  It complements all the music in the shop so well. What is on the horizon for it?
———Well, I'd like to do a lot more with the photographs we have collected over the years.   There are many great artists who are virtually unknown here at home, yet are legendary to music fans from Japan, Germany, England, Mexico, France, you name it… so since the Motown Museum or Detroit Historical Museum is not there to champion the underdog necessarily, we are glad to give some of these more underground artists some respect and exposure.
DEQ: Do you find people are still following the history after all this time these days? Do you feel the history getting lost… is there hope?
————With the internet, worldwide participation and interest in Detroit musics specifically, things have been preserved and cataloged better than ever before!  What's getting hard is making new local discoveries that the internet does not know about yet.  This used to happen at
Peoples a lot more in the earlier years.   Here are a couple of favorites we discovered and brought to a much wider audience:
https://www.youtube.com/watch?v=C-v8Z9RLYkA
https://www.youtube.com/watch?v=h8XTZb4CViI
https://www.youtube.com/watch?v=zU9uW_4ldpI
DEQ: The Boiler Room set you did in 2014 was so amazing.  It was very different from all the others I've seen with the dancers all behind lol.  I know you had to control that situation…
———yeah, I was pretty casual about it!  I was busy at work.
DEQ: How does it feel to have the store open? I know you are still exercising extreme caution with masks and all.
——————-We were closed for over a year, so it feels really great.   Just about everybody has been cool and considerate of others.     If people think we are strange for exercising caution, I would point out that people we have dealt with for many years and are guaranteed to see have many known health issues, like organ surgeries and transplants, cancer, diabetes, you name it.   We also get tons of tourists and travelers.     We lost some
good friends and customers forever, that will always hurt.
DEQ: When do you think you'll be able to tour/travel again with the band or DJing?
————- Hoping to visit Europe in the fall so my baby can finally meet her grandparents!    I tend to play in Germany most frequently, and my wife is from there.  I don't know about heavy touring at this stage in life, more like trips here and there would be my speed.  It's an important goal to the Ultimate Ovation singers to the West Coast where we have somewhat of a fan base among the lowrider / sweet soul scene, which I think is extremely cool.
https://www.youtube.com/watch?v=zU9uW_4ldpI
DEQ: is it ok to talk about this exciting project coming with DJ DEZ?
————— Sure!   So just before the pandemic and everything, Dez and I got together on a project we had been discussing for a long time.  He knocked out literally 50 new tracks from my records (hand picked for Dez to sample).  It's obviously sample based, so not sure how or when these tracks will see the light of day, however to me, it's like having a secret "Donuts" to listen to that's mega-expanded, and more (but not entirely) locally focused – and, the tracks are all generally 4 minute plus compositions as opposed to snippets.  I have the utmost respect for Dez as a DJ, musician and producer.    For someone that talented and creative to make this out of things I helped supply is a living dream.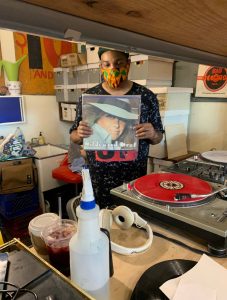 DEQ: we are so looking forward to your set at Ima on Weds (Jun 16). What styles of music will you bring?
————I want to bring records that will sound good outside or have a good summer feeling.   Lots of sweet 70's stuff is my favorite but I think we can cover a lot of ground!   I'd like to bring some Brazilian music and 12″s too so who knows.
DEQ: Any songs come to mind when you dine at Ima?
————–Hmmm I remember being at the Ima in Madison Heights a long time ago and hearing a Scott Zacharias mix playing and I thought how great a job chef Mike Ransom did on the whole thing –  this is really how things SHOULD be.
Come see us play at Ima (Corktown location) 2015 Michigan Avenue on Weds 6/16/21… 2 DJs every Weds… www.detroiteq.com/events for lineup