On the heels of DEQ's  first Two DJs event @ Ima in Corktown  (it's this Weds 6/9/21) we caught up with our first very special guest DJ Wade Kergan, owner of a favorite vinyl stop in Detroit, Hello Records!!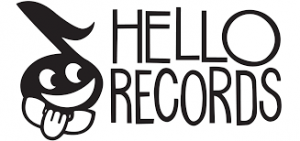 DEQ: Thanks for your time! The excitement is building for your new location. Would you tell us more about it? When do you think you'll be ready?
WK: Always, always, always happy to talk to DEQ. The new location will be at 4165 Fort St in Lincoln Park. When the pandemic hit we were already in the process of securing a new location but it changed our plans quite a bit. Originally we were planning to remain in Downtown Detroit but with so much uncertainty on the horizon I decided to focus on mail order; that allowed us to survive the last year. Now we're ready to return to in person sales and looking forward to it – music people: we miss you!The new space is much bigger. We'll have CDs and DVDs along with posters and memorabilia and of course tons of records.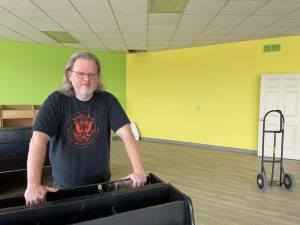 DEQ: When opening a new shop, do you flash back to when Hello first opened? And maybe Record Time?
WK: When I was moving the shop I definitely thought back to the humble beginnings of Hello with 8 boxes of records. Having to move hundreds of boxes was karma for leaving Record Time a week before they moved from 10 & Gratiot.
DEQ: Was Record Time your first shop experience?
WK: Yes. Shortly after high school I started working at their Rochester, MI location and later transferred to the main Roseville shop.
DEQ: Have you been buying records through this COVID situation?
WK: We kept in touch with a few of our regular sellers and bought a few collections but in a very limited capacity. Starting to pick up again this summer.
DEQ: In the time off, have you been putting a special record bag together to unload on people when you DJ or will it be a more spontaneous thing?
WK: I still have to hustle to pay the bills so it hasn't really felt like time off! My style is more spontaneous and sets are more uh..  from the front lines of my mind.
DEQ: How do you plan your DJ sets in general? On Wednesday what kind of stuff will you drop at Ima?
WK: I consider myself a good selector but I've seen too many great DJs to consider myself one. Classics, oddities and new flavors in conversation.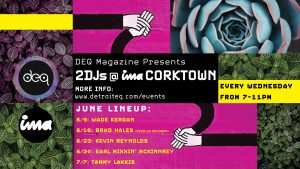 DEQ: What records have been grabbing your attention lately?
WK: Friends & Mentors EP on Steady Flight Circle, Kathy Leisen – Proof on Syncro Systems, Creode – Ecroni on Alien Passengers, these Norm Talley Eps on his new Upstairs Asylum imprint and this weird 80s solo rock record from the east side with tons of drum machine!
Come join us every Weds at Ima in Corktown from 7-11pm out on the patio for delicious food, cocktails & tunes, The lineup: Weds 6/9 Wade Kergan,  6/16 Brad Hales (Peoples Records), 6/23 Kevin Reynolds, 6/30 Earl Mixxin' McKinnrey, 7/7 Tammy Lakkis, 7/14 Grant Jackson
For details go to www.detroiteq.com/events