DEQ caught up with Joe Vargas ahead of our 2 DJs Night @ Ima Corktown this Weds Aug 12 7-11pm.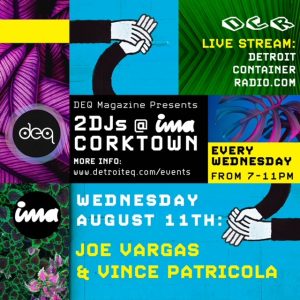 Vargas has been involved in and around the Detroit music scene for over 20 years. First, attending Wayne State University for Music Education, then learning the craft of DJing by, in part, working at local pro audio shop DJ Supply, and eventually becoming a founding member of party promotions group Tour Detroit, along with fellow members, Erno the Inferno, Steven Robert, and Mike Mackool. You can catch him regularly on Twitch as TheBigmanrestless, and more recently at various gigs around the city. He works as one of the lead bartenders at Spotlite and credits working there as a big part of his renewed efforts to start playing gigs again. He is meticulous about his passions and music ranks at the top.
His mixes are fun and you can hear his journey in every one. New wave, disco & new edits, 80s boogie, downtempo electronic, and Detroit house is where he lands primarily but you never know what surprises are in store for you.
DEQ: Thanks for taking some time to answer some questions. When did you first see a DJ mix records?
JV: I first saw a DJ mix records in the Student Union at Wayne State University. It was Milieu (Mike Woo) and I was wondering exactly what he was doing and how he did it. I thought he had loop records or something. I sat there and watched him for about an hour before I walked up to talk to him. and then he handed me a flyer to an event and, from there, I got hooked.
DEQ: Yes! And that led you to get some turntables
JV: Yes … I'm a bit embarrassed to say, I sold my Magic the Gathering card collection to buy my first set of turntables. I practiced in my bedroom for about a year. I went to events, shopped for records and learned what I could.
DEQ: Tell us about your time at DJ Supply. 
JV: Working there introduced me so many more people. I got to work with a couple of my early influences, Craig Gonzales, Justin Kruse, and Justin Howse. I met Ernie Guerra (a.k.a Erno from Slow Jams, etc.) there! In fact, I sold Erno, one of his first sets of turntables. Me and Erno often talked about music and shared a lot of the same tastes. later, we formed a group called The Cycle and we took over at Corktown Tavern (home back around 2007 for electronic music nights) after Dorkwave (electronic/new wave night with an eclectic array of DJs including Jon Ozias, Rob Theakston, Mike Servito and many more) ended.
DEQ: And from that came Tour Detroit?
JV: Yes. Steven Robert, another friend from Wayne State joined us after The Cycle sorta fizzled, and we regrouped as Tour Detroit to do a spring summer series of parties. 6 events at six different venues… We've kept the name although we haven't done much as a group in a while.
DEQ: How did going to events like Dorkwave or the Works, influence your taste in music?
JV: Definitely learned to take more chances, and not to ever underestimate your audience. Don't be afraid to change it up too… variety is a good thing. I like to bounce around styles.
DEQ: Lets fast forward to today. You are bartending at the new venue Spotlite. How has that influenced you?
JV: Hearing great DJs play on a regular basis has been amazing. I have to be careful though, having the record store right there, I rarely leave work without a handful of wax. I've been finding some hard to find disco edits, and lots of Detroit house music to add to my collection!
DEQ: And that's what you'll play at Ima on Wednesday?
JV: Pretty much. It will be a fun variety of everything.
DEQ: Are you making your own music?
JV: That's a goal I have for 2022. I'm saving up now to get The Maschine from Native Instruments. I'm Currently learning Logic Pro now.
DEQ: How can we find out more about when and where you are playing?
JV: The usual social media sites. FB, Insta, Soundcloud, Twitch.