At Ima (Corktown location) on Weds, July 28, DEQ is pleased to present guest DJ Luke Hess as part of our 2 DJs series!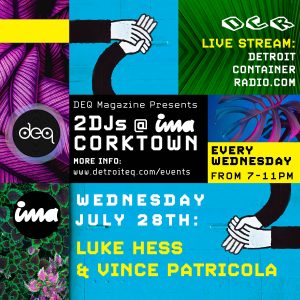 Luke Hess is a world-class techno producer and DJ who represents the D in all the right ways. Inspired the 90s rave scene along with years of proper mentoring, studying and elbow grease he rose like cream to the top. His releases on his imprint DeepLabs, along with others on labels near (Omar- S's label FXHE and far (like Echocord in Denmark), are heady, dubbed out techno tracks for the dance floor. His sets are groovy and gorgeous.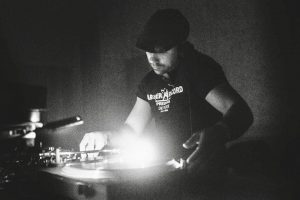 DEQ: Thanks so much for taking the time to answer some questions for us.  When did your journey as a DJ begin? Was there a particular moment or event where you decided that this was the path you wanted to take?
LH: My journey began in the mid-90s. My cousin Dennis took me to my first rave in 1996.  I remember going every weekend during that first year after I discovered the underground Detroit techno/house scene. I just stood in front of the DJ booth and watched how the selectors told their story with just a couple bags of vinyl. It was super inspiring.
I started collecting vinyl during that time and bought my first set of turntables a year later.  I remember spending countless hours in my basement blending records and challenging myself to blend the records for the entirety of each song.  Before I ever played my first gig I was so familiar with all of my records that I could sketch out a story of what records went well with other records. I built a story and mix in different ways depending on the situation.
DEQ: Who did you look to for inspiration?
LH: I was very inspired by Rob Hood, Jeff Mills, Richie Hawtin, & Mike Huckaby. I was always going to parties on the weekends from 1996-2003 until college work started getting very busy. I was never really involved with throwing parties or playing parties at this time – just attended with friends.
DEQ: Tell us about your travels as a DJ? Some of the memorable times… do you have a favorite place to play?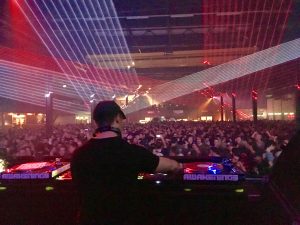 I started traveling for DJing in about 2007 after my first releases on FXHE and Echocord.  Some of the most memorable travels were Japan, Berghain/Tresor in Berlin, Concrete & Batofar in Paris, Dimensions festival in Croatia, Inner Varnika Festival in Australia, Tel Aviv, Bassiani in Georgia, Fabric London, Culture Box in Copenhagen, Awakenings Festival in the Netherlands…. This list could go on and on – it seems like a dream when I think about my pre-COVID touring.  These were some of the best moments in my life for sure.  My favorite place to play is probably Berghain and Tresor in Berlin – I've played each club about ten times. The crowd is just really open and excited for everything.
DEQ: What styles of music do you play?
LH: I just play good electronic music. I'm not a big fan of genres- but tend to look for deep hypnotic techno, trippy house, zoned out dubby techno/house. I spend a lot of time on discogs.
DEQ: Tell us about Deeplabs and how it started. Your label philosophy…
LH: DeepLabs is mainly an outlet for my personal experiments with music without having to concern myself with other people accepting my music based on genre or style.  Omar-S encouraged me a lot to start my own label. Here is the philosophy straight from the website:
DeepLabs is a deep Detroit techno record label based in Detroit, MI USA created and managed by the DJ and producer Luke Hess. The label was created in 2010 for the deeper, soulful and experimental side of electronic music, with a clear vision of the DJ and the dance-floor. The vision behind the label is not only an outlet for creative experimentation in dance-music, but a channel that aims to convey a deep message of hope in a world of disillusionment and superficiality.
DEQ: When you make tracks, are you using more hardware or software? Do you have a favorite piece to go to?
LH: I enjoy collecting hardware. I use mostly analog gear (new and old drum machines, synthesizers, samplers, effects, and a field recorder) to make music.  I sequence using Ableton, but don't use many software plug-ins.  My favorite pieces are the original Prophet 5, Juno-106, 909, 303, and 101.
DEQ: With your daily work in engineering, numbers and systems, does music help you in your designing and/or problem solving? Do the two interact and if so, how?
LH: My career job is – electrical engineer in research & development for the US Army.  The type of mathematics and engineering I do for my job does not really overlap much with music production – maybe a bit of signal analysis and the ability to mod and fix and program my synthesizers. To be honest the most beneficial thing that I use from my studies and research in electrical engineering is the perseverance, determination, and patience it takes to complete projects from concept phase to fielding a product – which really helps me to follow through with visions I have for music production and telling a story behind the DJ booth.
DEQ: BTW, how did connect with Omar-S?
LH: I used to listen to records with Seth Troxler at Melodies and Memories (record store) almost every weekend as new records would come in when Seth worked in the Dance room. I brought a CD with some original tracks for Seth to check out one weekend.  I didn't know that he gave that CD to Omar-S to check out.
The next day I received a call from Omar-S and he asked if I wanted to do a record on FXHE. Of course I said yes.  He said, "Don't give my number to no one, you don't know it".
DEQ we are so looking forward to your set at Ima on Weds (July 28). What kinds of music will you bring?
LH: I'm bringing mostly deep & hypnotic & warm & noisy techno, house, & dubby nuggets.
DEQ: Where can we find more information on you and your events? What's on the horizon?
I play Marble Bar on August 7 with Visionquest, Delano Smith and Ataxia. Other than that I'm just excited for the next opportunities with Fall touring as things open up again.  I work with Vice Versa Agency in Europe and there are many exciting plans on the horizon, but promoters are still being a bit careful at the moment.