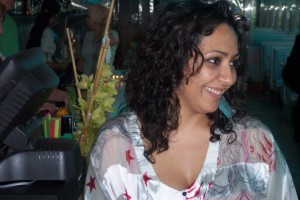 I caught up with Detroit art publishing group 1X RUN's Chief Operating Officer Roula David last week as she and their team are making final preparations for their 5th edition of Murals In The Market.  To be considered by the Smithsonian as one of the top 5 Mural Festivals in the world is no small feat and to have such a professional, global, properly curated, community oriented event right here in Detroit's Eastern Market is a giant blessing.
Detroit's version became reality when 1XRUN co-founders Jesse Cory and Dan Armand witnessed the positive community impacts of the mural festivals they were sponsoring in other cities and countries.
The excitement all kicks off with a giant Family Reunion Block Party Saturday, September 14 with music, food trucks, vendors, and art (of course.)  The 1XRUN crew teamed up with Paxahau Promotions (Movement, Detroit Jazz Festival) to bring you a stellar line up of talent including DJ Premier, Dez Andres, J Rocc, Amp Fiddlerand a Drummer from Detroit, Super J, Big Shoes (Big Tone & Houseshoes), Super Dre, John Arnold & John Beltran and Efe Bes!
David, with her solid background in events planning and organizational skills have helped push Murals In The Market as well as 1XRUN to reach new levels of success.
For details visit: www.muralsinthemarket.com. Here's our quick catch up!
DEQ: Thanks for meeting up. How crazy is it right now?
RD: Crazy no. Busy yes for sure. This is our fifth year doing this and so much of it is in place.  We have a good team and now it's details for the most part.
DEQ:  With the new (slightly more uptight) climate in Eastern Market (new property owners and big money coming in), has it been hard to find buildings to paint on?
RD: It was harder in the early years when people didn't understand what we were doing. As building owners were getting hit with tickets for graffiti, they became willing participants in getting their buildings painted.  There's sort of an unspoken truce between graffiti writers and muralists where they don't mess with each other's work.
DEQ: Again, with properties changing hands, is it difficult to keep the murals up for long periods of time?
RD:  It depends. We spend a lot of time and effort raising money to put murals these buildings and if they come down in a few months, what's the point? This year we have partnered up with a developer on the far side of Mack and Orleans. Fifteen murals are going up there.
DEQ: Wow!! So, how much art is happening as part of Murals in the Market?
RD: Between murals, art installations and sculptures about thirty works.
DEQ: So many of the murals embrace social change and make community statements.  Will this trend continue?
RD: It will be interesting to see what the artists come up with.  I'm excited to see what happens with the Mack and Orleans building site. House music legend Osunlade will be putting up his first public piece in Detroit. Ron English is building a welcome wall between Canada and Detroit on the Detroit River, Ben Hall (Russell Street Deli) will be doing a sculpture… there's too many to talk about, but it's all going to be good and the community will enjoy it.
DEQ: The opening party has a "Family Reunion" theme added and for those who attended your previous parties it felt just like that. I'm glad you said it in your promotion.
RD: Yes! Unifying Detroit. Family reunions are such special events in the Detroit summer. It's our farewell to the summer with the arts and music community, which go hand in hand. It's family friendly, dog friendly. It's funk, jazz, disco, hip  hop, reggae vibes.  It's art vendors and food trucks.
DEQ: And other fun things.
RD: Yes! There's going to be an art parade in the middle of the party. We have an artist from Texas, Dennis McNett who made these giant puppets. We have double the vendors. This year, we are starting at 1pm to accommodate more of the happenings.
DEQ: When this is over, when do you start planning the next one?
RD: December.
DEQ: How do you make all these incredible things happen in so little time? What is your secret?
RD: It's all about time management and understanding your workflow basically.  It's understanding how long each part should take and planning it out. We are not a three person operation anymore. We're thirty strong here. Throughout the year we stay on all of our projects to keep the ship right. We can't do this without our team and partners.