Quick Catch Up #6 With DJ Allan Ester by Vince Patricola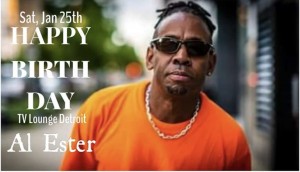 One of the greatest highlights of the electronic music year is upon us: DJ Allan Ester's birthday bash on Saturday, January 25, 2019. For those who do not know Ester, he is one of legendary DJ Ken Collier's A+ students for one thing. From the early '80s, as a member of elite DJ collective Direct Drive to now (and far into the future as part of the Sonic Natives crew), he is one of the most enthusiastic, talented, diverse selectors of music anywhere. We are truly lucky to have him in our mix and his birthday celebration is sure to go down as one of the best parties of 2020.
DEQ: We are so excited for your birthday party. Who's playing?
AE: Todd Weston (Motorcity Wine "Hot Pot" Resident) will open. He's a great talent! One of my heroes, Norm Talley will close. I'll play somewhere in between.
DEQ: Does it feel like your birthday every time you get behind the decks?
AE: I try to make it feel that way. My mentor Ken Collier often said to play the same way for either two people or 2,000 people. The excitement comes from the crowd. The more energy I give them, the more they give it back. Then I can take off from there. I tell a story when I'm DJing. When people can follow my story and feel my happiness we can go spiritual places together.
DEQ: What was your longest DJ set? Were you tired at the end of it or could you have kept going?
AE: My longest set was for Will Phelps (Club Network) and has parties called "Old Faces." Around 2000, he threw this party at Detroit City Airport and over a thousand people came. I played in the terminal all by myself from three pm in the afternoon until four am! I brought six crates of classic old r&b (Heatwave and Parliament type stuff.) I was tired for sure, but physically I could have kept going.
DEQ: When you go out to clubs now, do you like what you hear? Is mixing/blending becoming a lost art in your opinion?
AE: I don't like what I hear out most of the time. There are exceptions of course, but typically it is the same eight records. Most play it safe unless there is another DJ from out of town they are trying to impress. Most of the times tune them out. I'd rather get together at a house with a case of Corona and play for each other. Mixing has definitely been cheapened. Anyone can do it with a phone. Every star with a sitcom canceled or someone like Paris Hilton becomes a DJ.. Technology. You put a pair of Technics in front of them and they'll be lost.
DEQ: With the rapid advancement of the internet, mix shows, Shazam, Discogs, etc, the knowledge of those deep, insider type cuts are becoming easier to find and learn about. How do you feel about them being more easily "available" or when you hear others play them out?
AE: I don't hear them when I'm out. People don't take chances. I always hear the same old tracks.
DEQ: What is your favorite version of "Happy Birthday" or birthday song? AE: Luke (2 Live Crew): It's Your Birthday
DEQ: Favorite birthday cake and ice cream combination?
AE: German Chocolate with French vanilla (not gourmet) ice cream (like Breyers)
DEQ: Favorite ice cream solo?
AE: Chocolate Chip Cookie Dough (Ben & Jerry's)
Upcoming things for Ester: Friday, February 14 at Marble Bar – 12 hour party with Carl Craig, Derrick May, Delano Smith, DJ Minx, DJ Holographic and Waajeed. More to be announced! Contact Allan at bookalester@gmail.com