Ghetto tech enthusiast, DJ, producer and soundman Kris Harris (aka DJ Resurgence formerly known as the Surgeon) is hardcore down to the bone. He's all up in it (he wears a surgical outfit when he plays) and now he's added an intense sound and lighting rental company to his list of services. Digital Custom Media systems are no joke as his rig can deliver a heavy pounding! He shows us pictures of new gear and technology like a proud papa every time we see him!
He is getting ready to show off his sound at this party on October 30th, 2021 at the Lexus Velodrome downtown and he is pulling out all the stops with a stellar lineup including DJ Psycho, Shawescape, T Linder, DJ Roach, Augustus Williams along with DJ Resurgence!
DEQ: Congrats on all these great things happening (and your engagement as well!). With all your DJ success, why did you make the leap into sound & lighting? Was it a natural thing?
KH: I will say first I thank God daily for all my blessings without a doubt. I started doing small rentals to DJ friends and it just kept getting more interesting to have a better system. I heard RCF speakers at Movement (2017) and now I have 20 boxes and have ordered 6 more for next season. Plus I still have my QSC and EV DJ speakers, so I have 30 speakers right now. Yes, it has been a natural progression for me.
DEQ: Tell us more about the lights and lasers…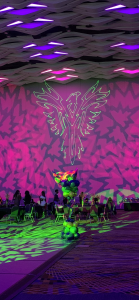 KH: My build out for my RCF rig is (8) 9006as subs (16) HDL28 line array boxes and (4) HDM 45 trap boxes. We will have too see what happens after that, never stifle your blessings. We are crushing it every show. People need to know I have been trained by RCF to use this system and the software so I am not just hoping they sound good I actually know how optimize them.
DEQ: … and all this technology will be on display at the party? What's the scoop?
KH: Our lighting display has been elevated with the acquisition of 2 Kvant laser projectors (Clubmax 3000fb4.) We have the disco scan 2.0 lens so we have the widest projection in town. Graphics are larger than life, able to cover huge spaces with flicker free eye candy. We also have Chauvet rogue rx2 300 watt spots and a variety of other fixtures that will be at the Dome. Future lighting will include razor sharp beam effects and club max 6000 projectors.
Our agenda is simple you don't need a 100 fixtures just the right ones and a creative mind. They will be at the dome for display
DEQ: Let's get back to DJ Surgeon… did you change your name to Resurgence? Are you still going to wear the surgical get up?
KH: There is another artist Surgeon (Anthony Child) in the UK, so I decided to make a switch where there could be no mistakes with booking agents. I will still wear the scrubs when I perform. I will have on my Digital Custom Media shirt repping my company and we all will be bringing the bass in yo face- boo yah! Subs running with our new power distro at 208 volts!
DEQ : How long has ghettotech been your style of preference? Who were your main influences as a DJ?
KH: Ghetto tech is in my blood to make these hood tracks with catchy sound bytes and simple lyrics. I produce and engineer all genres but I like to have fun, make the jitters JIT and the ladies get buck wild on the floor with that low end.
My influences are Jam Master Jay, Grandmaster Flash, Grandmaster D and DJ Jazzy Jeff.
DEQ: What is on the horizon for you after the big event on the 30th?
KH: After Oct 30th we will start our heavy marketing for next season, training new crew and getting ready for a big show in Florida, developing the laser service, and just growing the business to a staple, I will say this we are not in completion with anyone, our inventory speaks for itself as we do more shows the people will know what's up and that's it. See you at the Lexus Velodrome!