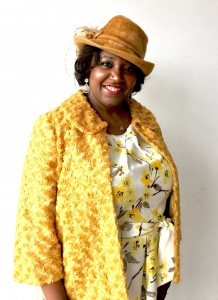 Written by Vince Patricola, photos by Zlatan Sadikovic
There's a shining star on the rise and her name is Badriyyah Wazeerud-Din. I chose the words shining star because not only is she a black belt vocalist and songwriter, but the song "Shining Star" by Earth, Wind & Fire is one of her favorite songs of all time. "Philip Bailey (of Earth, Wind & Fire) helped me learn my upper register (vocal)," she added with a smile and a chuckle.
Earth, Wind & Fire was just the tip of the iceberg when it comes to music and influences. On the listening side: Stevie Wonder, The Supremes, Marvin Gaye, The Jacksons, Sly & The Family Stone, Parliament/Funkadelic, Prince, The Emotions, The Beatles, The Eagles, Journey, John Coltrane, Miles Davis, Herbie Hancock, and Pat Metheny are some of them. As far as songwriters go: Elton John, Sting, Carole King, George Michael, Joni Mitchell are all included. Her vocal shaping comes from Ella Fitzgerald, Sarah Vaughan, Aretha Franklin, Chaka Khan and Natalie Cole, especially for the way Cole covered multiple genres and conveyed emotion.
"We all have the ability to make magic happen through song," said Wazeerud-Din. She believes that songs have a healing power whether you are listening to a piece of music or just singing a song yourself. "That's the importance of music as a unifying force to bring people together for good." As a native of Saginaw, Michigan and a Detroiter for many years, music continues to be a guiding force in her life. Her lyrics, vocal deliveries as well as her attitude in general project timeless messages of love and togetherness in these trying times.
Wazeerud-Din's first serious lyric set to music came around 2004 as a challenge from her band mates in the group Painted Pictures, which included her husband Malik Alston (keys/vocals), Joshua Adams Crilley (drums), Howard Wazeerud-Din II (her brother on trumpet), Yaminah Brock (vocals), Michelle May (violin/ flute), JoVia Armstrong (percussion), Maurice "Piranhahead" Herd (guitar/bass). Key musicians also included honorary band member and mentor, the late Allan Barnes (sax), Craig Huckaby and Kevin Croft (percussion), Matthew Mueller (bass). Like a woman possessed, she wrote this lyric (which eventually became the track "Send Me Over") in fifteen minutes: "Only love could ever hold me, never make me feel alone. Only joy could ever fill me and send me over."
Singing with Painted Pictures was a great experience as they played multiple venues around the city. It was a true Detroit community band featuring original jazzfusionhouse and dance music that later included Yolanda Day (vocals) and Ken Comstock (upright bass) along with countless other staple musicians including vocalist Monica Blaire, bassist and vocalist Paul Randolph, guitarists Blackman and Arnold, madman singer/piano player/MPC master Jeremy Ellis, and many more. With all the musical talent on the stage, she learned how to become a better vocalist and how to adapt on the fly to all different styles in a moment's notice. She called the year of playing at Fifth Avenue (venue inside Comerica Park) a "proving ground" where she learned to interact with the audience and absorb the feeling of a room.
Another notable release happened in 2007 when she recorded "Reach The Sky," a collaboration with her husband Malik Alston. The time was well spent on this tune, with lessons in vocal coaching and songwriting from Alston. She called it their "Ashford & Simpson" style song and she wrote this bridge "We travel to dimensions that we see with our hearts. The future is here all around us, showing the way to what is real."
In 2011 Wazeerud-Din and Alston collaborated to write the song "Playground" for powerhouse vocalist Veronique. She wrote the lyrics based on watching Veronique and her husband D. Miller interact: "Baby our love is a playground, so beautiful to see. Joy on the horizon, it's a miracle to me."
"In The Rain," a tune that's included on the vinyl for this edition of DEQ Magazine, is a song she wrote in 2016 with Alston. During a time of personal and professional struggles for Wazeerud-Din, she was inspired to write lyrics that reflected love, pain and hope: "Nothing can stop me now, nothing can hold me down. Your love is all around me, your joy is everlasting. It's all I need. It's all I need in my life. I know I've got to make it."
These four songs are just a glimpse into what she has accomplished so far as a writer and vocalist. Her intention is clear: to elevate you to a higher consciousness and take you to another universe through music.
"I take in things from my life, my husband's life, the lives of friends and family. I take it and filter through the lens of Mother Nature. I let the words speak to me not so much as the literal meaning of the words, but I like synonyms… I'll look up the literal meaning of a word and then soak in the feeling of the word, the intent of the word so when I'm writing the word it comes to life through the feeling of it. My lyrics can be factual but can also be allegorical so the listener can interpret them for themselves. I approach it sometimes like poetry, not so much as everything should rhyme but it (the work) should have a synthesis."
Wazeerud-Din is currently working on a new studio album (forthcoming on Truth Manifest Records) with Alston and a hush list of collaborators. Inspiration for the project also comes from musical friends, including Les Nubians, Roy Davis, Jr. and Doc Link. She's taking her training in clarinet, piano, performance choirs and in symphonic bands and orchestras, experiences in Painted Pictures and in Alston's new band called The Linwood Ensemble, as well as all the talented Detroiters she has worked with and she's going to pack them into this album. She sets the bar very high for herself, which is why songs are far and few between.
"Detroit has a special magic in not only how music should be done. It's done well and at a high level, with heart and passion. That reflects in music that I want to hear personally as a Detroiter. I want to hear Malik Alston, Neco Redd, Monica Blaire, Amp Fiddler. That's Detroit to me. I want to hear Kenny Dixon Jr. on the decks, the men of UR (Underground Resistance), Derrick May, Javonntte, DJ Minx, Diviniti, Piranhahead, Thornetta Davis. That's Detroit."
Wazeerud-Din credits the diverse and colorful people in the Detroit music scene for her positivity. This along with faith in God, and her loving and musically gifted family that taught her that we should love each other regardless of our differences. I asked her what her favorite lyric of all time was, and it was indeed from "Shining Star" as she has relied on those words her whole life. She said the lyrics to me out loud – "You're a shining star no matter who you are. Shining bright to see what you could truly be." A group of people sitting at the tables around us smiled and so did I.
Want more DEQ? check the PDF files www.detroiteq.com/issues & support by buying a print edition!!