by Cornelius Harris
It's impossible to talk with Bill Beaver without being infected with his energy. A longtime figure in the underground Detroit dance music scene, his work has mirrored much of what has happened in that scene. His career has been an ongoing process of reinvention yet music has been the constant throughout.
Although Beaver is a Detroit native and music lover since he was a child, his turning point took place some 300 miles west of his hometown.
Beaver worked with the Detroit R&B group Kiara, which was unsigned at the time and had some local success. But then he made the decision to go to trade school in another state.
"I was going to DeVry in Chicago and I lived on Loyola's campus. My grades had totally… slipped! I lost my job at UPS. I had a nice apartment, couldn't afford it. Everything was transitioning. I went down to the customer desk and saw Frankie Knuckles, I didn't even know Frankie from anything. I went down there, man, turned my life listening to that music! I was like, you know what, I can't believe I'm going through all this, but I'm so liberated, I was inspired right there!"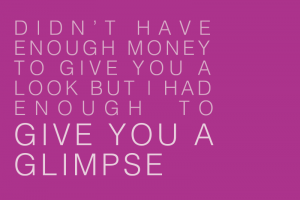 Beaver was soon back in Detroit in 1987 and, not long afterward, Kiara got a record deal. He started touring with the band, first as a roadie and then as a background singer (he can be seen in the video "Every Little Time"). After the tour he crossed paths with "Mad" Mike Banks, who was putting together the house music vocal group Members of the House. Beaver and his bandmates would have a string of underground hits in the U.S. and in Europe before going their separate ways.
Beaver still stayed hooked into the underground scene and, in 1991, created a photo heavy 'zine called Glimpse. His travels had heightened his urge to shoot and document what was going on. Beaver's father was a photographer himself and had been part of the yearbook staff at his high school
"The bug really hit me when I started meeting this underground crowd, and I was like, there's too many fascinating people. Everybody is into this underground, progressive culture, and it's different from where I'm from. But certain people were keyed into it, some were not," Beaver said.
He saw Glimpse as an extension of his real-world social network. "It was like an extension of my phone book," Beaver said, "I had these friends I thought would be interesting from all these walks of life, compiled it into a book, and I surrounded it around real progressive underground people that would meet at the dance party."
Self-funded and not being one to hide his circumstances, the name Glimpse was deliberate. "I didn't have enough money to give you a look, but I had enough money to give you a glimpse," Beaver said.
While many like to reminisce about the past, Beaver does so with a clear head. He hasn't forgotten the reality of the talk that dogged the scene as well.
"People were crying, 'we ain't got nothing here, man, look at all these other cities, they got clubs,' " Beaver recalled. "And we were saying this in the '80s. Now that we look back, and it's like, 'Man, Detroit was jumping! We were like Motown!' And the guts are still there, people with the soul!"
Beaver saw that negativity as a function of constantly comparing Detroit to other cities. "Clouds were over Detroit for a long time. But when you look back and you see the work that they've done, and how different artists get light shined on them, I think to look at it like that was from a narrow perspective. People have pioneered and been trendsetting the whole way. And if you don't go through stuff, what can you really talk about? That's the whole contrast between the balance of make-believe and what is."