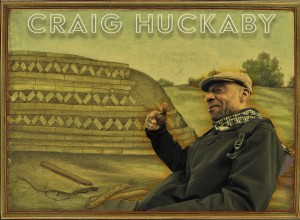 Craig Huckaby article and photos by Vince Patricola. additional art Blair French.
:::
I frowned.
In my eagerness to research free spirited percussionist, poet, collector and DJ Craig Huckaby I checked his discography on a popular music site online. It listed his name and described him as "Mike Huckaby's brother." Period.  That's it.
Undoubtedly Mike Huckaby is an out front legend in house music and casts a large shadow as a globally respected DJ and educator, but with the wealth of experience and many years of record digging, studying and performing under Craig's belt, he emerges a champ in his own right.
Few people put in work and march to the beat of their own drummer quite like Craig. Armed with knowledge from powerful life and music mentors combined with a strong love for community and lots of passion, he works non-stop. From studio jam sessions to finding books and records at garage and estate sales, it's a constant hustle. His bike pedals moving. His heavy backpack always full of discoveries to sell to local shops (and he sends a lot out of town.)
He is truly a man about town as evidenced by a trip through Eastern Market to grab some lunch on a chilly Saturday afternoon. To go only a few blocks seemed to take extra time because people kept stopping him to talk about jamming together, stuff he's selling and whatnot. I was starving.
As we got to the giant shed, Craig knew right where to go. First to a fish stand for smoked salmon and then to another stand for a kale salad. We mixed the two together and it was magic. "I do this every Saturday," he said. "It's a ritual." He then goes to Peoples record store to eat usually, but for interview purposes we ate at a plastic table in the shed.
We talked quite a bit about his upbringing and people that influenced him along the way. Early on most of his babysitters beat him on a regular basis for his boisterous behavior, but there was an older sitter named Carrie (who survived the Holocaust) that read him a children's book about Frederick Douglass. "She actually took time out to read to me instead of kicking my ass. From then I was always about that book life," Craig said.  "Music and books became like my babysitters."
His uncle, Melvin Turner, was a key player in the Ashanti Drummers and Dancers of Detroit back in the mid '60s. Craig remembered his uncle not only having lots of books, records and congas around, but being "dragged out" to play drums in public quite often as a youngster. That dragging eventually went away and he began to play at every opportunity, not for money per se, but just for the love of it.
Craig's life changed for the better in the late '90s when he met another one of his mentors master percussionist Juma (Jumma) Santos who played and recorded with greats such as Miles Davis (and toured with the Bitches Brew album), Nina Simone, David Sanborn, Taj Mahal, Ahmad Jamal and many more. Santos moved to Detroit, according to Craig, around 1998 to teach in Ann Arbor.
Santos first reached out to Craig after Santos saw a picture of him on the front page of the newspaper playing congas (for Kwanzaa event in Ann Arbor.) Without knowing Craig's skill level Santos asked him if he could play (hand) drums with him sometime. "I was all blew out by that," Craig said with a puzzled smirk. "HE wanted to play with ME? … I turned that gear around and I told him that I wanted to take lessons from him!"
Santos said he would give Craig six lessons and that was all he would need. "I totally get that, because after that sixth lesson, he had a gig for me… That first lesson was $80 and I needed $20 to get out there and $20 to eat, so I would take records to the store that I found to pay for them each week… Then I got the gigs to make the money back I spent and got rid of those Perry Como records I sold! I was way ahead of the game!!" We both chuckled out loud. "I learned a lot in those sessions, but more importantly I learned the history behind what I was doing. After the lessons, we would go to Encore (Ann Arbor record store) and he would tell me the records I should get. Cracked my head wide open. He (Santos) would say, like, 'you need this George Shearing record' and I thought why would I buy that? Then he told me who the conga player was and then I started buying George Shearing records. He tore me up. I knew what I was supposed to know like Sun Ra and Pharoah Sanders. He hipped me to the free jazz and other stuff off my radar."
Other head cracking experiences came by meeting Santos' friends, like (Famoudou) Don Moye (percussionist/Chicago Art Ensemble.)  "(around 2006) We went out to visit him (Moye) in Chicago," Craig said. "I couldn't believe I was sitting in Don's place talking with two of the biggest heroes, in my eyes, of the percussion world. They went back and forth talking about their personal experiences with the jazz greats from the '60s on up. Coltrane, Miles, Herbie Hancock. Stuff you can't get in a book. I was looking at the albums and artwork from the jazz legends on the wall. My head was spinning and lyrics were looping in my head."
Craig was due back in Detroit to do a session with legendary DJ and producer Theo Parrish at midnight. "Neither one of us knew what we were going to do. As Theo started playing a track and as I heard the melody, I knew instantly what to do." He began laying down the lyrics for the song "Black Music" that was featured on Theo Parrish's Sound Signature label (SS047) later released in 2011.
Based on that Chicago experience, he sang it: "Black music. When yesterday becomes tomorrow. Sun Ra stands at the helm of a Celestial Ark. Surrounded by the sun ship Love Supreme. Commanded and expanded by John Coltrane. Reduced to a minimum when needed by the hook. Seduced by Muddy Waters when Coco wang danged the doodle. Cuz the Wolf ain't givin' up nothing but a spoonful. And then Eddie had a mood that sent Gil to Johannesburg with a bottle of Blackness from Rasaan, but then again this was all recollections from Marion and Juma, the kind that Mongo played Blue with an Afro. Cuz after all, how you gonna get respect without Hank? Even the harp grew an Afro when Dorothy sat down. And Nina came around with that See Line Woman that Minnie called Silly and Billie called Strange Fruit. Diz and Channel called Manteca and all Bird could say was Confirmation. Black Music…" (full lyrics printed on the back of the record jacket.)
Craig released a few other tracks with Parrish, including the B side of that same EP called "A Child of the Sun" and "Good Question" (as part of Parrish's Rotating Assembly series (SS019X-I/J) with Piranhahead.  He has vocals and arranged hand claps for both versions of "Gullah Geechee" (with Carolyn Ferrari, Jovia Armstrong and Keith Beber ) on Theo Parrish's latest incredible EP Preacher's Comin' (SS071.)
"There were so many studio and jam sessions with different people in the past, I can't remember anymore. I don't always get credited on things." He laughingly recalled his first studio experience with Detroit rapper Eddie "D" in 1985/86, who shamelessly looped already popular hip hop hooks and did his own rap over the top.  "I'll give him credit. He did get releases out. It was an experience. I think he sampled my drums on some tracks." (check out the aptly named "Backstabbin'" (2005, PWR 2024.)
Besides the Sound Signature records, Craig did get percussion (and vocal)credits on a DEQ Magazine track "Serenity" by Todd Modes (DEQ 7), Seth Carter's Warrior Cry EP, (vocals on "Baba Mi" 2013 MR-WC- 001) and sensational keyboard player, vocalist Malik Alston's "In The Love feat. Paul Randolph", "Vampires", "Hot", "Just Close Your Eyes", "Tie It Up."
"Craig is one of the most dead on and diverse live and recording musicians I've had the pleasure to work with," said Alston. "Always something tasty with him in the mix."
Craig also founded a night called Soul 'n Conga which features DJ sets and conga players together. He currently plays records the first Friday of each month with fellow percussionist Djallo Djakate at the Whisky Parlor in downtown Detroit. He plays congas for Master Teacher Lisa McCall's Afro Cuban dance class on Wednesdays at Detroit's Scarab Club. Aside from these spots it's safe to say he's probably gigging or digging for books or records somewhere.
"It all goes together," Craig said of how collecting of books and records tie into his conga playing. "As a kid growing up in Detroit, getting records, you had to. It was expected of you. Music was that important and to know more than one instrument. You would buy the record to learn the parts of the songs. Understanding the history and genres through hearing and reading. It makes you a better player… You're always going to find something new in records and books that you aren't going to find on the net. It keeps me going."
But after this interview I realized that talking to, writing about and being friends with Craig is the type of story (person) that keeps me going.
Imagine if Carrie, Craig's studious babysitter, kept beating him like the other babysitters did and did not read to him. Or Juma Santos didn't give a shit about anyone but himself. Or if his uncle Melvin Turner did not get him into percussion and teach him.
Without mentors like them, we wouldn't have a performer, teacher and free spirited Craig Huckaby around, one of the people that really gives Detroit its' good flavor. One of the positive role models this next generation desperately needs.
for more DEQ go to www.detroiteq.com (issues icon): support by picking up a print copy w/LP at your fave record store/online shop
Issue 14