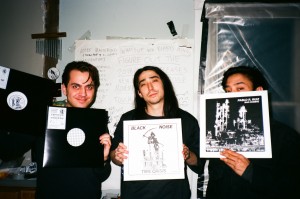 Portage Garage Sounds by Vicki Siolos. Photos by Devin Williams
What comes to mind when you think of a record label? Artists, their music, vinyl, streaming, tours, press. There is usually a cohesive ethos that captures a certain mindset or mission. Portage Garage Sounds is all of these, but with roots so deeply planted in Detroit, the year-old label has already made immense contributions to its local arts community.
After touring extensively as Shigeto and living across New York City and Europe, Zachary Saginaw moved back to Michigan in 2013 and settled down in Detroit. That same year, he and his brother Ben, who was already living there, performed a live ambient set at Tadd Mullinix's art opening over Movement festival weekend. "What I heard Ben & Zach doing was lovely, unique – on the edges of dark ambient and noise," says Vinnie Massimino, who was in attendance. "It was a sound palette that I wanted on record." He was launching Chambray at the time – a diverse and uncompromising label that captures the spirit of Detroit as a city of the future.
A few years later, Zach and Ben made a monumental purchase in Hamtramck. The structure was originally a Marathon Gas Station, which later became the Portage Garage auto repair shop before being converted to an arts studio. Their friend Aaron at VGKids – who now does all of PGS' printing – initially found the listing, and they went to see it on the last day it was being shown. "There was a holy shit moment," Ben recalls.
As brothers, Zach and Ben have been collaborating for what feels like forever. Vinnie was working as an apprentice at VGKids, the company that printed the record jackets for Shigeto's second LP, Lineage, on Ghostly International. He began collaborating with Ben on poster designs – first for MOCAD and eventually with Ben's band Ritual Howls. The group continues to release under Felte, founded by Ghostly's label director, Jeff Owens. Ben and Zach were also ramping up Monday is the New Monday at Motor City Wine each week with friends from the Freakish Pleasures crew. Hearing and playing new music on a consistent basis brought them closer to their roots in jazz, soul, and hip-hop as well as the steady supply of quality dance music coming out on a local level. "Detroit labels – they don't compromise," says Zach. "They do what they want, and release the music they believe in."
There was so much cross-collaboration that the idea for Ben and Zach to start a record label together with Vinnie running the back end of the business formed effortlessly. "Our love of buying and familiarity of DJing vinyl helped influence our decisions in creating and running a label," says Ben, who used to throw parties at a warehouse in Ann Arbor. All the parts coalesced between Zach and Ben's vision for the label and its design, and Vinnie's history with running the back end of the business. Portage Garage was the perfect hub. "I've always wanted to release records, since even before I bought my own records" Zach added.
Zach approached Sam Valenti of Ghostly International to see if he would be willing to do white labels for the songs from The New Monday on Spectral Sound, but Sam, who has known all three of them for years, and encouraged Zach to follow his own path and make a label. "I felt it was important that Zach and the team put everything into it and really feel it all," he recalls. "You can tell that that's the case so far with each release – from the design to the way they bring each copy to the shops. It's a labor of love."
The label's first output, Detroit Part II, was a 12" released by Zach under his Shigeto alias in May 2017. The integrity and philosophy of majorly influential Detroit labels – Sound Signature, Wild Oats, Mahogani, Underground Resistance – drives their unifying goal to showcase lesser known Michigan artists to as large of an audience as it can. "We're happy to be a part of the Detroit scene at all, because we're so new – by pressing vinyl records and getting them into circulation, helping our artists find gigs, releasing music on other labels, offering rehearsal space and a recording studio, friendship, and advice when we can give."
They believe that physical products transcend time and space in a way that is unique from digital releases. "Records can travel between friends, shops, scenes and into someone else's hands a world or a generation away. Physical music can travel into new contexts, whether it's in a year or 100." Zach and Ben first met Rob Mansel around 2010 through Charles Trees. Zach had always wanted to release Rob's music, and it was set into motion not long after a conversation with Dave Marroquin, who had just put out a Black Noi$e 12" on his own Vanity Press Records. Dave gave PGS the green light with the shared belief that only good things could come of these artists putting more music out into the world.
The brothers met Pablo R. Ruiz, who had moved back to Detroit from Chile in 2016, when he guested on Marroquin's WCBN show in Ann Arbor. Vinnie says that Pablo approached him at an art opening, asking "You're one of the PGS guys, right?" He confirmed, and Ruiz said "I am going to release music on your record label." Vinnie had heard this before, but the first listen of "Portal Escondido" intrigued all three of them to have Pablo over to the Garage to hear his tracks. "On cassette!" Ben added. "We were blown away," says Zach. "Live to tape techno."
The Bad Hombre release on Portage Garage Sounds has a timeline of its own, tracing back to Ruiz's days as a drummer in hardcore punk bands. The early years of DEMF and Detroit parties influenced the sound that Pablo brought back to Chile with him in 2006. He began producing and DJing regularly in Santiago, and returned to Michigan loaded with gear and a heavy sound. The EP's four tracks all stand strong on their own, and the release is deep, heady, and rhythmic. His years as a drummer shine in the percussive strength of each piece, and – like any great record from Detroit – it's so easy to move to.
"What I've heard and what's coming up is all incredible," adds Valenti. "I'm very happy that they are focusing on local talent. It's important for people to see you can do these movements on your own with your friends, full stop. You don't have to move away. The garage is a symbol of this. Its multi-functional Bauhaus approach to art is going to be a major hub for culture in the city and the Midwest as a whole."
"We wanted to integrate ourselves into the neighborhood and the Hamtramck community," Ben says about the Portage Garage. The space currently houses a gallery, record label office, and music and ceramics studios. As an incubator for musicians and artists, they provide opportunities for passionate producers to release physical music, and experience the process of putting out a record. "Also, we're working with the kids that come multiple times a week to make ceramics with Ben," Zach told the Metro Times last fall, "and they're just in awe of the fact that it's free."
Portage Garage Sounds draws inspiration from Vanity Press and Ghostly International in helping their artists build a sustainable career. From running Chambray, Vinnie already knew the do's and don'ts of managing a label, inspired by the likes of Warp, Factory Records, and Hyperdub. "Warp was an influence," Ben says. "There was this idea that the overall identity of an umbrella could insinuate the quality of the artist or release."
Ben also cites How To Kill, a white-label, vinyl-only imprint from the F.A.M.E. collective in Detroit. Its mystery is part of the fun – music released without fear of being weird or influenced in a pop realm. "You have more record labels here than places to buy groceries and they're all good," Zach also told the Times. "You're immersed in this culture where everyone is just doing what they want the way they want. It's people like Underground Resistance that are the torch of that mentality."
With a strong community around them, they utilize this to promote a message of love, unity, and music. They do not believe in living in silence, personally or professionally. Ritual Howls had put together a show dedicated to survivors of the Fukushima Daiichi disaster in 2011. When Hurricane Harvey devastated Texas in 2017, PGS teamed up with Charles Trees to create the Storm Relief Compilation to benefit those affected by it. They also donated all proceeds from Monday is the New Monday to the fund.
The effort took more time than expected, so the group decided to make three Harvey Relief Packages, which included autographed copies of the label's first two releases. "As Charles compiled the tracks, Pablo started asking why there wasn't more media coverage of what was happening in Puerto Rico," Vinnie recalls. When it became apparent the federal government wasn't reacting the way it should, Ruiz proposed that profits from the digital compilation be routed to the Carribean island.
The label continues to release local Detroit talent, but they don't plan on being strictly within Michigan-related musicians forever. Sam Valenti adds that "the beauty of PGS is that it can get as weird as it wants to be, and as diverse as it needs to be to keep evolving. The collective taste of its founders is vast, and they'll attract an amazing amount of great music. Most importantly, it's going to be a lot of fun." It's clear, however, that Detroit is their current focus and will always remain at the core of what they do.
"Detroit has always had its feet planted in tradition while looking forward to the future. Detroit is proof that sustainability through art is possible, and you can thrive in an environment where everything is against you." They add that "going out in Detroit blurs the lines of easy to define genre tags. People who go out here go to rock shows, hip-hop parties, raves – the music community is interconnected in ways we have not seen elsewhere." For Portage Garage Sounds, Detroit is the center of the universe.
For more: www.detroiteq.com (issues icon). support by picking up a copy at your fave online/record shop
Issue 14: