Eric Johnson Article: by Vince Patricola: Photos by Dan Haddad (from May, 2018)
Writing articles on people is rarely easy, especially if they are somewhat secretive and very studious.  I always thought my timing was bad while communicating with DJ/Producer Eric Johnson. More times than not (at various times of the day or night) I would get a text back "I'm in class. Talk later." Or "I'm in the studio."  Or sometimes there would be radio silence between some messages.
It wasn't that my timing that was bad.  He's just in sponge mode or production mode most of the time.
And he is not your average military retiree by any stretch of the imagination. We here in Detroit have had the pleasure of dancing to his deep, afrocentric, tribal house sets over the last several years.
We also know without a doubt that his home music lab is overflowing with activity.  When we ask if there are tracks coming out the answer has always been the same, "not yet."
A few of his tracks, however, have found their way out of the studio. The  first was "In 2 Deep" (Deep Explorer, Psychostasia, Golden Years 2001-06 EP,) then one for Rasmus Raintree called "Soul Resurrection ," thirdly an EP called Deep Intervention (Phuture Rhythms, 2013 under the name EMusik), and fast forward to 2017 with his "Deep Vibes"  track on the Detroit Electronic Quarterly vinyl compilation that comes with this magazine.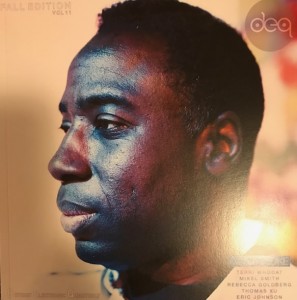 (pic above is DEQ issue 11 cover Monty Luke)
No tracks served before their time.
When it comes to going to events, he's very choosy as well, but when he's there it's usually to bobbing and bouncing to the sounds of a few of his brothers in music like Mike Huckaby, Ron Trent, Osunlade, Norm Talley, Delano Smith, Rick Wilhite in the heart of their groove as it goes deep. That vibration he and the dance floor feels can't be hidden. The "real right, real right" blurts can be heard as he swings his head up and down smiling like he's soaking in the fountain of youth.
He enjoys every moment.
It's understandable. Johnson, while in the Air Force Special Forces, "saw a lot of shit." His strong belief in being as thorough as possible and analytics made him a great asset to his team.  What got him through his duty was his love for music, which has been key throughout his life.
"In 1979, when I got out of high school, I was into disco and new wave, but my roots are in jazz. WJZZ (Detroit's former staple jazz radio station) was always on lock at my house growing up. It was on religiously. From elementary school, I started playing the flute, clarinet, saxophone then guitar. I learned by ear first and then I started taking lessons. That's where making music started for me."
Johnson learned about DJing in 1974 from a family that had moved here from New York City. "The oldest boy had some early Technics turntables and a silver faced Bozak mixer. He let us play on them. We would do quick blends and fades. I was hooked from that point on. I had to get a paper route to get my own set up."
Going out was a regular thing for him then. There were parties at different spots all over Detroit that fed his desire to absorb the scene. "The parties were relentless. We would pile into a car or taxis or bus and go. Chin Tiki, Bonny Brook Country Club, Sentinel Building, Leland House, Piper's Alley, Climax, Black Orchid (the first one on Livernois), 54, high school parties under the tents at the State Fairgrounds… there were promoters like Men of GQ, Charivari and more that gave parties… they had party wars and you had your DJs."
When he came back from a tour he got a pair of Technics 1200s and started really mixing disco and what is known here as the progressive sound (of the 1980s, which is more or less r&b fused with a disco feel with vocals and yet remained underground … Denroy Morgan – "I'll Do Anything For You", Jerry Knight "Overnight Sensation"), old school hip hop and then house.  "Those tunes (from the 80s and 90s) are so good and stand the test of time, even today."
Johnson is in constant pursuit of quality records. While in the service from 1981through 1994, he had residencies and played parties with fellow servicemen on and off base all over the world. "Where's the record store? That was my first thought when I was stationed somewhere."
From London, Korea and the Philippines to New York and California, he took full advantage of his spare time playing records with friends from Philadelphia, New York, New Jersey and Baltimore. There were a lot of DJs in the military.  These DJs took him under their wings and taught him the nuances of blending, holding tight mixes and what to listen for. They also taught him a lot about the New York sound (David Mancuso, Larry Levan) and depth in music from other cities, further broadening his music knowledge.
Speaking of Larry Levan, Johnson's wife, Wanda Wallace-Johnson is a "child of the Paradise Garage" as he put it.  They met on base in California 1981, and she also retired from the military. "She understands this music. She understands me too and is my biggest critic." Nothing gets out without her approval.
Upon returning to Detroit in 1994, he linked up with DJs and friends. There were countless learning sessions between practicing, playing, obtaining gear, recording school (The Disc), getting degrees and learning music theory.  "Learning notes, writing chords, fingering on the piano, putting swing on it. I have about two hundred tracks started or in progress. I'm picky. When you hear everything you get picky. People look for imperfection. Everyone should be picky when it comes to making music and playing your music."
Johnson is a strong believer in educating a crowd. "To me, when I go out I hear too much of the older music. I've been around all of that at that point in time with people in the past. It's time to move on from that. I like to be mystified.  I am always a student," he said. "But sometimes your dance floor may not want to be educated, so then you mix the old with the new. Even if they are not dancing, they might be grooving in their seat. But if you beat them down and get them screaming and dancing, you help them get away from the bullshit called reality of that day, you as a DJ did your job. You worked your magic."
Through the years of DJing, music lessons, theory, studio engineering and a lot more we find Johnson is a whole lot more knowledgeable yet still tight lipped about his projects.
At the end of the interview, I asked Johnson when more tracks would be coming out? He just said "soon." I guess that's closer than "not yet."
to view full issues of DEQ in PDF form, go to: www.detroiteq.com/back_issues/ … vinyl may still be available at your record store but they are out of print.