Quick Catch Up #17 with Kevin Reynolds. Photos by Suzy Reynolds
It's always a pleasure to catch up with our good friend, live p.a. master (not a DJ), mentor, gear nerd, music guru, stage manager, elite storyteller, hard line Detroiter Kevin Reynolds.  It's tough to be quick with him for sure as he's always got a volley for any story and it inevitably winds up in laughter.
When he's not working at one of his best friend Michael Ransom's busy Ima restaurant in Corktown, he's searching for, consuming and making his own tracks. If you wonder why the music is so good in the place, it's Kevin all the way. Not to mention he's tour managing for Detroit's own Octave One!
Reynolds' new LP A Certain Circumstance is coming soon and is sure to be a classic on Osunlade's Yoruba record label.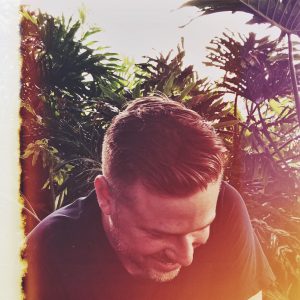 DEQ: Thanks Kevin for taking time to catch up with DEQ. The anticipation is high for this record. Why did you choose to release it on Yoruba as opposed to your own label Todhchai?
KR: I think it's just a long time coming.  Osunlade has been a guiding light mentally, spiritually, musically let alone he is one hell of a humorous being.   I think with all the work that he has helped with it only seemed fitting that my first album would come out on his Yoruba imprint.
DEQ: I know you did some traveling in making this record. Would you tell us some about your journeys in making this record?
KR: What did Mark Twain say…"travel is fatal to prejudice, bigotry and narrow-mindedness"  It's also fatal to making dull music in my opinion. Travel for me creates a mindfulness, a quiet space for me to make music in my head.  Some of this album was created at my home in Detroit, but a lot of this album was composed at Osunlade's studio in Santorini.  Parts where made in Japan at my friend Taka's (Bushmind) in Tokyo, then at Hotel Closenberg in Sri Lanka (where Sade and Duran Duran did some recordings).  A Paris bedroom, a kitchen table in Prenzlauer Berg.  Oh my Mom's house on Elk Lake in Northern Michigan…that's a pretty spiritual place for me.  My home studio has a really good energy in it, I feel really lucky about that.
DEQ: With all the tracks you make almost daily, how did you make the track choices?
KR: First I'd throw the crappass filter on my tracks to make sure I even dig it.  Then 4-5 years of Osunlade's naw, nope, yeah that's cute, eyerolls and the occasional I like that.  I loved every minute of it.  The honesty on his part and the lack of ego on mine made it really easy and trusting. It's rare to have someone that you can be honest with musically.  He's probably heard over hundreds and hundreds of ideas to complete songs.  His patience was incredible with the project. Not to go off on a tangent but I feel that's what is lacking in today's music is honest critique.  I felt like back in the day in Detroit, the competition was fierce and your boys better tell you if you did something wack.  On the flip they would tell you if that was fresh.   I'd rather have someone tell me I was off or not hitting my mark then patting me on my back for some wack shit.   I truly miss that.
DEQ: The album is mostly you, but there were collaborations as well?
KR: I had the opportunity to work on a lovely, incredible song with the multi-talented Paul Randolph.  I met Paul a long time ago and felt like he was a kindred spirit.  Paul's work is immense and has worked with the gamut from Amp, KDJ, Jazzanova and recently I think he did work for Alice Cooper.  I'm telling you that you can't keep Detroiters in a box.   Also have a pretty amazing remix EP coming as well…
DEQ: Will it be both vinyl and digital?
KR: That's the plan.  You will need the vinyl for sure, It's going to be something you want to look at.
DEQ: In releasing the record, are you going on tour to promote it when we get back to "normal?"
KR: I hope it doesn't go back to normal.  Things need to change in this world.  Social and economic injustice, racism, white supremacy, hate, greed… all that needs to end. This pandemic brought these issues to the attention of people that may have not been paying attention.  I think a welcome change is required.  Let's not go back to "normal".   Sorry, you asked if I was going to tour, absolutely!
DEQ: I know you are sitting on an arsenal of other tracks. After this, are you going to release more on Yoruba? Or on your own label? What's on the horizon?
KR: My focus right now is on the Yoruba release.  I've been working hard on revamping, heavy on the vamp, of my live set.  I'm sketching out and planning ways to make the album to be able to translate in the club and on a festival stage.  I'm feeling really good about it and think it's going to be one of biggest leaps for me technically and musically.  I've always played live because for me it's always felt like the best way to express myself.  It's going to be a lifelong journey but I feel this is getting closer to what I want, for you to feel my heart, soul, mind and body.
DEQ: You've done a lot of stage management for the Movement Festival and more recently Octave One. How has seeing music from all sides of the business, from fan to producer, changed your perception of it? Have you ever felt like you wanted to give up?
KR:  I don't think I've ever really had the feeling of throwing in the towel.  Music is part of my being.   I was talking to a friend recently and he was mentioning how your true self are part of an ecosystem.  You have your anxiousness, your happiness, sadness, your quietness, loudness etc.. whatever you call them.  The business side of this can eat you up for sure, IF you let it.  Sometimes it's all about re-framing it.  That part of the ecosystem will always be there but you have to remember to comeback to your true self which is the music.  I'm lucky enough to be surrounded by brothers such as Osunlade and Octave One that are drop-kicking followed by full roundhouse kicks to the music business. Watching them deal with it and tame it is absolutely inspiring.  Just a reminder that music is the most powerful thing in the end!
DEQ: Do you have any streams coming? Do you enjoy watching them? If so, any particular ones stand out?
KR:  I was honored to perform on Movement / Paxahau's Twitch stream which felt amazing.  It was the first time playing on a sound system and feeling the bass in like forever. Erika from Ectomorph who performed too mentioned to me how important it was to feel that bass "its almost psychedelic / spiritual to feel those vibrations" Couldn't agree more.   I have a concept for a new live set stream that I'm working hard to happen here in Detroit.  Trying to make it more than just a studio vibe.  I do enjoy watching some of them, I think Twitch really saved the day in the end.  Having that chat room is nice to connect with friends and make it feel somewhat at a party. I really enjoyed the Movement ones, WYRB, Rich Medina's, Bradley Zero, House Shoes, Palms Trax, Four Tet, Floating Points.  I think it was most fun when I could connect it to my Sonos and pipe it through the whole house.
DEQ: When you play live, what equipment do you use?
KR:  Shhhhh, secrets!  At the heart I'm an Ableton guy.  I love how it made my sets less linear then when I was on the Ensoniq /MPC / RS7000.  I tried to go back to hardware sequencing, with the Force and the Octa but it was just so much faster with Ableton to get where I want.  I like to keep improvisation at a paramount and it gets me there.  I'm not super into doing the stem thing, cause then at that point it's almost DJing.  I prefer to keep it all manual.  If somebody throws a bottle at my head and knocks me out all you are going to hear is a 2 bar loop for the next hour.  So no bottle chucking okay!  But usually I'm using the APC20MKII, TR-8S and some kind of synth, trying to bring out the Vermona Perfourmer but it's pretty large.
DEQ: What advice do you have for people getting started in the DJ/live set game?
KR:  Get one piece, be it the MPC or Ableton and study that.  Don't get trapped into buying a bunch of gear. Also, if you make dance music, dance. If you are not dancing to your music then other people are not going to.  If you are making music for the mind, make sure you see that journey going on in your head.  If you make music for the mind and body then… you are my friend.
DEQ: What was the biggest clusterf@#k situation in all your years of performing?
KR:  The first time I played in London, my TR-808 blew up the power convertor.  All the music stopped but you know what the crowd loved it so… maybe not so bad.  As Anthony "Shake" Shakir used to say to me "Don't let 'em see you sweat."
DEQ: Do you have any fave tracks you have in the Ima restaurant music programming? Ones that grab you and make you forget that you are working?
KR:  "After Party" Koffee Brown,  "Slow Down" Art Feynman, "Son Shine" SAULT,  "Breathe Deeper" Tame Impala, "Wayne County Stomp" FIT Siegel, "It's A Love Thing" The Whispers "Easier To Love" Sonia Ferguson "Rock Creek Park" The Blackbyrds
DEQ: What is your favorite dish at Ima?
KR:  The sublime and glorious Forest Udon.  Vegan and I'm not.
DEQ: Where do we go for more information on you?
KR:  The police blotter in the Wayne County Gazette. Instagram:  krdetroit