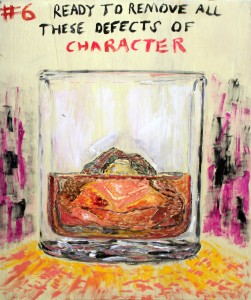 Thelonius Bone article written by Christopher Taylor, aura photo by Eileen Lee of Grey Area
Thelonius Bone aka T-Bone is a burnoutsider artist living in Southwest Detroit. You may have seen him behind the bar at the Bronx or might have spotted his artwork on the FIT records release by OL. The subject matter of his paintings touch on the topics of nightlife, popular culture as well as inside jokes that emerge from his studio overlooking West Grand Boulevard like the slow burn after biting into a chili pepper… taste the spice below:
CT: What was your introduction to electronic music?
TB: It was toward the end of the Vietnam War and I was on R & R in Da Nang. My buddies and I had just finished a case of 33 and went for a stroll. That's when we heard the most bizarre sound coming from this old watering hole. We figured it had to be some sort of Vietcong ambush. We got our shit together and went in. Once inside we saw this beautiful little man and he was the source of the strange sound. It was like grasshoppers and a radio on the fritz going off together hand in hand into outer space. We were taken over by the sounds. We took our shirts off and danced for what seemed like an eternity, well until some MPs came looking for us because we had been AWOL for like 2 days. They threw our asses in jungle jail for that, but I swore when I got out I'd find out about that "electronic music." Then I did and it was pretty cool.
CT: Your work appears in the Detroit techno scene from gig posters to label art, how did you get put on to those opportunities?
TB: I'd say from hanging out at Hello Records (in Corktown) a lot. I'd bring in a six-pack and you just talk about music and meet people that come in. Offer them a beer, you get to talk and learn about records and stuff you don't know about, make a new friend, goof off… I love goofing off. From there I guess I had made friends with people that were making electronic music and who had regular DJ gigs. Jeremy Kallio, Todd Modes and Mike Kerns had a night at Town Pump (Downtown) called Chop House and they asked me to make a flyer for their night. It started from that. I thought it was a great idea because it seemed to me that in the techno scene all the artwork I saw on posters and handbills were all looking the same. Real glossy and computer generated looking stuff. Why not make it more interesting? I figured I could do for techno / electronic music as Raymond Pettibon did for punk rock in terms of gig posters and just do my weird paintings for these cats. People dug it and it went on from there.
CT: How has your career as a bartender influenced your work as an artist?
TB: I wouldn't call it a career. It's just something I fell into and I stuck with. I don't know if it's really influenced my painting much. Some of my most recognizable works are the rocks glass with booze pieces and I suppose that comes from bar life. Even if you look at my "Alcoholics Anonymous" series I think my interest in those kinds of subject matters like neon lights, old liquor ads and barflies were all already there before the bar gig.  But I will say this though. It was because of working late at the bar after hours style is how I met and became good friends with Scott Zacharias and he is the reason I started going to raves and after hours DJ gigs and whatnot.
CT: Describe the internal climate and topography from which your paintings derive?
TB: Jokes. It's all about jokes really. I'm just trying to make a visual punch line. Although I'm serious about my painting, my subject matter does not reflect that so much. I want to make work that makes people laugh or at least chuckle. I always want to push myself to the limits of my capability with my painting, but I like to keep it lighthearted. I'm inspired a lot by things I misheard or misunderstood. A little bit of pop culture and my own environment, but music has a strong grip on my work. Not in my subject matter, but it shapes the mood of the pieces I feel. When I work I constantly have records playing. Sometimes a lyric from something I have on while I'm painting ends up as a title to a piece or may sometimes even end up as text accompaniment on it.
CT: Tell me about the track you gave DEQ for the compilation LP.
TB: It's called "Dopetight." This guy lured me into his house with Japanese Whiskey, then I watched Forensic Files until he put me in a room and I read tarot cards until he said he had enough.
CT: What places in Detroit would you recommend to a visitor to get a glimpse of the city through your eyes?
TB: Come by Bone Manor. We'll sit out back by the fire and I'll make Pina Coladas.