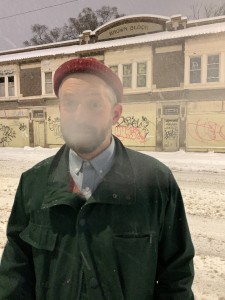 Come see/hear Jon Francois spin Weds Nov 20 at Two James Spirits in Corktown  7:30-11
********
Jon Francois is one of the lucky folks who gets to work at Peoples Records.  You can regularly find him where the music is good and the lights are low. A dedicated believer in the magic of music, frequent collaborator with Motor City Soul Club and a resident deejay with Outer Drive on the Eastside at My Dad's Bar.
DEQ: Your taste in music is quite eclectic. Has this been since your introduction to music? 
JF: I'd say yes, but the spectrum of music I care about deeply is now the widest it's ever been.  My taste in music has always very much informed by my friends. In some way, most of my dearest friendships were born out of music.  My friends are weirdos and are into weird shit. Luckily we share these beautiful songs with each other. That group think has always opened me up as a listener.
DEQ: Did you work at other stores before you worked at Peoples Records? How has working there influenced you & your taste. 
JF: Peoples is my first record store job. Prior to Peoples i had only sold records as a private dealer at record shows when I lived in Pacific Northwest.   Working at Peoples is the greatest gift I have been given as a fan of music. Everyday I get to be blown away by records. From 60s soul 45s to the newest Sound Signature release, we get to touch and listen to some of the best songs in the world on a daily basis.  Beyond the records the people who make Peoples have been a huge inspiration. Brad Hales, owner and my dear friend, has continually been foundational in my relationship with music, through his deejaying and Peoples Records. I love music more than I ever have.
DEQ: Describe your music collection of music in 5 albums.
JF: Hmmm…. Best I could do is  six:
Gregory Isaacs – Slum In Dub
Sade – Promise
Donald Byrd – Places And Spaces
Theo Parish – Solitary Flight
Steely Dan – Aja
Marta Acuna – Dance, Dance, Dance
DEQ: Do you play an instrument? Are you making music? 
JF: Creating music is a gift i don't have.  I am a music fan who gets to share records sometimes.
DEQ: What kind of music is in store for us at Two James on Weds?
JF: An amazing DJ collection 12s came into Peoples this past month.  It's was a pretty heady mix of Dance singles from 1978 to around 91, from R&B to Italo.  I'll mostly play records I bought from that collection.
DEQ: What new projects on the horizon for you?
JF: My good friend and  partner from the beginning of my deejay life, Brian HIll are starting a monthly called Tears.   There are so many beautiful sad songs in the world, and we want to create a night for them. The first installment will happen at  Outer Limits Lounge Wednesday December 18th. Sadness shapes us just as much as joy. Rather than lift people up to dance, we wanted to have a night to sit together with sad music.  Over the last few months BHill and I have shared sad records with each other. From those sessions we put together the first in a series of Tears mixes.
https://www.mixcloud.com/BeeHill/tears-pt-1/