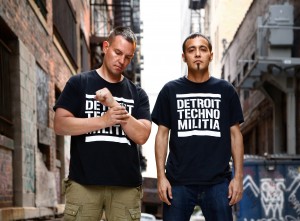 DETROIT TECHNO MILITIA 2 By: Amy Hubbarth: Photos by Marie Staggat
The distinguished black-and-white stenciled logo is a testament to the crew it represents: sharp lines, no-frills, and definitive design with staple colors that fit in anywhere and look good on anyone. In a time of stage antics and unoriginal gimmicks from today's popular electronic music "artists," it's a safe bet the Detroit Techno Militia stays focused on what really matters: providing the die-hard and new fans an experience of the music's original intent. Bill Stacy (DJ Seoul) and DTM co-founder T. (Tom) Linder are the not-so-secret agents headlining around the world as the DTM 2×4. These two dedicated true Detroit sound ambassadors reveal history, technology, and a whole lotta heart.
AH: When/what was your first Detroit Underground party?
DJ Seoul:The first time I went to an underground Detroit party was 1994. I was hooked right away. I couldn't believe the energy and the love I felt. After going to many of these events, I had to get involved with the music. It was everything to me. The first underground event I played downtown was called "Get Smart." It was in January of 1998, put on by Joe Hix and Mikel from Detroit Threads. Boy was it cold! I still remember it like yesterday even though it was over 22 years ago.
T.Linder:My first underground party was around 1996 -'97. I remember walking in and being almost knocked over by the kick of the speakers. I didn't know or care who the DJs were, but I loved it. A few months later, a DJ named DJ Eclipse (aka Greg Montgomery) was playing at a show, and his performance changed my life. It could've been shit, and I never want to hear a recording if it exists, but his command of the audience was one of the purest expressions of techno that I have ever seen to this day. A few weeks later, I heard about a guy selling a pair of Gemini DD-50 decks for $350 at one of the dorms near me. I bought them without ever playing a record before. I hooked them up with the $75 Audio Technica DJ mixer that I bought from Best Buy and I never looked back. I figured, "I spent all this money, so this is my life now."
AH: Favorite tour story?
DJ Seoul:Favorite story for me probably isn't Tom's favorite. One time in Eindhoven, Holland, it was their national holiday, "Queens Day." We just got done performing at a massive festival. Tom leaned over to grab a fence so he could vomit. It was an electric fence. I had to dive to tackle him and prevent him from puking on the electric fence and dying. We started walking and he did it again. I had to save his life twice that night!
T.Linder: Great story, asshole. And thanks for that one by the way! One of my musical heroes, Keith Tucker from Aux 88, always tells us to watch out for each other when we are on the road, and that advice worked out really well that night! One of the great things about touring is actually being able to experience different cultures and make some really close friends along the way. It is also a huge honor to be able to share our craft with audiences who sincerely appreciate our approach to Detroit Techno.
AH: What's always in your bag?
DJ Seoul:Records, needles, backup needles, slip-mats, headphones, thumb drives. Ready for all gigs no matter what. As far as a certain record or records, there really isn't anything that flies to every show. If I had to choose one though UR-003 Final Frontieris the perfect record for almost every occasion.
T.Linder:The records that I play with our DTM 2×4 performances tend to be a little different from what I bring for a solo set. They are still on the more aggressive side of Detroit Techno, but the tracks that people expect to hear when I play solo might not get played when we do the 2×4. One of the records that I always bring out is an exclusive DTM Battle Record. We had our friend Kero from Detroit Underground Records cut a super limited edition of it for only us to use. Only three copies exist. It has loops, re-edits, and DJ tools that only we have.
AH: Do you have a favorite release on your label?
DJ Seoul:All of the releases are in my heavy rotation playlist. I love the 3xLP compilation, The Tip of the Spear, but I have a special place in my heart for Electrified Planeton DTM004. It's the one that I did. I love how the record turned out and I still play it regularly. Out of all of my releases, it's the one I hear other DJs play the most.
T.Linder:For me, it's also the Tip Of The Spear album. It is a compilation of tracks by every member of DTM at the time. All of the artists in the crew come from different musical backgrounds and everyone has their own area of expertise. Some of us play deeper stuff, some more industrial, some more electro, some harder more sparse techno, and some more funky. I think that album is a great representation of each of the artists' personal style.
AH: How did the idea to form a militia come about? When did it start? What influence did Underground Resistance have on your group?
T.Linder:DTM started around 2002 as a response to what was becoming really popular in Detroit at the time. Stuff that was classified as "techno" was an entirely different vision of what we considered techno and the stuff that people were calling "electro" was a long way from our style of electro. We came together because we share a common respect for Detroit's musical history that I think was being lost on some audiences. We take a militant approach to our craft: how it's made, how it's played, and how it's performed. So the "militia" thing just fit.
Underground Resistance was obviously a massive influence on us, especially their early material and their uncompromising approach to their music. Mike Banks has always been very supportive of what we're doing, and he has become a great friend over the years. I am truly honored and humbled whenever we are compared to, or even mentioned in the same sentence as UR.
AH: There are many members of DTM, who are they?
T.Linder:The members are Neil V., Darkcube, DJ Psycho, Shawn Rudiman, Loner.9, Maxx-T, ?Confusion?, Hazmat Live, Annix TM, Winnettra, Doc Matthews, Dimitri Pike, The Mercenary, Steve Crawford, DJ Seoul, and myself. It isn't run like a normal label where people submit tracks and we put them out. Apart from remixes, almost everything we release is by people in the crew. Not everyone in DTM is from Detroit, but we all share a common reverence for Detroit electronic music, and we all have a great respect for that tradition and the craft.

AH: Regarding the Detroit Techno Militia 2×4, can you explain to the readers the set-up that you use?
T.Linder:Without getting too far into the technical weeds, here it is: Detroit Techno Militia 2×4 is basically two DTM DJs performing on four turntables and two mixers at the same time. It's an off-the-cuff, unplanned, 100% improvised ensemble performance. Bill and I have been playing together like this for at least 12 years, and we vibe off of each other really well. We both have pretty massive record collections, and we feel most comfortable playing the (Technics)1200s, so it's usually an all-vinyl set. But we have integrated live gear and CDJs along with the turntables in the past. We work our asses off behind the decks and it's kind of a rarity to hear one record playing alone at any time.
AH: What's going through your mind when the dance floor is lit?
DJ Seoul:When the floor is lit, all of that energy is flowing through me and I really don't think at all. Things get magical when the floor is packed or when the crowd is really into it. Records start to choose themselves and the pitch of the records just seem to be right on. The flow happens on its' own. I start vibrating and my mind clears itself. It's by far one of the best feelings out there.
T.Linder:I'm really not much of a spiritual guy, so bear with me. When our shit is all on point, there is some kind of weird energy or something. It is kind of like when you hear athletes talking about being "in the zone." I try not to get too philosophical about it. Everything falls into place based only on instinct. I'll be up there sweating my ass off and moving with the crowd. After our set, I usually need to cool down and catch my breath. We pour it all out there. This is Detroit Techno. This is life.
Keep up with Detroit Techno Militia at https://linktr.ee/detroittechnomilitia