Kaku Usui photos by Suzy Reynolds (images may appear a bit blurry here) updated April, 2022
:::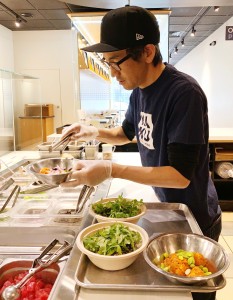 Back in 2004 a slick, mini club and restaurant called Oslo opened at 1456 Woodward Avenue in Downtown Detroit. It was delicious news. It was a thousand rays of sunshine for an overworked, underpaid creative class in this stressed city we call home.
Amidst boarded up facades stood this stunning Italian Renaissance, eight-story gem of a building from 1917. Oslo Owners Brooke Campbell and Sameer Reddy relentlessly renovated the basement club and lobby restaurant, properly outfitting it with dark wood walls, (purposefully) minimal décor, an essential club sound system, and a modern, partially exposed kitchen.
It wasn't only the smart, expansive music programming by DJs Scott Zacharias and Sharif Laffrey at the onset that got us so excited. The other crucial half was the hiring of chef Kaku Usui for the restaurant.
Usui, who was born and raised in Tokyo, moved to Lansing, Michigan with his girlfriend who accepted a new job offer (in 1995.) He had a wealth of underground music knowledge, DJ skills as well as solid years of culinary arts study under "hard core, military style" traditional sushi chefs. After training with such strict chefs, disappointing experiences in other restaurants afterward left him longing to run his own kitchen. "Every restaurant I ever worked at after, I never saw better than them. I was very lucky," he said.
In 1997, along with good friends Mike Ransom  (DJ, Ima restaurant founder) and music producer, performer Kevin Reynolds (Yoruba music, Todhchai), the young trio rented a small house in Detroit's Corktown neighborhood. This way they could be closer to the electronic music scene and explore their dreams of food, music, fun and Detroit culture.
They say that luck is when preparation meets opportunity. While Usui was DJing at the famous electronic music club Motor Lounge, Campbell, who fully understood the mind melting power of Japanese food and techno, approached Usui while he was playing records at legendary Motor Lounge in Hamtramck about heading up Oslo's kitchen. After careful consideration, he agreed.
Oslo was a smashing success. Although this was Usui's first experience running a full kitchen, you would never have known it. The restaurant was packed upstairs with patrons and it was hard to avoid the throbbing bass coming from the club downstairs on the weekends. Even during non-DJ nights the music was always carefully and tastefully selected.
Food and music tend to run in parallel lines.  Reynolds states, "Kaku's food is very similar to his music production.  Experimentation built on a solid foundation.  Kaku's bass lines in his dub style techno start out with a good basic foundation.  Kaku is quite fond of the word foundation.  His mix starts out extremely simple and then progresses into this amazing, delightful bouncing of delays and reverbs.  Much like his food, it is deceptively simple and then when you taste it there are all these different notes hitting.  His willingness to not just stay in the lane of tradition but have respect for it encapsulates his ethos.  His pride in craftsmanship is always inspiring to me."
When the who's who of electronic music either played there (or anywhere in the city), a pit stop to have sushi from Oslo was a must and there were too many acts to mention. Even Kraftwerk, after one of their shows, came to hang out!
The principles for Usui's successful menu remain consistent to this day: provide fresh, delicious, affordable, simple food. "More is too much sometimes," he said. "Places get you with gimmicks. More sauces. More deep fried. More sides. More this or that. There needs to be care for every ingredient and thought into how they go together. If one part is bad, the whole experience falls off."
As Usui's positive reputation spread, other restaurant owners came to try to lure him away and in 2007, he became the head chef at a much larger, more upscale, suburban restaurant, Ronin (in Royal Oak.) "That was a lot of work," he recalled in a part wow, part laugh, post growth expression tone.  The place was easily four times the size and in a more affluent area.  It was another opportunity to learn, grow, and get closer to his dream.  He switched up the menu with all new ingredient combinations and biblically adhered to his guidelines. Part two was and continues to be a success.
There was, of course cooking in between ending his time at Ronin . He also worked closely with good friend Mike Ransom to open his award winning restaurant Ima.
"When I met Kaku," Ransom said "he had just moved to the states from Japan and our friendship began around techno music. A few years later, we moved into a place in Corktown with Kevin Reynolds and lived there for almost eight years. During this time, Kaku was working at the best sushi restaurants in Detroit and Oakland County. On Sundays we would invite friends to the house and cook, and drink and play music.  Kaku always brought fresh fish that was left over from the week and roll sushi, make hand rolls and for breakfast he would make ochazuke or rice porridge with leftovers.  He knows so many ways to work with fresh fish!  He would cook stews, soups and vegetables as you would in a Japanese home. It was like nothing that I had experienced in Japanese restaurants. The way Kaku cooked with common western vegetables opened my mind to Japanese cooking techniques. We were always blown away by the simplicity and precise control of delicate flavors."
After years of planning and perfecting he and his wife Maikue finally opened Kaku Sushi and Poke (2017) in Bloomfield Hills and then a second location in 2018 in downtown Birmingham. "I got tired of copy cats. People copied my recipes everywhere I went. Now with the new restaurant, I'm concentrating less on sushi and more on Poke to change things up."
It was a clever decision. Poke is technically a Hawaiian dish, but it goes nicely with Usui's traditional sushi background. There are bowls made for you, for example there's the Salmon Ponzu that comes with salmon, shizo, scallions, cucumber, fresh jalapeno, edamame, nori seaweed, sesame seeds and ponzu sauce. You can also make your own bowl and pick all the ingredients. Rice can be substituted with arugula salad for a base.
Environments are also key concerns for his restaurants. "Clean, minimal, open style, nice colors. The environment is every bit as important as the food and that includes music," he said as his inner DJ popped out "I like a minimal sound in my music. Not too many instruments but still groovy." While I enjoyed my Poke, the music ranged from some jazzy Tribe Called Quest, some acid jazz, broken beat, and very mild but funky house beats from groups I have not heard, but would like to know about.
I asked how the restaurant business affected his DJing and music production. Evidently all this is on hold while he tends to the two restaurants, family and raising two kids. "The equipment is collecting dust at home," he laughed. "My passion for music is always there. Even though I'm not DJing like I used to, I'm always ready. I play the new tracks at the restaurants so good music is around all the time."
As for a location downtown, he would definitely like to do that. "I'm going to wait though. There are already too many restaurants and bars down there. The population is bigger and growth is good, but I'm going to wait a bit and see." He's right to be cautious, however, I think Detroiters would rush to find his restaurant not only to reminisce about the great times through the years, but to rekindle their love for Kaku's food that nourishes the soul.