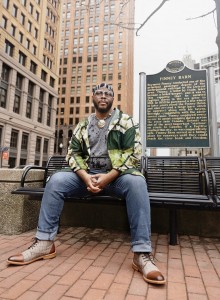 John Briggs article by Vince Patricola, Photos by Kyi King (photos may appear a bit blurry here)
It was a happy ping. My computer is normally set to silent, but ding! A new track from John Briggs aka Zoetic arrived called "Tomography" in May of 2018. The track sketch was the best I've heard from him in many years.
After the release of "Secrets of Ancestry" and "Reach" on Yoruba Soul (2006), "My Magic" featuring Paul Randolph on Sonar Kollektiv (2007), and several Zoetic remixes for other artists around that time including Alton Miller's "Possibilities" on R2 (2007), production output from Briggs' studio came to a virtual standstill from 2010-2017. Albeit his silence was self-imposed, depression was running rampant in Detroit from 2006-2012 and Briggs acknowledges that he was not immune.
People were leaving Michigan by the thousands, automotive plants and suppliers were closing or going overseas, the foreclosure crisis was in full swing, more war in the Middle East, economy was tanking, city services were failing, and former Mayor Kwame Kilpatrick (who was seen as a young savior for the city) went off to jail. And Briggs struggled financially and emotionally after losing his day job during those times. "Very few were making money from music and the artists made even less. I was certainly at the bottom of that food chain," he reflects. "Living a Bohemian lifestyle in a house we (Briggs and his life-partner) bought from the city in the North End, I was at least able to save some money before it all went to shit. I had very little to say artistically during that time. So outside a few things here and there, I withdrew."
It was time, healing, reflection, and economics that allowed him to place his focus squarely on music again in 2018. However, it wasn't just stability. Briggs spoke of two main motivating factors: two relatively young friends passing away and a challenge posed by a co-worker who was in a similar artistic lull. She (his co-worker) is a visual artist who was not pushing herself either and they challenged each other to get their work to the public eyes and ears. "I spent a lot of time depressed playing video games and watching movies before I found a new day-gig. After getting a new job, buying a new house, and specifically after those deaths, I began to realize I needed to seriously create again. This (clarity and grounding) was exactly what I needed."
Embracing his newfound inspiration, Briggs began contributing mixes to Jason Hogans (Planet E, Third Ear, Really Nice Recordings) eclectic "Really Nice Trips" internet radio podcast (https://www.rewindit.fm/artist/Jason-Hogans). Following the investments in updating his studio, six months later the pings started going out to a carefully selected list of people. This included the likes of Martin Iveson (Atjazz ) who eventually released both "Tomography" and "Sketches of Spring" (collectively as Sketches) in November 2019. "There is no secret to how I reach established producers. I just sent them tracks I thought would work," Briggs said calmly.
Briggs' initial connection to Yoruba Soul was through a promoter (based in Dallas, Texas) who booked a party with Osunlade. He then asked if Briggs (as Zoetic) would open with a live set. The success of that party was the impetus behind Briggs' affiliation with Yoruba Soul and later collaborations with the promoter producing Soul Funktion parties in Detroit. "I've always tried to be involved in musical endeavors that I thought filled a void. Whether it was throwing parties or composing music, my motivation has always been in creating something unique."
The latest tracks are mature, full sounding dance tracks with hypnotic, enveloping and mental teleportation properties. I feel like I'm on the dance floor and in the tropics at the same time, or even outer space at times. All are so perfectly matched to their respective label sounds.
Briggs' latest submission to the DEQ Magazine compilation, "Beyond the Horizon," (May 2020) is a nod to the late '70s R&B with a modern spin. "I intended for some of the parts to be performed live in a studio (primarily bass, percussion, and some strings) but ultimately with no budget, I had to rely on my abilities. Only the keyboard solo was recorded live. The inspiration came from the realms of Nile Rodgers (guitarist, best known as the producer, songwriter for the group Chic) and Patrice Rushen (superstar R&B vocalist and jazz pianist.) I imagined the three of us producing a song together."
The Electrifyin' Mojo's radio shows were also influential to Briggs as a pre-teen hearing artists like Yellow Magic Orchestra, Kraftwerk, Visage, and Prince. "Everyone was trying to be like Prince, but the reality is no one can be like Prince (a total package of indisputable talent), except Prince. Mojo was a spark that lit a fire of imagination for me musically. His shows influenced me to dig deeper into music that wasn't widely popular with black audiences at the time. It resulted in my discovery of post-punk, industrial, and noise bands. I already had a solid foundation of disco from my mom, the Motown sound from my dad, and jazz from my step-dad."
In the early to mid-'90s, Briggs began experimenting more with blending ethnic music into his electronic compositions. Because he shared a studio with multiple musicians for a time, there was always different gear for experimentation. The results birthed his short-lived band "Marooned." Along with a rotation of singers (Kim Ballard, Renee Wade, Daphne Briggs – no relation) and musicians (Dennis Sheridan – percussion, Joe Hayden – bass, Tony Drake – fretless bass), they performed locally and he produced one "Marooned" self-released/titled album and several singles under its name. Two of their songs, "I'm Consumed" and "Daydreaming", were featured on the Summer 1998 and Fall 1998 cd samplers that accompanied Alternative Press magazine's issues. Lastly, recording a drum & bass interpretation of "Night Theme" for an Iggy Pop Tribute CD that Detroit promoter and label head Sue Summers compiled (Pop O.D. The Songs of Iggy Pop on Static Network & Records, 1998.) During the same time, Briggs was also enamored by emerging broken beat and hybrids of house and techno coming from Europe in the mid to late 90s from artists like Matthew Herbert, Bugz In The Attic, Seiji, Jazzanova and 4 Hero (among others.)
A few years later, long time DJ/producer Alvin Hill, who held a residency at Foran's Irish Pub (downtown Detroit, now the Grand Trunk Pub) and the label called Below The Surface, heard that Briggs was making music. Briggs submitted tracks "Angry Blue Planet" and "Simple Text" for Hill's Below The Surface compilation CD and later "Love is All We Got" (BTS 04) which was pressed on vinyl in 2004. "Below The Surface was a co-op label where the artists control their paths and their music. I wanted to bring some artists to the surface and John was making some great music," Hill said.
Fast forward to 2020 and John Briggs is reinvigorated. With a beefed-up studio, advanced musicianship, and ninja production techniques, the sky is the limit. He can swing for the fences and he's hitting home runs. He's still ever critical and selective because, well, he can do it his way. He can ping who he chooses.