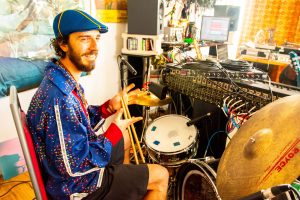 DJ Moppy's Journey to Detroit: Written by Donna Gardner and Photos by Lizz Wilkinson
For decades Detroit has beckoned to the musically inclined and Christopher Thomopoulos aka Moppy was one of the individuals that heard its call. Like most music creatives, his journey is constantly evolving across genres. Moppy creates music he calls organic. He also maintains that erasing is the best production technique. He says, "You don't have to be a genius musician to create genius music. You can create with your own uniqueness."
DG: Did you listen to house music growing up?
M: I grew up in a very suburban community so I heard some flavors of house music on MTV with the likes of 80s pop but I didn't really dive-in till later in life.. I was influenced by what my older sister Diana was listening to mainly.  She and her friends got into some hippy stuff in high school and put me onto bands like Bob Marley, Phish, Grateful Dead and Sublime. In 4th grade I was obsessed with Snoop's Doggystyle. I got into Beastie Boys around 5th Grade. In middle school, my newly found skateboard life introduced underground hip hop to my ear. With the likes of Gang Starr, Pharcyde, Dr. Octagon etc. Murry The Magnificent (MTM) and the Analog Addicts introduced me to 'The Breaks' years later.
As far as house, MTM introduced me to Yazi the DJ and I became a resident of "Respect the DJ" around 2008 at Lava Lounge in Chicago. Yazi schooled me in house music and its culture…taking me to events all over the city. She introduced me to Jevon Jackson who would later become a mentor to me in house music. I was also introduced to Diz, Sonny Daze, Ron Trent, Michael Serafini and boom! The house music fire was lit inside me. 
DG: Is any of your music influenced by the Greek music your family grew up with?
M: I turned away, It was too traditional. I was trying to be a little more American like my schoolmates and like what was on TV.  After my dad passed, I started listening to what he liked as a way to re-connect with him.
In middle school Moppy played drums in Jazz Band and would get his first set of turntables at age fifteen. He would cut and scratch in his bedroom with a small crew. In 1998 he began ordering records online and later started going to Gramophone Records in Chicago.
DG: When did you start producing music?
M: It started around 2004, but it wasn't heavy until My musical mentor and roommate at the time MTM connected me with Radius Etc around 2008. I was also working with Kenny Keys on beats around the same time. We all started connecting and collaborating about a year or so later 2009ish.  Lailah Reich would join us as well as others in the Chicago Community..
Soon Moppy and Radius started to put a name behind their collection of musical ideas and collaborations..  Beyond Luck released two 45s (Take You on a Trip/Lights Out & Lagos Your Thoughts(Remix)/Ft Primeridian) in 2013.
Moppy was also a member of Cutz on Cuts, which was a group of three turntablists (Moppy, RTST & Shazam Bangles.) The group had the opportunity to open shows for a number of bigger acts and also had a weekly, four-hour podcast that included guests.  Their guests would DJ and the group would cut, scratch and add samples on top of the music.
Detroit's Jyarsch Corbin heard Cutz on Cuts podcast and started bringing Moppy to Detroit to play at Comfort Food (weekly night.) He later brought him to town to play TV Lounge. Even though Moppy was connected to people he calls amazing in Chicago, he was growing tired of the hustle bustle of the city and the expensive rent, so he decided to move to Detroit.
DG: What do you use for your live PAs?
M: I've always changed it up. Every set is different, but lately I've been using the AKAI MPC 1000 because I can do the dubbing out. I might bring some bass.  I sometimes bring the turntables and loop scratches or melodies.
DG: What do you use for production?
M: I use Ableton pretty heavily as the main brain. I'm using live drums and instruments to start my tracks rather than a drum machine or sampling. In Chicago, it was all sampling…spending a lot of time finding the drum loop sample, then finding a keyboard sample, finding a horn sample, scratching something in. Now I'm figuring out how to fit in my own playing.
DG: Which three artists have you found to be the most inspirational in your production endeavors?
M: I would have to say Bob Marley because he's such an early influence and Dilla because anyone making hip hop has to be influenced by Dilla. The third? That's tricky. I guess someone like Moodymann or Theo Parrish. 
DG: Who is your favorite artist?
M: It changes frequently. I don't have a favorite.
DG: Do you have a favorite genre for listening?
M: Definitely dub, reggae and jazz. Those are staples.
DG: What are your musical plans for the future?
M: I want to spread Love and inspiration from my music and label ARR, as well as record music for other artists and create community in the studio. I hope to be a part of helping and empowering this Detroit and Worldwide Underground Music and Arts community..
DG: Tell us about your Karya project.
M: Karya is myself (production) and Lailah Reich (vocals.) We have been working together for some years now and our energy just flows naturally, I'll send her some ideas and she comes back with a complete song (typically.) Our newest release is aimed at the dance community. There are two original tracks and two remixes. We are blessed to have a DJ Dez (Andres) remix as well as one crafted by Radius Etc and myself (Beyond Luck.)
DG: You have a lot of colorful markers. What's up with that?
M: I like to draw random things. Mostly Lions and Skateboard dudes recently.
To hear Moppy's track "Shiva Teachings" go to www.detroiteq.com/listen … buy the DEQ 17_18 LP at a record store near you!! more articles www.detroiteq.com in the issues icon on menu bar. Thank you for paying attention.