Writing and photos by Vince Patricola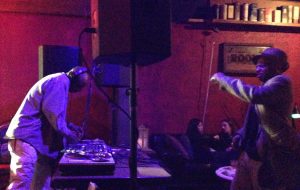 (grainy photo of Daryl Stewart digging the sounds of DJ Craig Huckaby)
This is a story of life.
Daryl Stewart is a percussionist, an entertainer, an embodiment of Detroit funk, a dreamer, a promoter, a fighter, a Bohemian, an uncontainable spirit. The rhythm of drums run so coarsely through his veins that he was even able to push the hand of death away!
About five years ago, Stewart miraculously survived a deadly stroke. "Daryl was in rough shape," friend, percussionist, DJ, poet, record collector Craig Huckaby recalled. "I left him an axatse (African shaker) next to his bed and as he began to recover, he started using it. The doctors were in disbelief. Almost everyone around on his floor were practically brain dead and there's Daryl shaking it and finding the rhythm of life."
He agreed to share his medical story with our readers (personal health can be a sensitive topic). Then he said something very real and unexpected, "everyone should go through it (a stroke.) It would be a much better world. I mean, I don't wish pain on anyone, but going through a traumatic experience like that makes you not sweat the small stuff."
Today, he's in great physical shape and occasional pictures in the gym surface on social media. Although his voice is raspy from him ripping the breathing tube from his throat, he certainly did not lose any of his memory.
His stories are a jaw dropping jambalaya of famous people and they come out one after the other like an Entertainment Tonight TV show re-run marathon from the 1994 season with no commercials. The stories usually begin with a "check this out" or "listen" and then blam! And he's one of the few people that can actually document everything with personal pictures and newspaper articles.
While in Atlanta, Stewart was drumming in bands like K95 (new wave/alternative) Cool Joe and the Funky Soul Symbols (original neo soul party group) and a rockabilly band called Rooster and the Red Tops in the '80s though the mid '90s. Add in staging, lighting, and sound savvy, he was able to gain access to, work, party and play with some of the biggest stars of our time.
He also went to art school at the Atlanta College of Art (ACA.) While there he befriended a young RuPaul. "He (RuPaul) would steal his sister's car and we'd go down to Peachtree Street for a 'stop and cop' to get weed. We had a lot of fun together," Stewart recalled. "We were playing on some of the same bills together in alternative clubs and I remember him saying 'I'm moving to New York City.' He was wearing these big fireman boots, a tattered shirt and had a blonde mohawk. He didn't look back after that."
The early "alternative" music scene was bubbling and his bands opened for, at that time, booming acts like the B-52s, REM, and Bow Wow Wow to name a few. When his rockabilly band opened for the Clash, Mick Jones went home to party with Stewart and his band mates. "He drank and talked shit with us all night," he said. "We ate chocolate chip cookies. He called them biscuits."
While in Atlanta, his band Cool Joe and the Funky Soul Symbols played twenty-eight straight days surrounding the 1996 Olympics in Centennial Park and the Olympic Village.  They received international acclaim for their song and video for "the Pledge" which was released by Budweiser Beer as part of their sponsorship of the band.
Stewart's bands were also invited to play movie "wrap" parties and he began to meet a whole lot of movie/television stars like Rob Lowe and Danny Glover. "Ed McMahon jumped on stage and sang some blues tunes with us. He was a nice guy. Such a blast." McMahon liked the band so much, he got them to perform on his hit television show Star Search, but they lost in the final because of what Stewart believed was a racial issue. "The other band won because they were white. (MTV VJ) Martha Quinn even said so… the audience was mostly white… that's what usually happens."
One of his favorite moments was playing a wrap party for the movie Free Jack.  Mick Jagger was one of the stars of the film and took a liking to Daryl and his band, so much so, that he got to spend a whole day at the rented mansion. "He (Jagger) showed me all around the mansion he was staying in and he met the band. Class guy (all the way. We went into the biggest master kitchen I've ever seen and he was mingling. It was just so cool to be around him."
How did Stewart make all this magic? When he plays music, his passion comes out. "People would say, damn we really like your style, come hang with us," he said. "After that, we'd hang backstage and laugh, talk, have fun."
Around 2007, Stewart got the call to be one of George Clinton's drum techs and toured with Parliament Funkadelic for four years. His spirit of togetherness and friendship helped him fit right into the soulful "Funkadelic-esque" Detroit music family. "People call me P-Funk," he said. He's got this 'I belong here' Jedi mind power and he knows the right security guard or who to bribe with a pint of vodka to get backstage.
Years later, he would go on to do tech work for the Rolling Stones, The Police, and work many of the great shows that came to Atlanta or Detroit including Janet Jackson, Beyonce, Stevie Wonder and too many to count.
*Stewart produced tracks for Detroit's Arc Singers (gospel group) like "Prayer For Peace" and "It Turned Out Right," Bille Stylings "I'm All I Have," and remixes of "the Pledge." He produced a song and accompanying video for Liz Taylor's "Heartstrings."
He's continues to work on music in his home/art studio. He stays active and hustles like a man half his age. He's still working shows, in music studios, doing carpentry work, making art, mentoring youth, set building, lighting. He flows wherever he is needed and his energy levels remain high. His passions for music and people fuel everything.
When I asked him what has changed the most since his stroke and he said without hesitation, "my bullshit meter." He went on. "I just can't take stupid talk anymore. Politics. Wasted people rambling. I have to walk away. My mind burns. If the music is bad, too loud, not funky and soulful, I need to leave."
After a long day's work, and he's feeling the groove in the club, the axatse shaker (the same one he had in the hospital) comes out.  Often he carries a bag with many shakers.
DJ and producer Blair French recalled Stewart saying, "Who needs to buy drinks…when you got one of theeese…" Stewart opened his suit coat, pointed to his half pint of whisky and took a healthy swig. He was entertaining the crowd, handing out shakers and further connecting people to the beat.
I was there that club night. "The work hard, play hard lifestyle at work," I said. "He sure lived this day to the fullest, just like he does every day. And night."