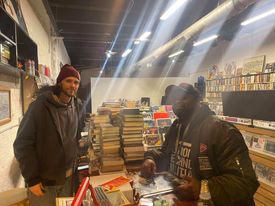 DEQ: We here at DEQ are excited about this collaboration between you both! How & when did the idea come about?
Dru & Dezi: Thanks, we are too. A few years ago Dezi and Moppy had invited me to do pop-up shop vending at the Monthly 7 INCHES IN HEAVEN event at Marble Bar. I would bring out 45's and different inventory from The 37th to sell. That's where Dezi and I started trading and buying records off each other and became friends. That event lasted 3 Years and I was a part for over 2 of those.
I'd heard him mention a few times over the Years how he wanted to get involved with or run his own record shop someday. so I had pondered the idea of us teaming up in the past.
The first event I had in the shop since the pandemic outbreak was an official DILLATROIT in-store (early Feb), and Dezi was one of the DJ's I asked to spin vinyl. It was his first time seeing the shop in full effect. At one point we were talking and I popped the question. "What would you think about getting involved around here in some capacity?" The way I remember it was he looked around for a second and basically said hell yes! We didn't skip a beat. A couple days later we were in there working and redoing the vinyl section.
DEQ: How will the shop be different?
Dru & Dezi: We mainly brought Dezi in to focus on bringing new life and expertise to the vinyl and music section of the shop. He has many years of experience as a DJ and collector. He's curating and bringing in tons of new music, and organizing everything so customers can find what they are looking for a lot easier. I was operating the place myself as more of a media resale shop with books, movies, CD's, Comics, Art etc. Our goal is to make it a more legitimate Record store that specializes in Michigan/Detroit based artists and labels, while still having a variety of other types of media to explore.
DEQ: What do we have in store for us at Saturday's 313 event?
Dru & Dezi: There will be a lot going on. Basically it's a celebration of the two of us relaunching the shop together. Live DJ's spinning vinyl throughout the day for the customers.
We updated pretty much every area of the shop, got a ton of new inventory, and are having a big Sale on Movies, Comics, T-Shirts, Detroit Hip-Hop music and Video Games. Our event sponsor Architect Entertainment will have a merch table set up, and there will be a 3 hour live stream from 4-7pm with WE DO THIS DJ's (Bet, Nano2Hype & Ocuts). Limited capacity inside, distancing, and masks required. but we are expecting a good turnout throughout the day.
DEQ: Will there be other events tied to the shop like Head Nod Suite?
Dru & Dezi: 3-1-3 Day marks the beginning of a weekly/Monthly streaming events schedule in the shop.
1 event is WE DO THIS! until they are able to have it at a bigger venue again.
Another is the ALL CITY CIPHER (MC Cipher with Josef Coney and DJ SNTNCK, and rotating guests).
The other 2 are tentative, yet to be announced, but will most likely include HEAD NOD SUITE release parties for the ongoing compilation series, and a rotation of different in-store events. As well as other Sales, Record Store Days, Free Comic Book Day, Cassette Store Day, and most significantly our officially official relaunch set for later this Spring or early Summer. Much to look forward to and get involved with.
DEQ: Where do we go to keep posted on your events?
Dru & Dezi: The best place to follow our events and Sales info is probably @37thshieldlibrary page on Instagram. We also have an upcoming events calendar pinned on the Facebook business page. And we promote on there as well. Otherwise just pop in and ask us what's coming next.