DEQ Catch Up #15 With DEQ's Founder Vincent Patricola on his Paxahau Twitch Stream Weds (Mar 24th) and DJ'ing  Experiences.
Riding the wave like most of us out here in the music world, Detroit Electronic Quarterly (DEQ) Music Magazine's founder, DJ Vince Patricola has been making the most of it.
With a limited pandemic studio (and vinyl) inside his girlfriend Gina's barn (in Martha's Vineyard, Massachusetts) he recorded a one take, two-hour video for Paxahau to be broadcast on www.twitch.tv/paxahau. It will air Weds. March 24that 6pm.
DEQ: What kind of music are you playing for the video?
VP: The mix features Detroit artists and labels first and foremost, as this is for DEQ.
You'll hear Detroit producers like Omar-S, Monty Luke, KDJ, Andres, Amp Fiddler, Vincent Halliburton, Generation Next, Norma Jean Bell, Terri "Whodat" McQueen, Isaac Prieto, Remote Viewing Party, Peter Croce, 2AMFM mixed in with Mateo & Matos on Spiritual Life, Cajmere, Fruit Loops, Michelle Ayers, Kerri Chandler and more. There's house, techno and some experimental stuff from all over the world mixed in.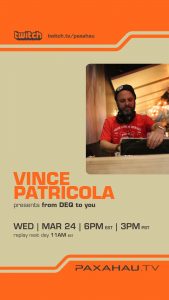 DEQ: Very cool. I'll bet you missed your record collection back in Detroit.
VP: Absolutely. However in my pandemic record grab I did pretty well. I have whatever fit in my little Honda FIT including gear and clothes as I was there for quite a while. There are definitely points I said to myself  'damn I wish I had that here.'
DEQ: It's an all vinyl mix too, right?
VP: No question about it. I do have a CDJ 400 with CD/memory stick capabilities, but I just love the feel of vinyl and the challenges mixing with vinyl presents. Limitations, as you may have fifty or so records in your bag, are always there so you gotta make it work.  You may have to play a record after a skip or the pitches don't line up just right or the record has a warp maybe.  You gotta act fast and figure it out and think on your feet.
There definitely are times when computer DJing comes in handy (like a wedding or an awful situation at a party) and there's so many more tricks, etc, which are really neat but it's not my cup of tea. The only way I'll do digital is if something is not on vinyl or, as Mike Huckaby would say to me with a smirk, it is 'out of print.'
DEQ: Do you consider yourself a dancefloor DJ?
VP: I came up trying to be a dance DJ, but I always considered myself a better "presenter of music" over the years.  I can do both.
DEQ: Why do you prefer "presenter" status?
VP: Well, presenter status sort of found me. I carved a niche for myself doing more eclectic sets in lounges, restaurants and "VIP" rooms at parties in the mid-late '90s. I could still blend smoothly and go from classic hip hop to a low pressure techno and it's cool. People began to trust my taste in music and the friends I would bring in to play with me.
Plus playing at raves and underground parties were always sketchy and you never knew if you might get paid, arrested or both, but those were definitely more glorious opportunities. Even though there may not be a floor per se at my gigs, I play the music I want to and go wide with styles. With such heavy competition for the floor, I decided to zag. I acquired more and more gigs. With that money I bought records in all different styles for different events.
DEQ: How did you learn to match beats?
VP: Woa. When I was coming up in the mid-late '90s, I was a "nobody" out of left field trying to figure out how to beat match records along with the proper history that I needed to learn. At the start, I did not understand why I could not beat match a house record and a hip hop record.  I would play those records together and all I heard were "shoes in the dryer." No one would teach me and there was no internet.
I would go to parties not knowing anyone and listen to the knowledgeable DJs. I would try to watch their hands and how they worked the levels. Then I would go home and make a mix cassette to listen to in my car.  No matter how many train wrecks I had, I intently listened to the disasters and tried to learn what I did wrong. Maybe the volume/energy level went down after the blend or I mixed it in at the wrong time and both tracks were busy at the same time.
I listened to my mix then I would listen to a Louie Vega mix cd or see like a Norm Talley and think wow. Then I would go back to the drawing board.
DEQ: What was your biggest challenge in learning to DJ?
VP: That's different for everyone. For me, it was distinguishing the two tracks while they were playing together. I would get lost as which drums were on which track and I would wreck hard.
DEQ: How did you overcome that?
VP: By loving the tracks I selected and I studied them.  The more familiar I got with them, the more I identified which was which. I think of it like I split my brain in two and now it's routine to hear them individually.
DEQ: When you blend beats, do you adjust the record with your hand as you go, or do you solely use your pitch control lever?
VP: I only touch the record to cue it up. While the mix is going I only use the pitch control.  If it is wildly off, I can make a hand correction but that is super rare for me. I learned this method because the early Denon CD mixers had pitch control so I figured if I could just use the pitch on the cd mixers, I could do the same on the Technics 1200s.
DEQ: Do you scratch or do tricks? Do you use filters?
VP: I think back and I wish I would have gone that route and learned how to scratch, but I'm not really that kind of DJ. I like smooth blends and let the tracks do the talking on their own. It's funny when I set up for the general public a lot, people almost expect me to start cutting up.
I definitely appreciate the skill that's for sure and how it excites the crowd, but I don't feel the need. I guess the years of partying slowed my brain and I'm not super hype on the outside. My brain is doing cartwheels of joy when I play and that usually translates through my mix. I concentrate a lot when I'm blending.
DEQ: Are you selective where and what events you play?
VP: Yes. Like I said, I play more more music appreciation nights and places so I can go in so many different genres. I like sharing music the most and bringing music people together. I love community.
DEQ: With not playing so much familiar music, do you get flack for it from people there?
VP: I think every DJ gets that treatment. Sometimes the requests fit right in line with what I have and I'm glad to oblige if the record is in my bag. The clientele I have built up understands what I am doing and the folks that book me know as well. I can't see being offended by what I play or the volume I play at. I also escape a lot by playing Sunday thru Thursdays when I have more freedom. Fridays and Saturdays I am extremely picky because of the weekend warriors.
DEQ: Do you think it's different playing in Detroit versus the suburbs?
VP: Venues are really everything.  If there's a cool lounge with a nice eclectic vibe, people most times don't want to be "that person" and groove right along. 99% of the time people are complementary and want to learn about the tracks. It's the "bosses" or occasional jock heads that try to throw a wrench in to impress their friends and switch up the program.
If you're playing at an "Applebees" type establishment you better be a jukebox. Weddings or birthday parties too, unless you get a cool person or couple that does not want "mainstream" wedding. Then, though, you still have to deal with the crowd that wants radio stuff and the nightmares that come along with that.
DEQ: What was your worst DJ experience?
VP: Haha. I was booked to play on the massive patio at Fifth Avenue (club inside Comerica Park) after a Detroit Tigers Fireworks weekend game night (2004ish.) The managers were having a problem with DJs playing hip hop as fights were regularly happening, so they booked me to play house music.  (I played a few times inside and public hated it. I told the manager that they hated me. He said 'Good. The staff loves you.' and paid me cash.) I had a mobile rig on a table with turntables, mixer, etc. on the patio.
I got death threats that night. One guy grabbed me by the neck of my shirt and demanded I play hip hop and radio stuff for his girlfriend's birthday party. There was no security to help me and the place was jammed. People were stopping the records with their hands. It was a mini uprising.  A chain wearing asswipe grabbed my arm and then the power went out to my system. Someone found the extension cord and unplugged me.
The best part of the night was when a white guy asked me to play 'Black people music.' Derrick May's "Beyond the Dance" was on the turntable and I exclaimed to this guy "Black people make this music!!' Perplexed, he said "Well, um play some Black people music we know." Then the power went off again and I just left.
As I was walking out, the manager said 'where are you going?' and I said 'Home. I've been threatened, shut off, and two of my records are ruined from people grabbing them.' The manager then said, 'Will you come back next week?'  I just laughed and said 'no.'
DEQ: What did that experience teach you?
VP: Just to be more selective and avoid playing for sports crowds at all costs.
DEQ: With the pandemic and the multiple DJ streams now, how has the game changed in your opinion?
VP: I think we make lemonade out of the lemons we got. I love seeing DJs who are solid, but have to play to a dance crowd, step outside the box and play what they like. It's so refreshing.
More people are also doing talk shows, interviewing DJs and other creative video short pieces.  They will only help once we can all gather again. Hopefully it translates into more knowledgeable people on the dancefloor.
DEQ What is your best advice for up and coming DJs?
VP:  The great thing about DJing is that it can be anything you want it to be. It could be a playlist that makes sense with songs in a particular order to wizard cutting and scratching. It could be playing in your living room to rocking a giant club.
I would say develop your tastes first.  Find music you are truly passionate about and study DJ's you line up with. Be open though to all styles of music past and present. Listen to your mixes regularly and intently. Critique them honestly and work on trouble areas. Also be patient and eternal student, because the learning should never stop. Educate and groom followers.
Lastly, understand what kind of DJ you are and be sure that your events line up with your style.
DEQ: For more information on DEQ Wednesday's stream www.twitch.tv/paxahau::: Detroit Electronic Quarterly www.detroiteq.com::: IG www.instagram.com/vpatricolaor @deq_magazine