THE DETROIT TELEVISION SHOW THAT CHANGED THE WORLD By Mike Himes, photos from the internet 🙂 (originally published for DEQ issue 5 in 2006)
In 2006, I had the honor of coordinating some interviews with Nat Morris, RJ Watkins and Henry Tyler for DEQ magazine (digital edition issue 5.) Vince Patricola and I visited these men and we spent some quality time with them. They shared their stories and we had some great laughs while hearing their recollection of THE most influential shows ever. The shows that the foundation of Detroit electronic music are based on.
(photo of Nat Morris)
 "Well it's 6 O'clock and it's time to rock. We rock non-stop 'til 7 O'clock. We don't stop, we don't stop we just rock, rock, rock."
"Pretty faces and pretty smiles. We're looking good, everybody's clean. It's 6 o'clock and time for the Scene!"
This was the battle cry of (host) Nat Morris kicking off the legendary Detroit TV show "The Scene"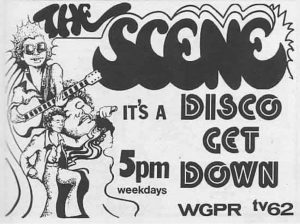 In 1973 there was no electronic music coming from Detroit. The Belleville three (Juan Atkins, Kevin Saunderson and Derrick May) were still in grade school. A DJ used one turntable, Mojo was on an AM station in Ann Arbor and there were only a handful of TV channels to be found in Detroit. One of those stations was WGPR channel 62, a small locally owned station located on Jefferson Avenue in downtown Detroit. The station would unwittingly end up giving birth to an entire generation of dance music and would influence millions globally in the process. This station gave Detroit, and eventually the world, a show called "The Scene" and for the next 30 years Detroit would tune in and get down!
In 1972 WGPR was a radio station that had applied for a television broadcast license. When the FCC gave the go ahead the scramble was on to put programs on the air before the license expired. George White, who was the Program Director wanted a dance show like "Soul Train" or like another local dance show called "Swining Time" which emulated "American Bandstand." Nat Morris and Ray Henderson were WGPR's radio stations hottest DJs and were asked to put together the show. Morris grew up in North Carolina and studied at the New York School of Broadcasting. He was not keen on doing television. He hesitantly gave in and decided to give it a whirl. The new show was to be called "The Scene" and started to air in late 1975. It was raw. Morris, Henderson and the station were learning as they went as they were in uncharted territory. They got better and things started to grow and develop quickly. The show was live at 5pm and aired 5 days a week. It was nothing but bodies dancing to the latest R&B hits.
In the Spring of 1976, the TV station was struggling. Henderson quit and took a job at Motown. This left Morris completely responsible for airing the show along with finding sponsorship money to keep it afloat. Morris stopped doing the shows entirely live and would film a live show on Fridays and on the same night tape two more shows to air the following week. This gave the show three new shows each week and he would air two reruns to round off the weeks programming. He was only given two hours to produce each show, which continued the all dance format.
When The Scene was still young Morris met RJ Watkins, a young persistent man who wanted to get into television any way he could. Watkins had a lot of connections and determination as he kept knocking at the door until eventually Morris gave him a chance. Het let Watkins help put together a film crew and they produced what were considered two of the first ever music videos made for Black artists. The video for the Floaters song "Float On" was shot on the Detroit River with two boats and beautiful ladies that Watkins was able to find for the project. They also filmed a video for CJ & Company who had a hit with "Devil's Gun." "RJ was a thinker from the first day I met him" Morris said. He had aspirations of being a TV talk show host like Johnny Carson and he eventually had a show on WGPR called "Concert, Dance & Talk" or CDT. The show only aired a few times and was pulled by station management. Regardless Watkins was still helping with The Scene on a regular basis and hosted the show when Morris needed a rest. "After a few years I got tired of doing the show, I needed a break from time to time" Morris said. This was the window of opportunity Watkins was looking for and he became Morris' number one replacement when he needed to recharge and take a break.
Attending DJ school at the time was another energetic, young man named Henry Tyler. Tyler approached WGPR program director George White with an idea for a show called "Soul Bio." White liked the idea and decided to use it as a segment for The Scene. Tyler would conduct interviews and do biographies of soul artists.
Tyler recalled how he met Morris: "I was leaving White's office and I ran into Nat (Morris.) He saw me with my little projector and asked me what I was doing? I told Nat about the idea for my segment and Nat embraced the concept." Within two weeks Tyler was part of The Scene and would become the backbone of the show for years to come. Tyler was integral in many production aspects and key decisions for the show as it progressed.
Are you ready to throw down?
Things were cruising along and the show was growing. Everyone basically learned by trial and error, working countless hours each week to keep the show fresh and vibrant. Morris was still the guiding force and was obsessed with taking the show to higher levels.
"One night I was watching one of my tapes and it came clear to me, the killer format!" Morris exclaimed. "I'd cut out the dance records except for two. There would be just two records where everyone was on the floor during the show. We played current hits, which sounded good and fast, but when you saw people dancing to the music it was boring, so we went to just the two dance segments. This became the opening spread and we'd start the show with all the people getting down on the floor," Morris added.
The opening spread was announced by Morris using one of his legendary slogans like: "I'm gonna change the name of this town from Motown to Geektown so that we can relax and takeover this studio and really throw down" Morris would shout that to the crowd and follow with "What's the name of this town?" with the crowd answering "GEEKTOWN!" Morris then would yell out, "are you ready to throw down?" The crowd would shout back "YES WE ARE!" The music would kick in as Morris finished up by exclaiming, "Nothing's been said, let's go to the opening spread!"
Things really started to happen. The Scene became the most watched show on WGPR and even beat the bigger stations programming in the same time slot. Even this did not seem to curtail management, as the pressure was always on to bring in more revenue. No matter what the ratings, they always played it down which became a constant frustration with Morris, Watkins and Tyler. This lead to a lot of political trouble and there seemed to always be a tug of war with management.
The show became a major stop for many artists. "We met every big artist there was," Watkins said. "Detroit became known as a key stop for these artists as they could get radio and TV exposure at WGPR." The Temptations, Prince, Patti Labelle, David Ruffin, Aretha Franklin, Smokey Robinson, Jerry Butler, the Stylistics and many others would stop by while on tour or in town. The show was making huge waves in the USA as a very influential independently owned station. Through out all of this national attention the show maintained a commitment to playing and promoting local talent as well.
Techno and the DJ arrive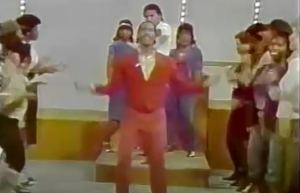 Morris still wanted the energy of the show to be higher and soon stumbled upon techno music. The start of something legendary was born. "We needed something faster than the top hits and techno was the perfect fit for what we were trying to do" Morris stated. Records by Cybotron, Soul Sonic Force and the like were introduced. "That gave me action when you played those records. You got action and that's what we needed to get them to shake that ass a little faster." Detroit was introduced to a style of music and a BPM that was mostly unknown, paving the way for what is now a worldwide phenomenon. The show gave birth to a new Detroit sound. "People like Juan Atkins would bring us records and we'd use them on the show" Watkins added. "We would use these techno guys for unique songs, and even Don Was (Was Not Was) helped us out for a while."
The initial DJs featured on the show were guys who would simply play records. "We didn't have mixes at first. We only had one turntable and this was before the DJs were beat mixing," Watkins explained. Later on the DJs were introduced as mixers. They would also be used for live tapings at clubs when the show was filmed outside WGPR studios. DJs started to make waves at the clubs and were soon brought in to do mixes.
Morris hired DJ Hump The Grinder to put together the mix and coordinate the DJs. They would have the DJs make a tape to be played on the show. Later, Jesse "The Body" became the show's main DJ and was in that spot for many years. Jesse had control over the mix segment. "He'd come to us and bring a record in and say, this is gonna kill 'em!" Morris explained. "We would ask, are you sure Jesse? And sure enough, this techno music would have the place smoking." Detroit music would be used regularly and the show would use "mini mixes" for the show by some of Detroit's most legendary pioneers of the turntables like Ken Collier and Duane Bradley. Throughout, the city was getting exposed to something that would soon become massive worldwide.
By 1987 the show had been on for twelve years. "At this point I had lost interest, I didn't know how to take the show any higher," said Morris, he was burned out. After doing three shows a week for years, he felt pressured and things started to affect his personal life, which carried onto the air. This lead to conflict with management, so the station decided to put RJ Watkins on as the permanent host.
Shortly afterward The Scene came to an end, it was December 31st1987 when the change was decided. Morris had sensed things were coming to an end. Negotiations were discussed with the station for him to receive a buy out, but a price could not be agreed to, so he packed up all of the tapes and hit the road knowing he had a goldmine.
In 1995, Morris started showing The Scene (back in the day) on Comcast cable in Detroit. Those shows aired until the end of 1997. Morris still has all the tapes in his possession, waiting for the right time and deal for them to be aired and a possible documentary to be produced.
After Morris left the station, he wanted to regain control of the show and to produce it in house thinking it had been making all kinds of money. A new show was created called "Contempo" which lasted only three months before imploding. RJ Watkins saw an opportunity to start up a new show using the same style and format as The Scene, and "The New Dance Show" was born.
(photos  of host RJ Watkins and Henry Tyler)
Watkins was able to retain a few of the key dancers from The Scene so the new show had some familiar faces. For eight more years The New Dance Show continued on WGPR with Henry Tyler in charge of production. The famous dance line soon replaced the opening spread. The music would pump and each dancer would go on down the line trying to out do each other. They boogied on down the aisle flanked by the crowd shouting and cheering chants like "go 'head, go 'head, it's your birthday, go 'head."
Taking it to the clubs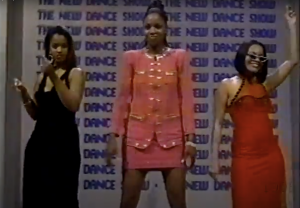 Watkins and Tyler were soon able to take the show to new levels. The idea of taking the show outside the studio was introduced and soon shows were being taped at dance clubs around the city. Reggie's Club was the first to host The New Dance Show. The show then moved to The Brotherhood Club, which was actually a hall. "We would take the club over on Sundays, turn it into a studio and tape it live." Watkins expanded, "we then cut a deal with them to do live parties on the radio." Soon WGPR was having the hottest parties around, with radio and TV to hype them. Things were getting pretty wild. "People were having B.Y.O.B. (bring your own booze) parties around town so we thought we'd do the same. We'd advertise the fact that while the other clubs were closed, we'd still be going," Watkins said. "We didn't know that what we were really doing was a borderline blind pig!" Watkins and Tyler exclaimed with a roar.
The first two weeks at The Brotherhood went smoothly and by the third week the line was wrapped around the block. Other bar owners got very mad and complained it was not fair that The New Dance Show parties could go on after 2am (bar regular closing time.) "We'd be advertising the fact that you could party until 4am and the stars started showing up after the regular clubs would close. It would be wild," Watkins stated. It ended abruptly after a couple of months when the Detroit police decided to raid the party. "They came in bustin' like we were selling dope!" Tyler and a bunch of staff were taken into custody. In a panic Watkins was allowed to call the station to get something else on the air. He avoided being hauled in. He took all the money made that night and bailed out Tyler and his unfortunate staff. This was the end of the live parties.
Although the live party was over, the show was bigger than ever. At a Christmas party, an offer was presented to give Watkins a new studio for the show by ex pro football player and investor Brady Keys Jr. A deal was struck and soon after there was a brand new studio for the show with Watkins and Tyler at the helm. Keys remained a silent partner. All new equipment was brought in and the studio was became the home to The New Dance Show for four years. They had arrived!
Unfortunately, the stress of keeping it all together was just too much. Watkins was asked to take over the entire building that housed the studio. He declined as there were too many headaches and he was barely holding his own studio in check, so the show once again was on the move.
Watkins approached Cornelius Watts, one of the show's top sponsors, about a space. Watts had a large space by his repair shop in Highland Park and the studio moved there soon after. Watkins then applied for a radio license and many thought he was crazy, but he soon got the license and WHPR 88.1 FM started up and later also became a limited broadcast television station.
WGPR was sold to CBS due to FOX swiping their channel from under their noses. This, Watkins thought, would be a great time to work on a new deal. The New Dance show had great ratings and aired midnights now. Again, the station played hardball so he found another station that was eager to air the show. It ended up on UPN 50. "They put us up against Soul Train and we whopped them! We beat them in the ratings in this area," Watkins eagerly boasted.
Over time Channel 50 was trying to get more out of Watkins. A deal could not be struck with them either, even though the show was popular. "I said, I'm finished! I quit, I'm not doing any production," he said. The business end of keeping a show going with greedy management had taken its toll. "I proved myself, we had the numbers. We beat Soul Train. I thought once you had the numbers you had the deal!"
In 1995, twenty years after the show first aired, Watkins decided to put the show on his own station WHPR. He aired reruns, but with a weak signal and limited audience it had not been viewed nearly as much as before. Nat Morris has aired The Scene (Back in the Day) on various channels over the years. Morris and Watkins both own all the tapes from their respective shows.
The shows may be gone but they are far from forgotten. Websites such as YouTube have numerous segments posted tallying thousands of views. The memories still live and the legend keeps growing. To this day these men are recognized wherever they go around the city. Hopefully soon someone with the right resources will put together a proper documentary of this groundbreaking period in Detroit music history. It's way past time to give these men an opportunity to capitalize on the historic things they did for music in Detroit and around the world.
Until then, we'll smile and remember Nat Morris shouting out…
"Sugar is sugar, salt is salt, if you don't get off, it's not our fault"