by Vince Patricola.
What a treat to catch up with Brian Bonds, a truly talented veteran of the electronic music scene. He is a member of the group Strand and the trio is putting out techno heat. Pay attention.
Photos Brian Bonds, "Kech" Harrington, Brian Boyer of Strand
DEQ: Congrats on the new EP! Would you tell more about it?
BB: Thank you. Space Age Polymers is Strand's latest EP since 2011 (ish.) At The Precipice EP, on our label Harbonder, will be released digitally 12/18/2020 on all the major platforms. Space Age Polymers will see it's vinyl release early to mid January 2021 stay tuned.
DEQ: How long have you guys been working on it?
BB: 
Back in April of this year, during a conference call with my band mates, I brought up the fact that this Covid-19 pandemic was all too real. Tomorrow is not promised to any of us. With this in mind, we decided to start production on Space Age Polymers and two other Strand EPs. We are currently finishing up the mastering and artwork for them.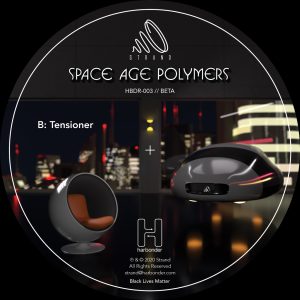 DEQ: Why the name Space Age Polymers?
BB: Apart from our Messages series we wanted to give it a title in the grand tradition of our previous EPs Pigeon Toed Orange Peel and Floyd Cramer's Revenge. They are obscure, retro musical references that we think are pretty funny. The title Space Age Polymers was chosen out of a notebook Brian Boyer has kept for years with ideas for songs and album titles we've come up with.
DEQ: How does it relate to the music on the EP?
BB: Although we use and embrace technology, our music has an organic and soulful feel. It comes from a sincere place that is informed from our past and outlook for the future. Space Age Polymers was a phrase used in the '60s and early '70s advertising to sell consumers something made with the latest technological materials. As the song "Tensioner" has an early Detroit techno vibe and "3 Piece" is a nod to Detroit funk we think the title is perfect.
DEQ: All the tracks are great! You get all the techno feels. Do you have a favorite track on the EP and why?
BB: 
I'd say "3 Piece" because it encompasses all the elements that is Strand.
DEQ: Would you tell us more about who is in the band?
BB: Brian Boyer, Ken "Kech" Harrington, Brian Bonds.
DEQ: How did the band come to be?
BB: In 1980, I moved back to Detroit from California. The second day back I locked myself out of the house, but I noticed a second story window open. I saw a kid walking past our house and I asked him if he had ladder. We've been brothers since.
A few days later he introduced me to Brian Boyer the neighborhood guitar virtuoso. Because of our shared eclectic tastes in music and synthesizers we decided to form a band.
DEQ: Where can you get your releases?
B.B. We remixed the track "Techno Programming" for Optic Nerve (Keith Tucker) to be released on Soma, an EP collaboration called Strand meets Optic Nerve featuring a slamming remix of "Factor it N" to be released on Puzzlebox Records.
We have an EP Resilenceon Sean Tate's RWYS label coming in 2021. This summer I also collaborated with my brother Martin Bonds on the next Reel by Real EP Tic Tac also to be released on Mojuba in 2021. They will be available wherever quality vinyl and downloads are sold.
DEQ: You put out a bunch of records early in your careers on Anthony "Shake" Shakir and Claude Young's Jr.'s Frictional Label. How did this all happen? I know you are close with Shake. How is he?
BB: After they started Frictional, Martin was slated to do an EP but was touring with Inner City. Martin had little time to meet Frictional's release schedule.
One day I brought a DAT with some tracks Kech and I recorded over to Shake's place just to get his opinion before we licensed it to a label in Europe. Shake asked to do a remix of one of the tracks, and then suggested releasing it on Frictional. That's how our ties to Frictional began. Shake is doing well. He's in good spirits and is working his way into recording.
DEQ: Would you tell us about the days in Shake's living room?
BB: 
It's where techno, hip-hop, jazz, and minimalism converged with Schoolcraft and 7 Mile.
DEQ: You spent a lot of time at Detroit's legendary club night, the Music Institute. Would you talk about the effect that night had on you?
BB: 
I spent a few nights and mornings there. It was like a spiritual Detroit basement party. My brother and I used to make tracks with my Roland 909 and his modified CZ 1000 and recorded straight to a cassette tape.
One night I took one with me went up to the booth and asked Derrick May to play it. He did and the crowd reaction to this day influences how I contribute to some of Strand's music.
DEQ: What was it like when you heard the song "Sharevari" for the first time?
BB: At that time I was introduced to the idea of mixing records by Eddie Fowlkes who lived down the street from me. We practiced and made trips to Buy Rite Records. I can't recall who's basement it was where I heard it, but he played it the first time. I thought it was brilliant. Years later I met Paul and Sterling from A Number of Names when we did the "Sharivari (Electric Cafe)" remix on Puzzlebox.
DEQ: Were you a fan of the "progressive sound" in the 80s? Were you into new wave? Hip hop? Miami Bass sound? How much of an effect did these sounds have on your music?
BB: The '80s for me was Cybotron, Model 500, Chicago house, Italo house, Joy Division, XTC, Dead Kennedys, Prince, Parliament/Funkadelic, Ska, Run DMC, Mantronix … too many to name, but mainly if it wasn't on commercial radio. I subscribe to Brian Boyer's theory that anything we listen to good or bad is an influence.
DEQ: What kinds of music are you digging these days? Do you look to the future more or delving more into the past?
BB: The new Alien FM, been revisiting Mandre', Axis' The Escape Velocityseries, Celebrity BBQ Sauce, DEQ 17 in my walking playlist, J Shaw. More so the future.
DEQ: What do you listen to when you are not listening to electronic music?
BB: Jazz, movie soundtracks, and whatever my wife is listening to.
DEQ: Thanks for your time Brian!
BB: Stay Safe and be well.