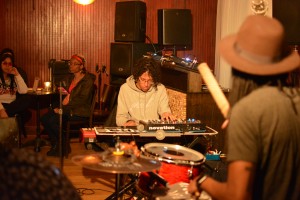 In A Certain Place With Ian Finkelstein Written by Imani Mixon, Photo by Lance Bashi (May, 2019)
By Imani Mixon
When you think of the listening audience for piano, you might think of well-dressed couples seated in sold-out theatre, sprinkling polite claps and silent laughter between each song. Classic piano is supposed to be for the refined, for those who like to think about the music without dancing to it. There is some reserve, some sense of decorum. Then there is jazz piano. Now, we're in a smoky bar with a gowned vocalist and suited piano player wearing a black hat and a furrowed brow. It's a bit more gritty and more soulful, but the crowd is still made up of mature musical purists. Ian Finkelstein, a childhood piano prodigy turned local Detroit music fixture, is none of these things and all of these things at once. He is research and resonance, practice and play. And on March 29th, 2019 he'll also be 29 years old.
Finkelstein began playing the piano at four years old and hasn't ever really stopped. Despite the fact that he's been playing piano his whole life and is sprinting to the spotlight with momentum from his diverse set of releases, there isn't a finish line when it comes to music. Once you perfect one thing, you move on to the next. As Finkelstein nears his golden birthday, he is working toperfect his craft by closely studying musical greats like Herbie Hancock. Instead of trying to copy one of his jazz idols, he's listening for harmonies, full chords, and piano technique. Although he's years removed from his University of Michigan jazz studies degree, he'll sit down and transcribe the notes if he's really intrigued.
"The most important thing is getting it inside of you," says Finkelstein.
Once Finkelstein becomes a vessel for the music, there's no telling how it will come out. It could be a moody ambient set, an original techno beat, a lovely jazz standard,or a reimagined instrumental version of a contemporary hit.It might be recorded and released as a digital album, vinyl, CD, or cassette tape.Finkelstein's body and mind work together to bring life into the music. That work is most apparent in Finkelstein's signature talent of playing with both hands on two different machines —a Nord synth keyboard and a Novation bass keyboard. It's an impressive, tricky skill but Finkelstein says it was initially a purely financial decision —a way to pay less musicians for something he could do himself. No matter the reason, this technique adds a noticeable physicality toeach one of Finkelstein's live performances. Yeah the sounds are cool, but audiences should brace themselves for a full body experience. Feet tapping, legs moving, eyes closed, hips loose, torso swaying, arms lifted. All the while, Finkelstein is working even harder than his audience because his music, his philosophy, and his audience call for it.
"People just can't be sitting and listening, music is a communal experience," says Finkelstein.
If he were new to this, the music would sound sparse, like it was missing something. Fortunately, Finkelstein is well-equipped to transform thin air into full sound. There is a richness and vibrancy to each song he makes and plays, even after hours of repetition and practice, it sounds like he is introducing each sound to one another for the first time. Synth meets bass, keys meet drums, mono meets stereo. The experiential aspect of his music is on full display at Duality/Detroit, his weekly residency that he has played since early 2016 at Corktown's Motor City Wine. Finkelstein is on (both sets of) keys, then there's Marquis Johnson or Alex White or electronic musician Shigeto on the drums, sometimes sax by Marcus Elliot, trumpet by Trunino Lowe, or congos by DJ Dez Andrés. The lineup and the roster changes just about every time Finkelstein plays, but on any given Wednesday, Duality/Detroit is where musicians come to hear music. It's easy to think of Finkelstein as a one-man-band, but he has found a support system of collaborators and mentors to lighten the load.
"The people who made this music are here," says Finkelstein.
Although his star is rising, Finkelstein is part of a larger constellation of local Detroit musicians. He regularly collaborates with local acts like Brandon Williams and Shigeto, he also performs in a live group with Scott Grooves called Overdubs. He has accompanied Terri Lyne Carrington and Esperanza Spalding, He lists mentors like Marion Hayden, Robert Hurst, Rayse Biggs, Geri Allen, Marcus Belgrave, and Tad Weed. He has moved beyond the status of a favorite student and is often tapped to play alongside or in honor of his mentors. Many of the local jazz greats that put Detroit jazz on the map have stayed in the city, long enough to jam to and with the next generation of the genre.
"Detroit is where I was raised as a musician. It's life in this shit," says Finkelstein.
Right now, Finkelstein's life is all about ascension. He's about to be another year older and wants to be another year wiser when it comes to making healthy decisions in his musical career and personal life. He's in a contemplative mood  —  wondering about the difference between praise and validation. Hoping to build the kind of strong and long-lasting relationship that jazz musicians before him have made through recorded output. In the meantime, he's preparing to release a 12-inch EP that's a bit more polished than last year's The Order, and although the music is pretty much done, he's still deciding on the name.
Labels have been a point of contention for Finkelstein. He's Black and Jewish, a soloist and an accompanist, an electronic music producer and a classically trained musician. His whole life has made it necessary to be able to blend in well. It takes a certain amount of clarity, self-awareness, and discernment to be able to melt into a groove. You have to know where you fit in before you get in and Finkelstein is finally getting there.
*** to see the whole issue (DEQ 16), just go to the issues section and click on pdf file)*** www.detroiteq.com/issues