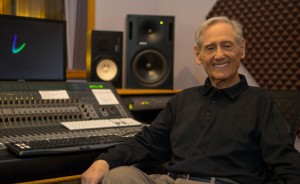 Written by: Ashley Holden & Paul Martindale, Photo by Paul Martindale
Spanning six incredible decades, Tom Gelardi's promotional and marketing career has certainly left its impact on the music industry. From his years at Capitol Records and EMI to being head of Midwest Promo with one of hip hop's leading labels, Tommy Boy Records. Mr. Gelardi shares priceless memories along with the secrets to making it in the biz. He has earned Billboard's "Promo Man of the Year" twice and in the 1970s he received several awards for nationally breaking both Grand Funk Railroad and rock legends Heart. Throughout his career he has worked with such world renowned acts as Bob Seger, Wayne Newton, Lou Rawls, The Beach Boys, jazz singer Nancy Wilson, Bobby Vinton, MC5, Bill Withers, Freda Payne, and many others among which include the Beatles. His passion for his craft and keen eye for true talent are evident in the immortal voice of those that he promoted throughout the years. In an interview with Detroit DJ Paul Martindale, Tom shares his feelings about how the music industry has changed. "It has become more about the image rather than the sound" he explains. Tom also gives us a peek into the past, when music was about passion, great performances, and evoking of raw emotion in the listener.
The Magic Behind the Music
When speaking with Mr. Gelardi about his different experiences through the years, one word has consistently been on the table, magic. "When people get emotionally involved, there's magic there." He shared his supreme respect for people such as Clive Davis because they remember this secret and it's what gives people like him such success with every artist they sign. Take the Stan Kenton Band for example. Stan was performing in Dayton, Ohio and was invited to a club by a jazz DJ to watch a vocal group, The Four Freshman. He loved what he heard and helped the group get signed to Capitol Records. Afterward, the ensemble came to Detroit where they were given a chance to perform at a small bowling alley called the Crest Lounge. The owner initially booked them for one week, but instead, they continued to perform for 110 weeks straight. "Those things could be done in those years. Not like the music we know today. You have to go through lawyers and everyone else to get things done nowadays. The true magic is in how people react to an unknown act."
Seger's Big Break
In the late 1960's, a central Florida Radio DJ named Bill "Weird Beard" Vermillion would travel to Michigan to visit family and purchase records to take back and play down south. By doing so, he built up a fan base for Bob Seger's music. Subsequently, Seger was invited to perform shows in Orlando and Tampa, both of which had crowds of more than ten thousand people in attendance. That's when Tom knew that Bob Seger would be huge. Bob's manager called Tom soon after and mentioned that people are telling him that Seger is "too guttural, too rock n' roll and he'll never work on the radio in places like Columbus and Milwaukee." He wanted Capitol's opinion. Karl Engemann, Capitol's head of A&R, was scheduled to come in a couple months, so the timing was perfect. Tom arranged for a short performance at a local club. Engemann signed Seger on the spot purely on the strength of his writing. "And the rest is history."
Lesson Learned
In his early days at Capitol records, Tom was given a new single that the company had recently put out. They had gathered in the meeting room to discuss the marketing strategy for the product. After giving it a thorough listen, Tom took the record and tossed it across the room yelling out "How do they expect us to push this crap from England when we have a hard enough time getting airplay for our American acts?" Those words would stick with him throughout his career. The record he had so carelessly propelled was none other than the Beatles debut single "I Want to Hold Your Hand". Soon after the Fab Four had swept the nation and the Beatles had become worldwide superstars, Tom's co-workers took the scuffed up record, mounted it and presented it to him with a plaque that read "To: Tom Gelardi – You Sure Can Pick Them."
Tom was able to work with the Beatles both times they came to the city. He stated that the first time they came was the most impressionable concert in his entire career. He had never seen people, especially girls, react the way they did. The second time they came, they were put up at the Whittier Hotel on Jefferson and told no one. It leaked out that they were there and 5,000 fans were on the lawn waiting for them to come out. To quote Tom, "I've worked closely with a ton of acts, but I've never seen anything close to what Beatlemania was all about…generation after generation finding The Beatles. Endless. Forever. Forever."
Two Need-to-Knows About The Industry
In Tom's early years it wasn't entirely unheard of to take chances on an artist. As he stated to Lou Rawls, "When it's time and it's your time, you gotta do it then, you can't miss it. Before you can get to that point, it's important to understand a couple of things about what it takes to make it." Tom tells us…
You can never predict a hit record.
No matter how good an artist is on record, they must be able to perform.
You can't truly predict a hit record. There are plenty of times you think you've got something hot…and it fails. One thing that helps is knowing when the music genuinely touches the listener. The fans must be emotionally engaged otherwise it will never sell.  A sure way to know, rather than to guess, is to check with retailers. Typically, they will be able to tell you if it's what the people want. Furthermore, the artist may be a great vocalist, but if they can't perform, they won't last. The artists that endure the longest, are the ones that fans want to come to see over and over again because they are guaranteed to see a great show. This is key.
The Lost Part of Our industry
When listening to Tom speak so passionately about his encounters with some of the musical greats over the years, it can't go unnoticed that music, as he says, has lost its' heart and soul. "It's 100% image now. Artists are manufactured and can be obsolete shortly after coming out and in most cases they can't even perform." He references Earth Wind and Fire as an example of what the public considers a great act. People came to watch them perform with Chicago for three straight years, selling out every time. "That's talent."
Risks just aren't taken anymore. People are in the business only for profit, not for the artistry. There's limited leg work by labels these days. They are trying act after act until they find something that sticks.  There's talent out there selling out shows night after night that aren't getting their fair shot because the industry is not currently fit for singer/songwriters. It is quite possible that their era will return but mediocrity thrives instead of searching for the magic that will truly touch people and last long term.
Tom's Advice to Future Artists
Please bring your product to me before manufacturing. I'll know if it's at a level that will have a chance at being successful.  I can listen to the writing and the vocal performances and gain a sense of its' potential. There is always time to rework the product if it isn't quite ready for air-play. You'll need to realize that mixing and mastering are both a science and an art. Professional mastering will improve your tracks to a quality that is ready for distribution. If you are not a graphic designer with a good sense of creativity, then hire a professional to design your artwork. In today's market, your image and branding are vital. YOU are a business.
Respect your audience. The fans are everything to you and your success. Not everyone is going to like you or what you have to offer but you'll still need to interact with them on a professional level. Last but not least, your fans work hard for their money and they have many choices as to where to spend it. Make sure you provide them with the quality of entertainment that is inherently promised in each ticket sold.
Gelardi's Final Piece
"I was blessed to be at the right place at the right time, and have the intestinal fortitude to love an industry I've been in and to stay with it and end up with a career that I can look back on and say thank God."
www.detroiteq.com (issues icon for more goodies)… buy a print copy with LP at your local store or internet shop
ISSUE 13