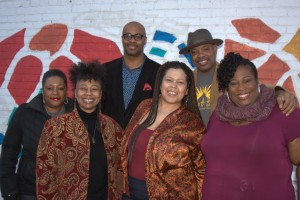 Summer Oasis article written by Vince Patricola, Photos by Linda Kubit
Are you planning a camping vacation this summer? If so, you need to consider visiting Idlewild, Michigan August 17-19th, 2018 for a tent music festival called Summer Oasis, that takes place on nearby Paradise Lake. It's a yearly glamping (glamorous, luxurious camping) weekend experience that "transcends normality."
"It does transcend normality," said Summer Oasis founder and house head Cedric McDougle loudly and proudly. "You can't beat the tent life in the summer. I mean Idlewild is a historic place, and we party on a private (Paradise) lake with world class DJs spinning a wide variety of great music til 2am. Beautiful tents, sexy people, warm weather, fire pits. Hundreds of diverse people come from business owners to artists. It is a fantastic time…we get sexy on lakefront property and glamping is a serious thing. This is not an ordinary camping trip."
Idlewild is on the Western part of Michigan, about three hours from Detroit.
It surrounds Lake Idlewild and the Pere Marquette River runs through it. Also, around it is the Manistee National Forest.
The area, in short, has had ups and downs. From about 1912 up until the 1960s it was a vacation haven for African Americans escaping discrimination. The Paradise Club and The Flamingo Club were alive with who's who of musical talent. There were cottages everywhere and summers were fully alive there. When the Civil Rights Act passed, people found other spots to vacation, and the area was mostly deserted.
Since 2016, Summer Oasis has become a major force in bringing this area back to life. "People fall in love with it," McDougle said. "They see the beauty there and the prices of property on the waterfront are attractive. A few of our glampers bought property just from coming to the event. Just by being here you support this historic area."
That weekend is action packed with things to do. You'll meet lots of mature, fun people from all parts of the United States. There are so many outdoor activities like kayaking, canoeing, swimming, bike riding, hiking, fishing and more.  The sea of glamorous tents set the backdrop and the music played throughout the weekend keeps your spirit in the sexy, fun zone. DJs like Vic Lavender, Jihad Muhammad, Celeste Alexander, Steve Maxwell, Rick Wilhite, Raybone Jones, Seth Carter, Stacey "Hotwaxx" Hale, Kristopher Jus Denson are just a few names that played. "Each year it gets better," McDougle said. "The DJs all bring their A game." So does McDougle and his amazing staff that work on the event all year long.
See the website www.summeroasisfestival.com for full details on the event.
*pic A: clockwise Drake Phifer, DiAnna Crawford, Reshounn Foster, Lynn Ford, Terri Smith (Diviniti) and founder Cedric McDougle.
*Pic B.  Drake Phifer, Cedric McDougle (hat), Terri Smith (Diviniti), DiAnna Crawford, Reshounn Foster, Lynn Ford.
DEQ Issue 13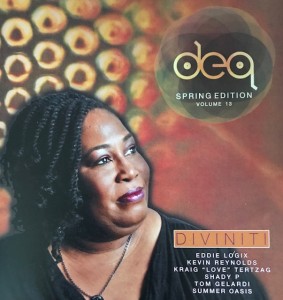 for more DEQ, go to our website and click on issues icon. all pdfs are there. Support by purchasing a copy with LP at your fave record store or internet shop.