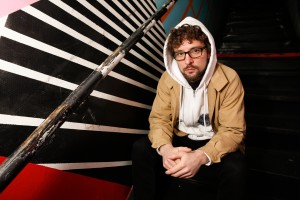 Eddie Logix article. Written by Blair French, Photos by Brian Rozman
The young and prolific producer/DJ Eddie Logix has been making waves both on his own as well as with his with his crews, #CoOwnaz and Mega Powers (with Pig Pen.) No style is off limits. No rules. Just solid tunes.
DEQ: Where did the name come from?
EL:  The name came from trying to do music back in high school and figuring out who I wanted to be as an artist. Eddie came from my grandfather's name so I kept that and added the Logix because it seemed like a decent rapper/producer name at that time. Also, Eddie Kendricks was the man.
DEQ: How did you get involved with the music scene?
EL:  I started making beats and rapping in middle school and high school but didn't really know what I was doing until years later when I joined a rap group called MidCoast Most and started going out to local hip hop shows and weekly cyphers around Detroit. I wasn't even old enough to get in the venues but somehow always figured out a way. It was that exposure and involvement with other artists, producers, and DJs that lead to everything else. Partying got me involved too, a lot of parties in Detroit.
DEQ: Name a few influences that helped shape your craft…
EL:  My musical influences consist of people and things like Dilla, Wu Tang, '60s Motown stuff, John Cage, Steve Reich, Parliament, Belleville Three, the Dusty Fingers Collection, Pharoah Sanders, and all the stuff my friends are always making. I feel like the influence from your peers is always the strongest. I've also been going through a '70s Polish jazz phase recently and finding a lot of really cool stuff.
DEQ: Name a few avenues you find inspiration, aside from music…
EL:  A lot my inspiration comes from movies, studying art history stuff, and pop culture. I'm always trying to learn new things about myself through different creative processes. Human interaction is a big inspiration also. I'm constantly learning and evolving through the people in my life.
DEQ: What are some of your favorite collaborations?
EL:  All of my collaborations are very important to me. It's hard to pick favorites. However, some collaborative projects do require more time and dedication than others. The Mega Powers stuff I do with Pig Pen is a lot of fun and more of a  top priority right now. I'm really excited about everything that we've been working on and what the future has in store for us.
DEQ: Describe the many ways you express yourself with the arts and which do you enjoy the most?
EL:  Whether it's making beats, recording sessions, mixing, mastering, DJing, writing, design, or film stuff I try to keep the creative flow moving as much as possible. Everything ends up working itself into the same type of artistic expression for me but I like to switch it up and challenge myself when the opportunities present themselves. In my mind, the beats are the main focus though.
DEQ: What pieces of equipment do you use the most?
EL:  Like most modern producers, my Macbook is the centerpiece for all my recording needs. I mainly switch back and forth between Reason and Pro Tools as far as software goes but I also use a lot of hardware effects, samplers and synthesizers, in my production process. The first piece of gear I ever owned was a Boss Dr. Groove DR-202 and a Shure SM57 microphone that I used to record with my parents' tape deck before being able to use a computer. The Akai MPC 1000 eventually became my main piece of gear right when it first came out. I also get a lot of use out of my Roland SP-404.
DEQ: Any specific learning curve you care to share with our readers?
EL:  I don't know about any specific learning curve when it comes to making or playing music. I've always just learned things out of necessity and figured out how to make it happen. I've had some valuable guidance along the way, but it's the stuff that you end up having to teach yourself that really defines your craft. It doesn't matter what equipment or process you use as long as you can be happy with the results.
DEQ: How do you feel about the direction of the city?
EL:  The direction of the city will always have good and bad things attached to it. Detroit has always had the elements of existing as a gift and a curse. I try to pay more attention to the gifts.
DEQ: Favorite record shops you frequent?
EL:  Hello Records is a go-to shop for me and close to the crib. The homies at Paramita Sound always show love too and I enjoy the community that surrounds everything they do.
DEQ: Favorite restaurants or bars?
EL:  There are so many good spots in the city now. I dig what Pop + Offworld (Cadillac Square) does with the music/food/arcade combo, but I'm also super down with the dive spots like Abick's or Donovan's (Corktown/Southwest) that have been around forever. And Duly's (restaurant, Southwest.) Duly's for coney dogs with the homies when needed.
DEQ: Favorite stories about a studio session or an event?
EL:  I think it was the summer after I finished high school (2004) I went to DEMF electronic music festival and was really hyped to catch the Jaylib (J Dilla and Madlib) set that year. After being at the festival for a while I lost track of a couple friends right up until I was walking over to the stage where Jaylib was about to play. I literally ran into a friend that had me follow him because somehow he had convinced a security guard backstage to let me sneak in to the green room area where Dilla, Madlib, and a bunch of others cats had been posted up before the set. I went into the room as it was just clearing out into the backstage area, except for Dilla. It all happened quickly and I still didn't fully understand how I got back there but nevertheless, there I was a 18 year old kid standing in front the legend himself. So we talked for a little bit and I think I gave him a demo or a beat tape or something right before he had to hit the stage when he ended up inviting me to watch the show from the backstage area. I turned around and gave the security guard and my homie a last look like "I'm going in" and followed Dilla backstage. That's my Dilla story. He was super cool and humble in that moment and I'll never forget that. Best DEMF ever.
DEQ: What's in the works for Sir Logix?
EL:  Got a few new Mega Powers projects that include some soundtrack work we did, edits, and a few new tapes featuring some collaborations with other Detroit vocalists and instrumentalists. I did a lot of work on the debut Cousin Mouth record. I also have some new solo beat tape stuff along with other secret and not so secret collab albums with more of my friends. It's #CoOwnaz.
DEQ: Name a place you want to travel to…
EL:  I want to travel any and everywhere. Let's make it happen. Haven't been to Japan yet, that would be dope.
for more DEQ: www.detroiteq.com (issues icon). to support buy a print & LP combo at your fave record store/internet shop
Issue 13