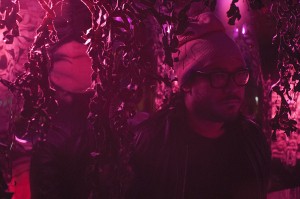 Shady P. (aka Bobbi Purify) article: by Vince Patricola. Photos by David Shanaman
The How To Kill (Detroit) label emerged with a mixture of controversy and curiosity. Imagine in 2013, a bright, plain white record jacket with "How To Kill" boldly written across the top and "Detroit" written on the bottom hanging on the record store wall. The label is white as well and only has a Mickey Mouse type character reading a book that said "How To Kill" on it.
When I saw it, not having any idea about the label, my first thoughts were WTF is THIS? Without thinking, it just seemed like some Insane Clown Posse type shit. Kids probably got some money from their folks, bought some shitty equipment and pressed up a record while using Detroit and ensuing shock value to sell it. I was not alone. There were threats of violence, videos of people destroying the record, stores refusing to stock it, trash talking and more. I thought no more about it.
In 2014, I came back to Detroit to play a party. On my visit, I met friends in Hamtramck at a neighborhood bar called Whiskey In The Jar where I had a random encounter with Remote Viewing Party's Mike Petrack. I knew him from the scene and shopping for records at Record Time when I worked there.  He handed me a How To Kill record (002.) It clicked and I asked him more about it. "I'd give you the first record," he said humbly, "but we sold out of it.  I caused quite a stir… There's a whole group of us."
As he was telling me who was a part of the group, the ones I knew like Petrack and Aran Daniels from Remote Viewing Party, were all kids back then versing themselves in the electronic music scene.  I then realized that I had judged a record by its' jacket. These guys genuinely love music, threw parties, brought in DJ talent and organically earned their stripes. I was introduced to another one of the founders of How To Kill, DJ/producer Shady P (aka Ender and Bobbi Purify), at TV Lounge on a Thursday night in 2015. I started to look up his music and finally got him for this interview.
When he walked up the ramp into Eastern Market's Detroit City Distillery for our chat, he was wearing a black work shirt with a black leather jacket, a thicker pair of black glasses and a bright pink winter knit hat. He rocks a good style that's his, but to impress you is not his primary motive. The same is true for his music. You should like it for its' merit. For what you hear in it. Not because someone tells you to or because your friends do.
Shady P described his sound (and the idea behind How to Kill) as "super slow, really, thick sound heavy hitting, high quality experimental music."  It has minimal techno influence with a hooky, dirty sounding, fun obnoxiousness to it and dark, slurry, slowed voices in all the right places. It's made for club and warehouse environments especially with visuals.  "It's about having fun and getting out of your element," he added "It's also about finding yourself in what you are doing, without using the idea of looking for something… the whole concept of music in itself is a communication of struggle and emotion. It's a way to describe the human condition. That's why you have all these crappy love songs coming out all the time, because guess what? People are always going to be in love."
And people will always need an escape. Which is exactly what his music is. It's a healthy way to cope with the insanity in our world today through letting your freak flag fly high on the dance floor. Slow life down and get a little weird. It's healthy. Just spin out on too many drugs.
The first record Shady P appeared on was How To Kill 001. He founded the label with fellow driving force and producer/DJ Konstantin Papatheodoropoulous (also known as the Friend),  Aran Daniels and Mike Petrack. "It (the record) was a combination of people and represented the sound (HTK) moving forward," Shady P said. The two B side tracks under the name F.A.M.E were collaborations with the Friend, Aran Daniels, Mike Petrack, and Ender (Shady P)  The A side featured a track from Atlanta's Broodlings featuring Al Hype (a.k.a. Stefan Ringer, REKchampa) and another track from Joel Dunn (a.k.a. Marshall Applewhite, Oktored.)
"It still stands the test of time," Shady P said of that record. It was made at the Friend's house with lots of people contributing parts and others around just having fun, hanging out and seeing the process. "It was kind of like the old hip hop videos. When the whole posse is behind the group. It was fun. Like it's supposed to be… Everyone got out of their comfort zone and showed their asses in a good way. Wherever there were flaws, someone just wiped them away. No anger or whatever."
As Shady P, he put two tracks on the 2nd How To Kill Record with the Yung Asian Boyz called "Drugs R Bad" and "Yab" in 2014. They are two wobbly, hypnotic tracks deeply rooted in sludgy goodness that firmly set him in a position to venture out with other projects while remaining close with How To Kill. In May of that year, he put out a four-track cassette called Edgeplay on the U.S. label Magnitizat Tapes. Also, he and the Friend each licensed a speaker shredding, dark minimal techno/sludge hybrid track to the Kris Wadsworth's Detroit/Berlin label Breed.
He hasn't looked back. You can hear the progression in his music with each record. In 2015, he released a four track EP called Speaker for the Dead in 2015 on the UK Label Clan Destine Records and two tracks on the first Heated Heads release in Glasgow, Scotland.
In 2016, he released a track on How To Kill (004) called "Geniterraneum." Around that time, he started his own label called The Catholic Press and put his first EP, filled with four experimental tracks, called Only For His Most Luscious Loins.
We now are well into 2018, and there has been a break in the release action for Shady P. Besides the Bobbi Purify (his moniker for easier listening and more what he considers "housier" type music) track he gave to our DEQ Magazine compilation, he is taking a short break from putting out music for a few reasons.
The biggest challenge, he said, is figuring out how to make things work financially as putting out vinyl has become an even more expensive endeavor. Combine that with the fragile financial state for record distributors, it all requires more thought.
He has also been concentrating quite a bit on song writing and composition and digging back through music's past, learning more about things he missed through the years.
Nothing will stop his music production flow though. He's working on the next How To Kill record, starting a new label called Channel 3 and doing a Shady P album with twenty-one original songs. "You're not supposed to be satisfied. You're never supposed to be really done," he said.
I think don't we have to worry about that.
for more DEQ: www.detroiteq.com (Issues icon). To support, buy a copy at your fave internet shop or record store.
issue 13