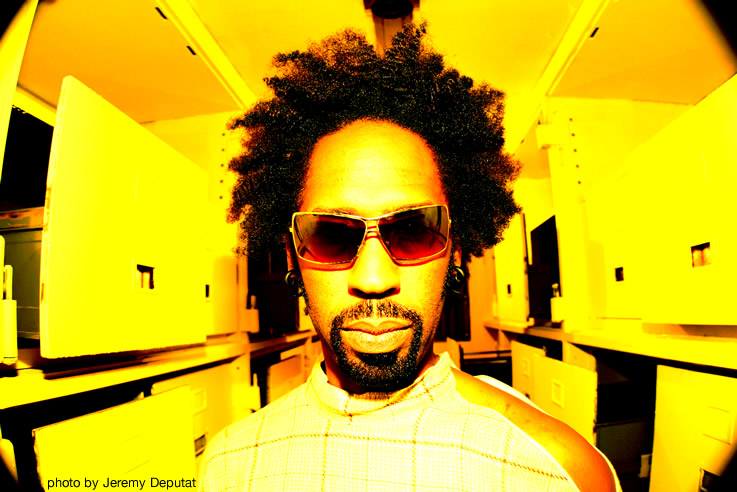 Randolph – He is what he is. Fantastic.
There's another star rising in Detroit. It's Randolph (a.k.a. Paul Randolph), the accomplished vocalist, songwriter, bass guitar player, re-mixer, and producer wrapped up into one complete package. When complimented he usually downplays the credit, but there's a humble smile that lets you know deep inside he still loves the props.
The critics are loving his extended solo project called "This is What it Is" available on Kenny Dixon Jr.'s Detroit based Mahogani label. "I made this record a combination of my influences, not all of them mind you. The rest will show up later," he laughed. "The deeper you go into the record, the more it makes sense. The music and its' styles reflect my personality. Putting this together became much easier when I let go and put my neck on the line. I chose not to worry about presenting something that represents all that I am as an artist…that's crazy and impossible. It's going to be what it is. I can't define it. What is it? It's music!"  You'll hear wonderful, varied tracks laced with soul, jazz, lounge, rhythm & blues, funk and house elements on this piece. "There are flavors in there everyone can like. The DJ's have extended dance floor mixes on vinyl. Everyone should be happy."
Randolph cites New York's sensational house duo Masters at Work (Louie Vega and Kenny 'Dope' Gonzalez) and Lil' Louis as influences in making the album. "Masters at Work's Nuyorican Soul is a masterpiece. It showed me that electronic music can actually have structure, composition, melody, and words that mean something!"
Another contributing factor to the record was Randolph's relationship with Underground Resistance founder Mike Banks, the man responsible for introducing Randolph to Detroit techno. "Mike and I met when we were younger playing in an rock band called Cherubim with ex-Parlet singer Jeanette McGruder. Our group was an opening act for Parliament/Funkadelic for about a year. It was overwhelming sharing the stage with some of my heroes like Eddie Hazel, Dennis Chambers, Blackbird, Skeet and Michael Hampton. Wow!"
Mike Banks and Randolph were in another band called the Mechanics. Shortly after they formed, Randolph accepted an opportunity to play in Japan. "We lost touch for 6 or 7 years after I returned. Then I got a call saying Mike was looking for me. I called him. He told me about his Underground Resistance label and that I need to get involved. I went the studio and was exposed to the Detroit techno sound. I was already into Yellow Magic Orchestra and Kraftwerk from early on, so I was very interested."
Inspired by the UR experience, Randolph picked out some simple recording devices from a music store and began to experiment. "I would bring my early tapes to Mike. He would never tell me what to do, just yes or no. I found it to be confusing but he wanted the music to mean something to me, not something to satisfy him. I used to walk away upset on a regular basis. I was at home frustrated, almost to tears one day and out of that frustration I sang 'Real Thing'. I brought the tape in for him and said this is my last time!" Mike laughed, put it in the deck and pressed play and was pleased. It was released on Soul City records under the name Van Renn. "That was my start in electronic music."
Randolph then met Carl Craig at the Underground Resistance studio. "Carl approached me about playing in Innerzone Orchestra. He wanted to remake a War song called 'Galaxy', which I played live bass on and the other was 'People Make the World Go 'Round.'  This was a special treat because my mom grew up with one of the Stylistics and I knew those guys. So, we recorded some songs and Innerzone Orchestra went on tour."
After Innerzone Orchestra Randolph began collaborating with different artists, sung and provided voiceovers for commercials including McDonalds and Corona Beer. He saved enough money, purchased some quality equipment and recorded "This Means That," which Kevin Saunderson loved the second he heard it. Kevin provided a mix and put Randolph's original on the other side. Test pressings were prepared for the 2001 Winter Music Conference down in Miami, Florida. "I had to return to Detroit early that year and I missed the annual Masters at Work party. I was on my way to the airport when I got a call from Kevin, who said that Kenny 'Dope' Gonzalez played it at the party and everyone went wild!"
As of last year, Randolph has been touring extensively, playing bass guitar and singing background in Amp Fiddler's local star-studded band. "Amp and I have known each other for years! I ran into him at the airport on the way to New York where I was doing some singer, songwriter showcases and invited him to come down. When we came back he was looking for a gig and he became a member of my band Mudpuppy for 4 years. Last November, Amp started his band and asked me to be a part of it. We have a wonderful working relationship and tremendous respect for one another." It's been a whirlwind tour of the United States and Europe. "We enjoy playing together. Everyone is concerned about the music, the show, and each other. It is very much like family and everyone has a chance to shine."
Randolph acknowledges the difficulties of trying to make it in music with no major label money or marketing outlets. "Going overseas with the band is the right thing. It's funny how people have to leave here to make it. They have to go over to Europe where people are more open, care about the music and the artists themselves. It's marvelous that you can go somewhere and be truly appreciated for what you do. At the end of the day that's what matters. You want to leave the country to get exposure in another part of the world and maybe expand your fan base, not to start your whole career over. I learned here (in Detroit), paid my dues here and now it doesn't mean anything? I have to go where nobody knows me to be more successful back home? There's something weird about that."
Between touring with Amp Fiddler and the release of his album, Randolph's efforts are showing results. He's also been busy remixing projects. "I am a musician, not a DJ. However I appreciate and need to understand where they are coming from because they play the music. The next step is to develop a language we both understand. DJ's and musicians think in different ways. Problems arise when we start to minimize each other's efforts. People say that anyone can spin a record. That's not true. People say anyone can get up there and play an instrument. That's not necessarily true either. I have to make it easy and provide incentive for DJ's to play my tracks without compromising my artistic integrity. That's what folks like myself, Amp, John Arnold, Jeremy Ellis (Ayro), are doing. We as musicians are working with DJ's to understand each other, get our music played and become members of the same family. That's the next step. We've existed individually for a long time, now it's time for music to evolve once again. We need to bring DJ's and musicians together, to unify."
This modern, wise, unselfish thought process will help propel Randolph straight to the top. His life story is shaping up to be a great one filled with global recognition for his talents, strong friendships, and lasting happiness in following his dreams.