Some of the best news coming out of a horrible year 2020 was that producer, DJ, promoter, visual artist, blogger, raw and creative mind Matt Abbott (aka Secrets, Gary Springs Hunting Club, Vacuum, Guys on Drugs to name a few) is making music again after a multi year hiatus.
Abbott's music is always thoughtful and well put together no matter how unpredictable his mood is. His latest release is a smooth combination of ambient sounds with jazz and broken beat feels. However, he covers multiple genres from hip hop beats to techno to metal with his geniusness and there's always funk in the mixture.
Straight out of Livonia as a young buck, right out of the gate (in the mid to late '90s as a 17 year old) Abbott was known not only for DJing and making music, but also for promoting/booking nights all over Detroit in legal venues (Corktown Tavern, Foran's, Majestic, Oslo, 2700 Club) and not so legal spaces (E&B Brewing Lofts, FiNite Gallery.) He gave it all to throw events, often bringing his heroes in from all over (Seiji, Harry The Bastard just to name a few) to play with local Detroit DJs of all skill levels on shoestring budgets. His boundless energy brought all parts of the scene together and it never got boring.
The flyers for his events were always eye grabbers, dripping with sarcasm. I remember lots of unicorns, lasers and white trash people with mullets and awful sweaters thrown together. The flip side would be a jaw-dropping list of high quality talent as well. He would just laugh handing his flyers out.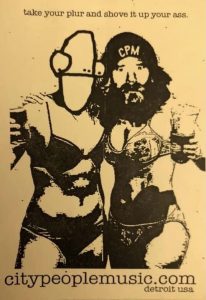 If that wasn't enough, he created another totally shameless blog site in the early days of blogging called the Gary Springs Hunting Club (GSHC) and the crazy Shit Show parties at TV Lounge were absolutely legendary.
These days, he's got lots of projects including painting, shows with Seth Troxler and more. Let's dive in!
DEQ: Hello Matt! I speak for many of us and we are so happy you are back after your hiatus with a full arsenal of art and music! How does it feel to be back in the saddle?
MA: It feels very awkward and uncomfortable, so of course I love it.  I wouldn't exactly say "I'm back". I've left my house like twice in the past year, and I've really loved not dealing with people for the most part, so I'll probably have to get super fucked up to deal with everyone for the first couple weeks.
DEQ: What was it specifically that triggered the resurgence of your creativity?
MA: I would say probably kicking my 5 year heroin addiction, getting divorced, getting on the right antidepressants and having money after that so I can actually build a nice studio.
DEQ: Your release The Secret Life of W.G.A. 0012020.  Would you tell us more about it and how it relates to your return? What happened with the vinyl release? How will people get it?
MA:  The entire release is about my dad who shot himself in 2002 and it's some super heavy shit to deal with. It felt really good to get it out that way. He was always a big fan of everything I did with music and whatnot, and would've been pretty geeked about this. It's a totally personal record. We (Matt Danner and Abbott) are starting a new label called Wave Collapse and this is the first release. Only 30 copies were made of this first run.  It's a 3 track, one sided lathe cut and all the covers are different. The whole idea (when we were coming up with the idea for the label) was that it would be completely no stress, shit would get done whenever, and we probably would not make any money. So they are printed and everyone wants one but I'll get them to people when I get to it. I can be pretty lazy. We tried to do a Bandcamp but I think we are just going to do a shitty website and only sell through there. The next release will be a compilation. Who knows when it will be done.
DEQ: I know you have a plethora of music projects. Tell us more about what you have coming up?
MA:  I'm finally getting back into some live shows. I'll be playing for Paxahau at TV on Memorial Day weekend, which will be so much fun. It will be totally weird seeing everyone. E Spleece and myself have been in the studio working on a new project called Coelacanth which will be kinda the grown up version of Guys On Drugs haha. We will be releasing stuff under that name on Wave Collapse and we are doing some remix work for Chris Lowell and Eric Sutter. I'm also getting back into my edits with lots of new disco stuff in the works for the Secrets project.
DEQ: Can we go backwards in time a bit? Your connections run deep over the years. Are your past relationships fueling the future?
MA:  Yes, absolutely and I knew things would come full circle someday and that seems to be what's happening lately. When Seth Troxler was known around these parts as Young Seth, some of his early gigs were for stuff we did so it's really great to work with him again on something crazy. We did a helmet rave when they first formed VisonQuest. A helmet rave is exactly what it sounds like. It's also so great to be working close with Aaron Kulick again. He started out as a God fearing boy, confused by the scary rave world. He has blossomed like a rare orchid into a brilliant video artist after Detroit got a hold of him. Kulick has been in Berlin and tours as Seth's video guy. Seth has launched a Twitch channel called Dream Access TV and I've been working with Kulick on some crazy show ideas that will be coming to fruition in the next year. The entire channel is run like a public access tv channel from the 80s. It's a great project to be part of.
DEQ: Your ability to set up gigs (with incredible local and international talent) at different places like Foran's, 2700 Club, FiNite, Corktown Tavern, etc, was legendary back in the day (late 90s, early 2000s)! Things were popping all the time.
MA: We had some insane lineups for the time, for sure. Just look at the lineups we had for the two years we did Shit Show. Crazy talent almost all we knew on a personal level. All the artists involved saw our vision for just complete fucking insanity and we got everyone to play for cheap. We had an actual petting zoo set up outside the TV Bar at 7am during our 30 hour event.  I'm sure I still owe people money for that party. The stuff we did with GSHC in those short years will live on forever.
DEQ:  What is your fascination with unicorns, lasers, ugly sweaters & mullets (as seen on fliers.)
MA: Because unicorns are beautiful, lasers are bad ass, ugly sweaters are cheap, and mullets are midwest as fuck.
DEQ: Are you working a day job now or is it just work and art?
MA: Right now I'm doing painting and music full time and I've never been more happy and content in my life.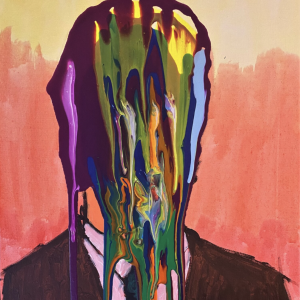 DEQ: Tell us about your paintings. Why are all the faces melting?
MA: The past year I've been doing more painting than music. My brother is a great artist too, so we decided to split a website to show and sell our work. It's been going really well. I'm not a big fan of people's faces in general. I would rather see a bunch of pretty smashed colors. I dunno, maybe its all the acid I took as a kid haha.
DEQ: How can we get your paintings, music, and keep up with your projects?