The Filthy Americans is the creation of Filthy Rockwell. BJ Smith of AUX88 and Filthy Rockwell met through a mutual business associate. BJ would eventually become Filthy's manager, and later become Filthy's partner in the brand "Filthy Americans".  The concept behind Filthy Americans and their Northend storefront is about more than streetwear. "The Filthy Americans Arts and Culture Center" Their mission is about raising awareness of social injustice and teaching youth positive values through music and art. Part of that mission also is to desegregate art and music genres, to hopefully build a collective space and collaborative mindset for the arts community here in the City. Filthy Cares is their non-profit platform used to raise funds for several community outreach initiatives. Most notably the "ADOPT A BLOCK" program. The most recent added initiative is to preserve and rebuild the Skate Park located just outside their doorstep on Holden Street right at the train track underpass at the end of the Street.
They are putting together a massive outreach festival with an absolutely jaw dropping lineup over Memorial Day Weekend.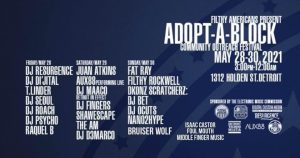 DEQ: Congrats on your success! Man this is an absolutely killer lineup I gotta say! How did you assemble such a lineup?
BJ: Thanks. Over the last 33 years Tom and I have developed meaningful relationships, and have earned the respect of our peers in the electro/techno through humility. Being in AUX88 helps too…Lol.  We basically picked up the phone and started reaching out. We had never asked anyone to do anything like this for us before, so we figured now is the time, especially for a cause like this. Filthy Rockwell did the same thing in the Hip-Hop community, and we all pulled it together.
DEQ: What are your goals with this festival? Will it go rain or shine? How will you raise funds?
BJ: Yeah Vince, its going down rain or shine. This Detroit man… we survived COVID, no way we're letting a little rain stop us… lol. The goal of the Festival is to raise money for our community outreach efforts, (in particular the skatepark), to bring the neighboring community, and the people in the art community together to have a really good time. Covid, shocked the world. Needless to say, we all needed this. Real talk. Oh yea… please, please donated the Filthy Cares. $filthycares.
DEQ: There's no doubt in my mind you both will be successful with this event. From your eyes & ears are a lot of people coming in from out of town for all the festivities?
BJ: Hey man, the response is CRAZY. Tom and I are used to being on the other side of the fence, you know, being the artist on the event. Filthy too. The numbers keep ramping up and the people support it. We have people coming from, Colorado, Ohio, Chicago… It's turning out to become more than we expected. But in a good way.
DEQ: How did you both keep moving during COVID?
BJ: Filthy and I figured, COVID IS HERE, and there's nothing we can do about it, so we kept it movin, followed the rules, and survived the best way we could. Opening a store during a pandemic is not easy. But we believed in our staff and in our Brand. So we rolled with the punches. And now we're here.
DEQ: Will you have other events through the summer at your space? How do we keep up with all your activities?
BJ: Definitely more event's. It the "Filthy Americans Arts and Culture Center" so we're here to curate and facilitate the Arts. We're on all social media. "Filthy American"
For details www.filthyamericans.com