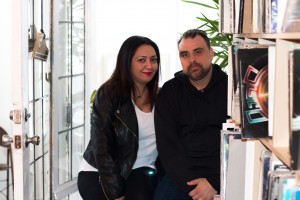 Written by Kevin Reynolds. Photos by Robert Guzman
DEQ's own Kevin Reynolds interviewed Jesse Cory and Roula David of Detroit's Inner State Gallery and 1xRun.
KR: Tell me about the beginning, starting with the first gallery 323East.  Why make the move from the affluent suburbs to Detroit?
JC: I moved back to Detroit in 2003 after spending four years in New York City. I was working Downtown and it was still pretty bleak with at least half of the buildings abandoned and little development happening. When I went to open my own business I picked Royal Oak because of the counterculture history of Noir Leather's punk culture and shops like Incognito and Off The Record that I spent time at during my teens.
We opened 323East in April of 2008 and spent the next five years running a boutique that turned into a gallery and we started 1xRUN in the back room. I met Roula during Movement weekend in 2011 and she was working for Red Bull. She just started building the Red Bull House of Art in Eastern Market and she was like "WTF are you doing in the burbs?" My partners and I were already looking to move as our lease was up and things had totally turned around in Detroit so we found a spot in Eastern Market and made the move in November of 2012, just a month after Roula and I got married.
KR: Can you explain 1xRUN and how it ties into Inner State Gallery?
JC: 1xRUN is a publisher of fine art editions and we manufacture art prints from established and emerging artists from across the globe. Over the past seven years, we've published over 2000 editions from nearly 800 artists. When we moved to Eastern Market we felt that we were maturing and wanted to open a more refined gallery from what we did at 323East so we landed on Inner State for the name and opened in April of 2013.
RD: After Jesse and his partners opened Inner State I saw there was a lot going on and 1xRUN. It was growing at a rapid pace so I decided to resign my position at Red Bull and jump into the Gallery Director position at Inner State to become the COO of 1xRUN. Joining Inner State was a natural transition for me and we spent the next few years doing activations here in Detroit and executing exhibitions of Detroit artists in New York, San Francisco, and Miami. It was a pretty awesome time and we were able to tell the story of Detroit artists to an international audience.
This opportunity gave me time to start Murals in the Market and support Movement's Artists in residency program.
KR: Recently you decided to relocate from your lovely gallery in Eastern Market on Techno Blvd. to the Heidelberg Arts District.  Can you tell me more about the neighborhood/community and what drove your move? I was recently in the neighborhood and noticed a lot of street art.  As somebody that grew up here, I love seeing this. Do you feel that the art community is expanding and growing in Detroit?
JC: After spending five years on Service Street aka Techno Boulevard running the gallery, 1xRUN, an artist residency and full production studio we felt that there was something more we could do in the arts and we just grew out of that location.  I have quite a few mixed emotions about the move but we really felt that our energy could make an impact on another area of the city, so we closed Inner State in December of 2017 and moved to a much larger, more flexible warehouse space in January 2018 just a mile down the street.
RD: When I moved from Cincinnati to Detroit I noticed that art scene here was more inclusive for a larger group of people and there was a growing screen of very talented young artists that the public was engaged with. I do feel the scene here is still expanding and what some don't consider is that there was always a strong arts community. It just evolves over time. In any scene of historic nature, there are different catalysts that spark a movement and I feel that what we did at House of Art was one of those moments for Detroit's emerging art community.
KR: This is DEQ magazine so let's talk about the music connection.  Did you two meet through your love of Detroit music? I know you two are passionate about music. Jesse, what propelled you to start DJing again?  Can you give me a current top ten?
RD: We were introduced the Thursday before Movement in 2011 through a mutual friend and we met up at the former Pulse (club) at a Malik Alston party for drinks.  The Saturday during the festival we went to see Omar-S at the former 1515 Broadway and we were dancing under a single red light. We both asked each other "So you really love this music?" and we both answered "yes."  That was the start of two house heads falling in love. I mean 100% of the reason I took the job with Red Bull in Detroit was my love for Detroit's house music scene.
JC: I've been collecting house records since the mid 90s and when I lived in NYC I held down a few residencies, playing disco, house and Loft classics.  I spent a ton of time at Dance Tracks record store picking up the latest records we heard at the Shelter and Body & Soul parties. When I moved back DJing was put on the back burner as I was broke and trying to start a company.  Since Roula and I met we have been reconnecting with all of the records in our collection. I often tell my friends that "I think it's so rare that you can fall in love with a person that knows the words to your record collection".  Roula has been pushing me to get some gigs to pay for my record collecting habit so I leaned on Vinny (Vince Patricola) to throw me a gig at Two James and I've got a few more dates book this summer.
Here's our current top 10:
Roy Ayers – "Everybody Loves the Sunshine"
Kings of Tomorrow – "Finally"
Osunlade – "Change For Me"
Andrés – "Woman Cry"
Moodymann – "Shades of Jae"
Nuyorican Soul – "I Am the Black Gold of the Sun"
Roberta Flack & Donny Hathaway – "Back Together Again"
Chuck Daniels & Oliver Dollar Featuring Amp Fiddler – "Do It!"
Dâm-Funk – "Electric Breeze"
Kem –" If It's Love [Feat. Maurissa Rose]"
KR: Roula when we first met you were the Marketing Director for Red Bull, what made you make the leap to start your own business?  Before you answer that over the years of knowing you, you have mentioned your family emigrated from Jordan to the United States. We can agree that immigrants ultimately improve the economy and make American society better as a whole.  
RD:  Everything that I express as a person is in relation to the point of view of an immigrant and as a first-generation American from an immigrant family. My work ethic, wanting to do better for my family and community is deeply ingrained in my personality.  The way I deal with and respect the people I work and collaborate with is paramount. The number one thing that Jordanians are known for is their hospitality so everyone's always welcome, at my desk, at my home, and at my table.
KR: Being a power couple that you two are, can you explain how the dynamic duo works?  The amount of energy you two contain is powerful to say the least. Being together and running a business must have some challenges and rewards. Do you have advice for people out there?  But what we really want to know is when it's 3 am and Oscar (the family dog) from the Block needs to go out, who jumps out of bed?
JC: First off, it takes a lot to get Oscar out of bed so if it's 3 am or 3 pm he's usually sleeping.
I think the most important thing that many of our friends that work, create and live together is the bond they share. When you can collaborate and work through ideas at any time in the day, there is a lot more you can accomplish as a team; that is striving for a better life, a better home and to be successful in the eyes of each other.
KR: Speaking of Oscar from the Block, we need some background on him?  
RD: Oscar is our five-year-old brindle Pug that I got for Jesse as a Christmas present in 2012 and the two of them are inseparable. Oscar goes to work with us every day and is a staple at our art openings. He's pretty lovable and has a lot of friends around town. You should follow him on Instagram @oscarfromtheblock 😉
KR: Finally, what are future plans and when can we expect from the two of you?  Any news you would like to share?
RD: Some of the most memorable moments in my life are the art and music events I have produced.  As we moved into the new space at 2905 Beaufait Jesse and I wanted to merge our passion for art and music, so we're currently renovating a 5000 sq foot bar, cafe, gallery & record store called Spot Lite that will open in the spring of 2019.  We hope to expand on the passion for expression and build a home of creativity for the community.
www.detroiteq.com (issues icon for pdfs). support by picking up a print copy and LP at you fave record store.
Issue 14:
Oscar From The Block: